'Halt And Catch Fire' Season 2 Spoilers: Kerry Bishé On Episode 2's Biggest Moments; Would Donna Leave Mutiny? [VIDEO]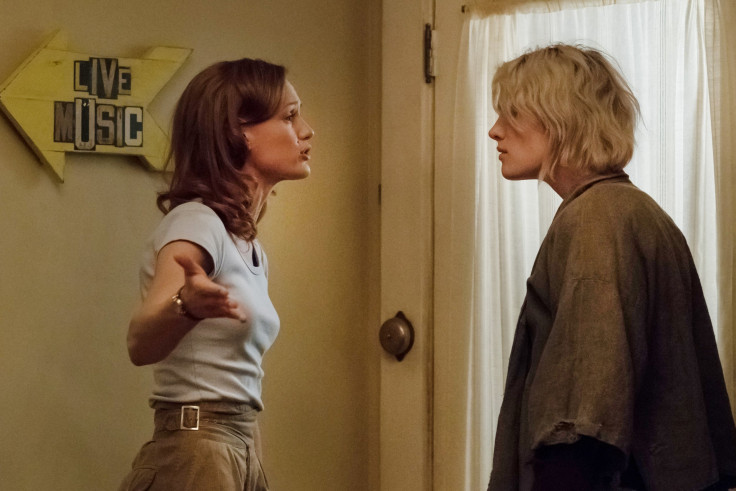 "Halt and Catch Fire" Season 2 was back Sunday night with episode 2, "New Coke." It was a busy hour for the AMC drama as video game startup Mutiny dealt with a surprise hacker and a new hire.
Last week, showrunner Jonathan Lisco spoke with International Business Times to break down the premiere's biggest moments. After episode 2, we caught up with Kerry Bishé, who plays Donna Clark, to discuss her rocky working relationship with Cameron (Mackenzie Davis), her husband's (Scoot McNairy) drug use and whether or not she cares if Joe (Lee Pace) ever comes back.
Read the full interview with Bishé below:
International Business Times: At the end of the Season 2 premiere, Donna and Cameron had a talk about making decisions together and sharing the managerial responsibilities, but the pair had more problems in this episode, especially Cameron's unilateral decisions to hire Bosworth (Toby Huss) and Tom Rendon (Mark O'Brien). Will things change after their last conversation?
Kerry Bishé: I think it's a long negotiation to try and turn this into the kind of partnership that is required.
IBTimes: How serious is Donna's threat to leave? She has a lot invested in Mutiny too. Would she really walk out the door if Cameron does not change?
Bishé: I think so! I think her relationship with Cameron really shows what Donna learned from Season 1. There were a lot of things she swallowed in Season 1 that she is not willing to put up with anymore. Her partnership with Gordon last year was really unequal and she's gotten herself into a similar situation here and I think she is realizing she can't stand for it. So, in my opinion she would leave. I think she is very aware that it's not worth it to make those kinds of sacrifices.
Watch Cameron and Donna pitch Mutiny to investors in this scene from episode 2 below:
IBTimes: How does Donna feel about Gordon trying to help out so much with Mutiny? He appears to come up with a way to map Mutiny's network at the end of the episode.
Bishé: I think there is an acknowledgement that he's trying to do something nice, but I think it feels a little bit like meddling. [Gordon's plan to map Mutiny's users] is a good idea, but I think Donna has doubts about if it will work.
IBTimes: What's the state of Donna and Gordon's marriage? There's been a big role reversal this season.
Bishé: I think because of what happened in Season 1 they are both making a real, conscious effort to flip the script a little, by allowing her to have the freedom to be creative that he had last year. I think there are consequences to that that maybe they wake up to later on, but at this point it feels hopeful to me. It feels like they addressed the problem and made some changes and they are both really trying to make it work.
IBTimes: Does Gordon genuinely love working alongside his wife or does he just need something right now to not feel idle?
Bishé: Oh, I don't think the two are mutually exclusive. I think right now he is really struggling to figure out what's next and she's got something that he feels he can troubleshoot for her because the bigger, harder question is what's next for him. It's one of those times where you avoid the big problem by trying to solve a bunch of little problems, but that doesn't mean that he doesn't enjoy working with Donna. They are a good team when they are building something together. They have really complimentary skills.
IBTimes: Speaking of problems, how aware is Donna of Gordon's cocaine use?
Bishé: She's not! I don't think she is very aware of much going on at home at all. I think Donna is really taking advantage of the opportunity she has to be creative [with Mutiny] and is a little lost in that. I also think there might be a little bit of denial that there's a problem.
IBTimes: If she had found about Stan picking up the kids, what impact would that have had on the relationship?
Bishé: Well, she's so focused on work right now. I think it might have been a bit of a wake-up call that things aren't going great at home and she needs to jump back in there and start addressing some issues, but that doesn't happen, so I think those issues continue for a little while unaddressed.
IBTimes: How committed is Donna to Community, her social media precursor chatroom?
Bishé: I think she really clings to that as her territory now. She's worked so hard the first episode to create some creative space for herself at work. So, I think she is committed to it for a number of reasons, not necessarily just the potential of the technology, which turns out to be pretty phenomenal as we now know.
IBTimes: It's really the first time a character on this show has been ahead of Cameron in seeing the future potential of a technology.
Bishé: Cameron is the type of person who gets really excited about technological advances, about elegant, beautiful code. The chat room doesn't have beautiful code. It's about people and Cameron is not very good with people. So, it makes sense that she would not see the potential in this thing.
IBTimes: Joe has been gone for a year now in the timeline of the show. Is he on Donna's radar at all?
Bishé: It seems like Gordon and Joe have a continuing interaction, but I think, interestingly, Dona and Joe have the most antipathy for each other of any two characters. They have this really historic dislike of each other. She doesn't trust him at all and there's no reason at this point to think of him at all. I think the assumption is he's gone, we are never going to see him again and we are brushing our shoulders off and moving on.
IBTimes: When "Halt and Catch Fire" first premiered it was very much billed as the Joe, Gordon, and Cameron show. Was it always the plan for Donna to be this much involved?
Bishé: I don't know that there was a plan. I know from Season 1 [the writers] wanted her to be a different kind of TV mom and I think they really set themselves up to make a deep, multifaceted character. Even in the pilot, they really wanted to make her someone who plays on your assumptions and then really shifts what those assumptions are. I'm so excited, obviously, that they wanted to keep developing this character. It's been so much fun to get to play, so, I'm really glad, whether it was the plan or not.
"Halt and Catch Fire" Season 2 airs Sundays at 10 p.m. EDT on AMC. What did you think of episode 2? Tweet your thoughts to @Ja9GarofaloTV.
© Copyright IBTimes 2023. All rights reserved.