Hank Williams Comments: Singer Apologizes, Again, for Hitler-Obama Analogy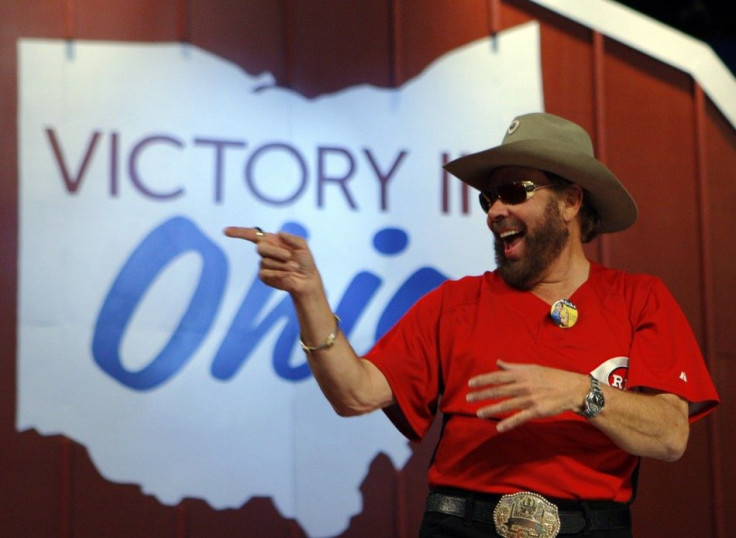 Hank Williams Jr. apologized Tuesday for his comments comparing President Barack Obama to Adolf Hitler, a remark that prompted ESPN to pull his Monday Night Football musical introduction from this week's game, Reuters reported.
On Tuesday, the country singer said: I have always been very passionate about politics and sports and this time it got the best or worst of me.
Williams committed the blunder on Fox News, when he was asked about Obama and Republican House Speaker John Boehner, R-Ohio, playing on the same team in a June golf game.
The thought of the leaders of both parties jukin' [sic] and high fiven' [sic] on a golf course, while so many families are struggling to get by, simply made me boil over and make a dumb statement, and I am very sorry if it offended anyone. I would like to thank all my supporters. This was not written by some publicist, Williams wrote on his Web site.
When one of the Fox News interviewers pointed out that Williams had used one of the most hated people in all of the world to describe the president, Williams replied: That is true, but I'm telling you like it is, you know. That just wasn't a good thing. It just didn't fly. So anyway, like Fred Thompson said, you don't want to ask me a question because I'm going to give you too straight of an answer. So talk about something else.
Earlier Tuesday, the Anti-Defamation League condemned Williams' comments and praised ESPN for pulling his Are You Ready for Some Football? recording.
The Holocaust was a singular event in human history, and it is an insult to the memory of the millions who died as a result of Hitler's plan of mass extermination to compare the Nazi dictator to any American president, said Abraham H. Foxman, ADL national director and a Holocaust survivor.
Hank Williams Jr. should know better. He owes an apology to Holocaust survivors, their families, and the brave American soldiers who have themselves to fight the Nazi menace during World War II. The last thing we need is to enter another election cycle on a sour note tainted with inappropriate, tired, and over-the-top analogies to the Nazis, he said.
ESPN said in a statement that it was extremely disappointed with his comments when it decided to pull the opening segment from Monday night's telecast.
© Copyright IBTimes 2023. All rights reserved.
FOLLOW MORE IBT NEWS ON THE BELOW CHANNELS