Hanukkah 2014: 14 Unique And Different Menorahs To Celebrate The Festival Of Lights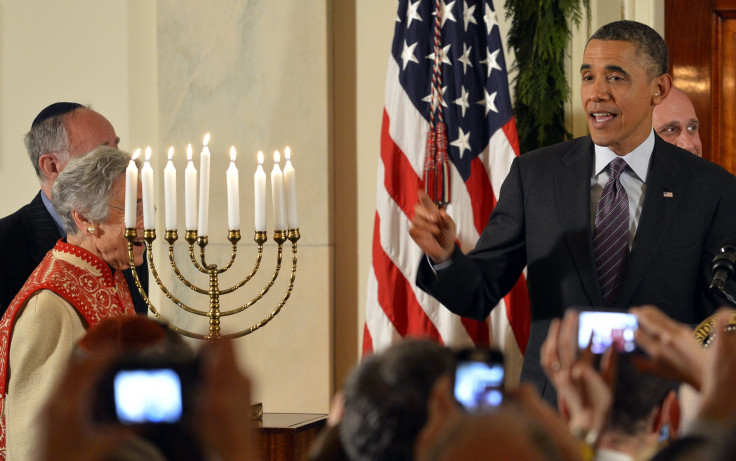 While some families are chopping down Christmas trees right now, others are getting out menorahs for Hanukkah. The eight nights of the Jewish holiday begin Dec. 16, and plenty of people will be using traditional menorahs. There's nothing wrong with an old classic, but there are tons of options for anybody who wants a menorah that's different and unique.
1. Elephant Menorah -- A white ceramic elephant ($128) is Jonathan Adler's new take on the traditional menorah. The eight candles go in the elephant's back, and the ninth goes in its trunk.
2. Foldable Menorah -- It's certainly easier to store a menorah if you can bend it down to be completely flat. That's exactly what this menorah ($53) does. It comes in a flat envelope, and then users have to bend the precut stainless steel into boxes that hold the candles.
3. Beads Menorah -- If a straight line of candles is too traditional, the beads menorah ($170) will give users a lot more freedom. The unique design gives each candle a freestanding ceramic bead and the beads can be positioned in any way. However, a brass pole is also included, just in case the user wants to stick with the traditional line.
4. Pea Menorah -- The pea menorah ($135) is another space saver. The design, inspired by a pea pod, is almost flat.
5. Leaf Menorah -- Those looking for a more whimsical menorah might look at the leaf menorah ($179). The brass design is a little rustic and might be good for a nature-lover.
6. Dreidel Menorah -- If you just can't get enough dreidel time during the holidays, the dreidel menorah ($69) is a great option. The design connects nine aluminum dreidels, but instead of handles to spin them, there are holders for the candles.
7. Dancing Rabbis Menorah -- This different menorah exactly what it sounds like. Nine bronze, dancing rabbis can hold up your Hannukah candles ($175).
8. Building Blocks Menorah -- The Jewish Museum sells a menorah that users can build themselves ($30). The neon blocks, which work much like LEGOs, can be arranged in any shape.
9. Floral Menorah -- Haitian artists recycled old oil drums to make colorful menorahs ($112). The design features birds and flowers behind the candles.
10. Glam Tree Menorah -- If your menorah lacks bling, Olivia Riegel's tree menorah ($175) might be the perfect solution. The menorah uses Swarovski crystals in the tree's leaves and on the candle cups.
11. Cat Menorah -- Cat ladies celebrate Hanukkah too. The menorah ($44.50) features 10 happy cats chasing mice.
12. Beach Menorah -- For those who like to escape the winter weather any way they can, the wrought-iron beach chair menorah ($45.99) might be the best option.
13. Orchestra Menorah -- Bring some music to Hanukkah this year. This menorah ($97) creates a five-man orchestra from nuts and bolts behind your candles.
14. Storage Menorah -- This Star of David-shaped menorah ($58.95) doesn't just hold candles for a night. It holds all of the Hanukkah candles for the entire Festival of lights.
© Copyright IBTimes 2023. All rights reserved.