Christmas Movies On Netflix 2014: 12 Best Holiday Flicks To Watch In December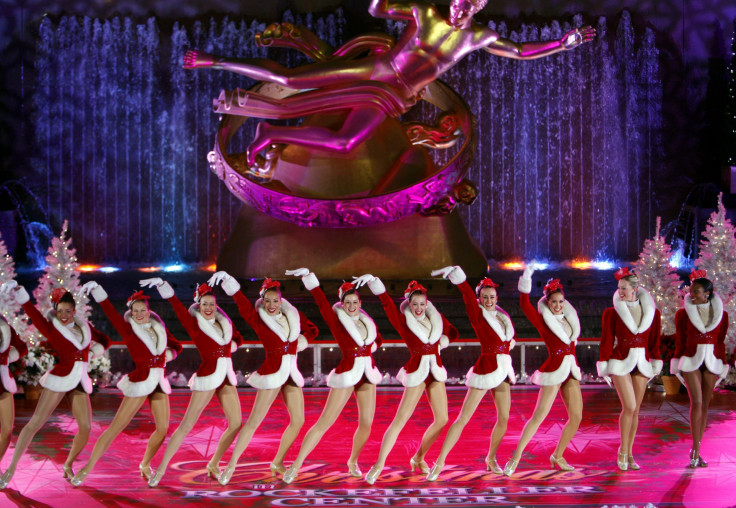 Holiday cheer is contagious thanks to Netflix. The streaming service has Christmas movies for the entire family to enjoy in the month of December – but how do you choose what flick to watch? With countless fun options, we've narrowed the list down to the top 12 holiday movies to watch before Christmas:
1. "Scrooged" Bill Murray is great in this modern take on Charles Dickens's "A Christmas Carol." The 1988 film follows Murray's character, an extremely grumpy TV executive named Lumpy, who hates Christmas and is rude to everyone around him. Three ghosts show him the past, present and future, leaving it up to Lumpy to change his life.
2. "12 Dates of Christmas"
An ABC Family "25 Days of Christmas" alum, "12 Dates of Christmas" is a romantic holiday tale starring Amy Smart and "Saved by the Bell" alum Mark-Paul Gosselaar. First premiering in 2011, the kooky story about finding love around the holidays is one you can't miss.
3. "Happy Christmas"
Love Anna Kendrick? Then check out this new holiday flick, "Happy Christmas." The "Pitch Perfect" star can be seen alongside Melanie Lynskey, Mark Webber and Lena Dunham in this story about a girl with "self-destructive behavior."
4. "Christmas Cupid"
Another ABC Family "25 Days of Christmas" movie? Yes, please! "Christmas Cupid," which first premiered in 2010, has a can't miss cast that includes Christina Milian, Ashley Benson and Chad Michael Murray. It's up to a ghost to help her "workaholic" publicist "find love by Christmas."
5. "The Muppet Christmas Carol"
It's impossible not to watch Kermit and Miss Piggy over Christmas. Like "Scrooged," Disney's "The Muppet Christmas Carol" puts its own spin on the Charles Dickens tale.
6. "Nightmare Before Christmas" Christmas can get a little scary when you live in Halloweentown. Watch Jack Skellington stir up some trouble right before the holidays when he decided to take over as Santa Claus in this 1993 flick.
7. "I'll Be Home For Christmas"
Who doesn't need a little Jonathan Taylor Thomas in their lives? This 1998 film starred the then teen heartthrob JTT and Justin Timberlake's current wife, Jessica Biel. "I'll Be Home for Christmas" was about a "spoiled student" who has to find a way home after getting stranded in the desert with a car or money.
8. "The Fitzgerald Family Christmas"
"Friday Night Lights" fans won't want to miss "The Fitzgerald Family Christmas." Connie Britton stars in the 2012 flick about a husband who returns for the holidays … after abandoning his family 20 years before.
9. "The Christmas That Almost Wasn't"
Snuggle up with your loved ones for this 1966 classic. In "The Christmas That Almost Wasn't," the big guy in red falls behind on his rent – and the man who holds his deed threatens to evict him from the North Pole. Santa has to figure out how to fix the situation before the toys get seized and Christmas gets canceled.
10. "Radio City Christmas Spectacular"
Don't fret if you can't make it to New York for Radio City's "Christmas Spectacular." You can watch The Rockettes in the comfort of your own home thanks to the 2007 recording of the holiday hit show.
11. "Christmas Bounty"
"Christmas Bounty" is an ABC Family "25 Days of Christmas" movie that premiered in 2013. The romantic holiday flick, which stars Francia Raisa of "Secret Life of the American Teenager" and professional wrestler Mike "The Miz" Mizanin, is about a former bounty hunter who tries to hide her past (and her ex) from her new fiancé.
12. "A Country Christmas"
Throw on your cowboy boots and hop on the couch for this one. "A Country Christmas" is about a politician who succeeds in banning the "myth of Santa Claus." It's up to two kids to help spread the holiday spirit before its too late. Bonus: Keep an eye out for country crooners Trace Adkins and Jay DeMarcus of "Rascal Flatts."
What Christmas movie will you be watching on Netflix? Tweet @AmandaTVScoop.
© Copyright IBTimes 2023. All rights reserved.