'Happy!': Patton Oswalt On Voicing The Titular Winged Horse In Syfy Series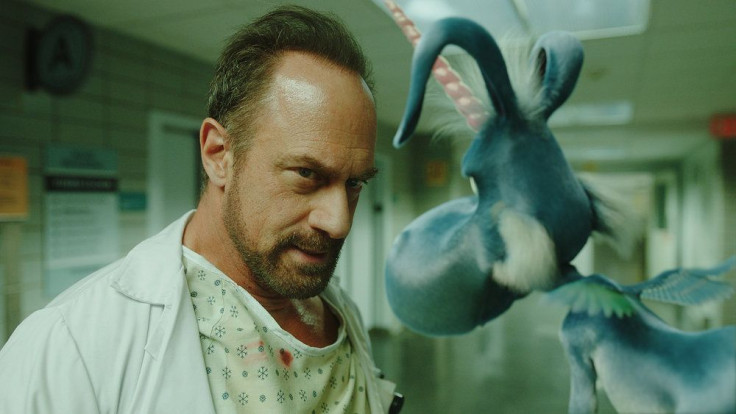 Patton Oswalt voices the titular winged horse in the new Syfy series "Happy!" And because Happy is a CGI character, Oswalt wasn't on the set during the production of the show. But even though Oswalt recorded his dialogue remotely, the 48-year-old actor revealed that he still got help from his co-star Christopher Meloni in doing all his voice-over work.
"What really, really helped were that all of my voice-over sessions were with Chris on Skype," Oswalt told Collider. "And he wasn't just filling in the lines, as I read them. I had this very negative, poisonous, damaged person coming at me, and the only way to match it was to crack up the optimism to this almost manic level."
Oswalt said that recording his dialogue while interacting with Meloni via Skype made it easier for him to do ADR (Automated dialogue replacement) and re-record lines on his own. "When I went in later to do ADR and re-record lines, I could actually see the scenes and see this world," Oswalt said. "And I felt like I had to crank up the optimism as an armor."
Oswalt added that exchange of dialogue between him and Meloni via Skype also helped the latter when filming the actual scene on set. "You were running and working out some stuff that you might do on the set," Oswalt said to Meloni, who plays Nick Sax on the series, during an interview with Indie Wire. "In a way, it was a good dry run for him to figure out how crazy he could get."
Although the Skype sessions worked, Oswalt said that he's hoping that he'll be able to be on set in future seasons of the series like how actor Charles Fleischer was on set of the 1989 film "Who Framed Roger Rabbit?", in a rabbit costume, while voicing the titular character. "I wonder if that would've changed my performance, watching the action and then actually being in the middle of it?" Oswalt said. "Next season, I'll dress in my little pony outfit."
Although Oswalt has been doing a great job voicing Happy on the series, the actor wasn't the first choice for the role. Bobby Moynihan was originally set to lend his pipes to the imaginary character but the actor parted ways with the project due to his increasingly busy schedule. According to The Hollywood Reporter, Moynihan exited "Happy!" as he prepared to headline his first network series "Me, Myself & I." Moynihan also left "Saturday Night Live" in May after nine seasons in order to star in the new CBS comedy.
"Happy!" airs Wednesdays at 10 p.m. EST on Syfy.
© Copyright IBTimes 2023. All rights reserved.