Hawaii News: Tropical Storm Miriam Could Turn Into Hurricane On Monday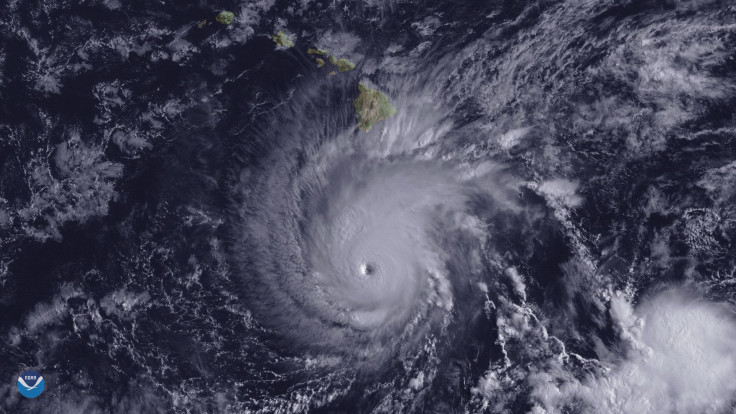 In the wake of Hurricane Lane reverting to a tropical depression, weather forecasters predicted tropical storm Miriam could become a Hurricane on Monday. The forecast issued at 8.00 p.m. PDT (11 p.m. EDT) by the National Hurricane Center said the storm, at the time of the forecast, sustained a maximum wind speed of 50 mph, with higher gusts. The wind speed was expected to pick up in the coming days, which means Miriam might turn into a tropical hurricane by Monday or Tuesday.
To be classified as a hurricane, a tropical storm should have sustained wind speeds of 74 mph at least.
At the time of the forecast, the storm was 1,335 miles west southwest of the southern tip of Baja California. It was moving west at a speed of 14 mph. "This general motion is expected to continue for the next few days," the forecast said.
There are no coastal watches or warnings in effect due to the storm. No direct threat to land is expected over the next five days.
In an earlier report, it was said that that Miriam was 1,920 miles east southeast of Hilo. The National Oceanic and Atmospheric Administration said the storm formed about 2,000 miles east of Hawaii.
Miriam comes right after Hurricane Lane, which was at one point a category 5 hurricane, before it weakened as it neared the islands. Lane left a record amount of rainfall on the islands, as well as flooding in Big Island. No deaths were reported due to the hurricane, though 40 people were evacuated from their homes due to flooding.
The hurricane slowed down as it reached the islands, bringing down the danger of damage to the islands. The worst affected area was Big Island.
According to Fox News, Lane was in third place for the most amount of rain from a storm in U.S. since the 1950s. Last year, Harvey brought 60.58 inches of rain in Houston, taking the number one spot. Hurricane Hiki produced 52 inches in Hawaii in 1950, gaining the second spot, while Lane takes the third. Lane dropped about 51.53 inches of rain by Sunday morning, an amount which is expected to rise as the rain has not stopped yet in Big Island, even after the hurricane-turned-tropical-depression left the region.
Lane dulled into a tropical storm Friday. All existing warnings in Hawaii were cancelled when the storm moved west and away from the state Saturday morning.
Big Island has been victim to one situation after another this year. From the continuously erupting Kilauea volcano that destroyed over 700 homes this year, it has also witnessed tropical hurricanes, floods and even wildfires.
"Definitely we need a break," Hawaii County managing director Will Okabe said. "We are going to be prepared, and we always do that well on the Big Island." He added that since it was hurricane season, other storms could still develop close by.
© Copyright IBTimes 2023. All rights reserved.