HBO Scientology Documentary: 5 Revelations Made In Alex Gibney's 'Going Clear'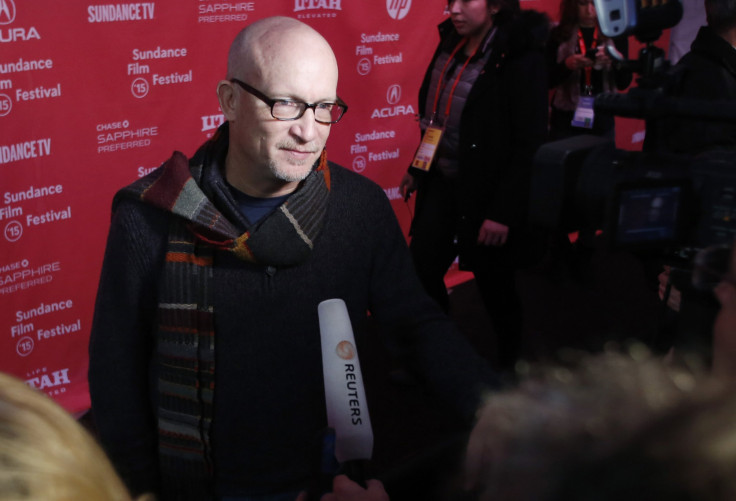 Alex Gibney's new documentary, "Going Clear: Scientology and the Prison of Belief," premiered at the Sundance Film Festival in Park City, Utah, on Sunday to a sold-out crowd. With rumors that massive protests would greet moviegoers, many arrived hours in advance to make sure they got a seat for the highly anticipated documentary about the controversial religion.
"I think this brings the controversy to a whole new level of exposure and intelligence," Mark "Marty" Rathbun, former senior executive of the Church of Scientology who participated in the HBO documentary, told International Business Times in an email Monday. "That America's most accomplished modern documentarian has now weighed in raises the stakes against Scientology continuing to carry on business as usual."
Rathbun has been an outspoken critic of the church since he quit it in 2004. In the past three months, Rathbun has filmed himself being ambushed by current Scientology members twice -- once at Los Angeles International Airport in October and again in December outside a Hollywood studio, where he was consulting on a separate Scientology documentary for the BBC.
"We are hopeful, not only for ourselves but for other whistleblowers, that the light's increasing intensity causes Scientology to cease their domestic terrorism operations," Rathbun said about the film.
According to Vulture, the screening ended with a standing ovation. After a question-and-answer session from Gibney, author Lawrence Wright and the documentary's participants were shielded by a group of volunteers who formed a human chain around them, most likely as a security precaution.
The documentary, based on the 2013 bestselling book of the same name, will be available on HBO starting March 16. The film profiles eight former members of the Church of Scientology, describes the life of the faith's founder L. Ron Hubbard and provides personal details on some of the church's celebrity members, including Hollywood actors Tom Cruise and John Travolta.
Ahead of the film's premiere, the Church of Scientology launched an ad campaign in the New York Times, attacking the film. In a statement released after the documentary's screening, the church reiterates its stance, saying the accusations made in the film "are entirely false" and "alleged without ever asking the Church."
"Despite repeated requests over three months, Mr. Gibney and HBO refused to provide the Church with any of the allegations in the film so it could respond," the statement said. "Gibney refused to speak with any of the 25 Church representatives, former spouses and children of their sources who flew to New York to meet and provide him and HBO with firsthand knowledge regarding assertions made in Mr. Wright's book as that was all we had to guess from."
The Church goes on to state the sources in the documentary are a "collection of obsessive, disgruntled former Church members" who didn't voluntarily leave the church but were "kicked out."
The Church of Scientology has been known to be litigious against former members. Besides lawsuits, former members who have criticized the church have reportedly been followed and harassed by current members. Two of the documentary's sources -- who haven't been named -- said they were photographed at the Salt Lake City airport by the same person. Gibney and Wright said the church has threatened them with litigation. Former members say they have received online threats and been filmed and followed by current members. Ahead of the film's release, HBO said in November that it had hired 160 lawyers to vet the documentary's claims.
"The kinds of threats that I've received, and Alex as a filmmaker, have been predominantly legal and they have been manifold," Wright said at the premiere. "But nothing compared to what the people who were in the church suffered. "
For those who can't wait to watch the documentary when it hits HBO on March 16, below are five revelations the film makes about the Church of Scientology:
L. Ron Hubbard's life and theology
According to reviews, the film spends time documenting the life of the faith's founder. While the facts aren't new, the documentary shares a first-person account from Hubbard's late second wife Sara Northrup. According to Scientology blog "The Underground Bunker," these details have never been made public before. The film also claims Hubbard beat his first wife, Margaret Grubb, kidnapped their daughter and left her in Cuba to be cared for by a mentally disabled woman.
Besides his personal life, the film also details Hubbard's cosmology: where an evil alien overlord named Xenu brought billions of people to Earth 75 million years ago. The bodies were dropped into volcanoes and their spirits, known as thetans, are believed to attach to humans even today. The purpose behind Scientology is to cleanse the body and mind from these spirits.
Tom Cruise and Nicole Kidman's breakup
One of the highly publicized revelations made in the film revolved around Hollywood actor Tom Cruise. According to Marty Rathbun, the Church was largely responsible for the couple's breakup in 2001. Rathbun says church president David Miscavige disliked Kidman because she wasn't a believer and her father was a prominent psychologist in Australia -- a profession that Miscavige dismisses. The film also highlights the fact that Cruise was largely silent about the church during his relationship with Kidman. After their breakup, he became more vocal about the church and is considered its biggest celebrity spokesman.
Rathbun, who was responsible for auditing high-profile members of the church, said during one session Cruise was frustrated with his relationship with Kidman and joked that he wanted to know what she was doing. When Rathbun relayed this to Miscavige, he took the concern seriously and had Kidman's phones wiretapped. While Rathbun has mentioned the wiretapping information to news outlets in the past, Gibney is the first to publicize this, according to the Underground Bunker.
Rathbun also claims he was told to convince Cruise's children -- Isabella and Connor -- that Kidman, their adoptive mother, was a "suppressive person." The goal was to not only have the couple split up but also for Cruise to be awarded full custody. While custody details weren't made public during their divorce, the couple's children remained in Los Angeles at Cruise's home while Kidman returned to Australia.
John Travolta's secrets
The film goes on to discuss its other high-profile member, actor John Travolta. The film alleges that Travolta won't leave the church over fear that parts of his personal life would be leaked if he did. These details are collected during a member's auditing process, where they reveal their problems, worries and bad memories to become "clear," USA Today reports.
Stories of abuse
The film profiles former members who said they were subjected to torture, abuse and intimidation. Sources said they were subjected to sleep deprivation, fed scraps of food and were beaten. One man said he had to mop a bathroom floor with his tongue.
Spanky Taylor, a former publicist and friend of Travolta, said her infant daughter was taken away from her and left in a urine-soaked crib. At the time, she was forced to do hard labor while she was pregnant. Taylor said she was able to rescue her daughter and escape. Taylor attended the premiere of the documentary with her now-grown daughter, Vanessa.
Former member Sara Goldberg described a similar experience in the film. She was told by Scientology officials that she had to disown her son, Nick. Raised as a Scientologist, at 18 years old he began to stray from the church's teachings. After years trying to "handle" her son, Goldberg faced a church trial where she was told to disconnect from him. She refused and left the church after 36 years. Her story was recounted in a Tampa Bay Times article published in March.
Rare footage
Church critics were quick to praise the rare photographic and film footage used in the film. According to the Underground Bunker, this includes historical footage taken of the church's Sea Organization aboard the Flagship Apollo, the home of L. Ron Hubbard; Miscavige in his office with Rathbun; and extended cuts from the church's announcement that its "war" with the federal government was over after it received tax-exempt status in 1993.
FOR FREE to continue reading
✔️ Unlock the full content of International Business Times UK for free
offer available for a limited time only
✔️ Easily manage your Newsletters subscriptions and save your favourite articles
✔️ No payment method required
Already have an account?
Log in
© Copyright IBTimes 2023. All rights reserved.