Church Of Scientology Launches Attack Ad On Upcoming HBO Documentary [PHOTOS]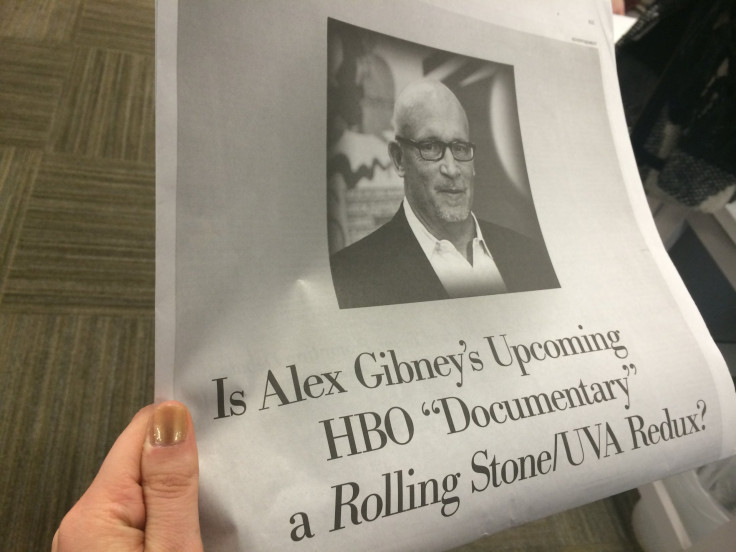 The Church of Scientology has launched an advertising campaign against an upcoming HBO documentary about the religion. The full-page ad, which appeared in the New York Times on Friday, says the film will broadcast false information.
The ad appears on page A11 in the New York Times with a photo of Alex Gibney, the director of the HBO documentary, "Going Clear: Scientology and the Prison of Belief." The film, which profiles eight former members of the Church of Scientology, will premiere at the Sundance Film Festival on Jan. 25 before its limited release in a small number of theaters. It will premiere on HBO starting March 16.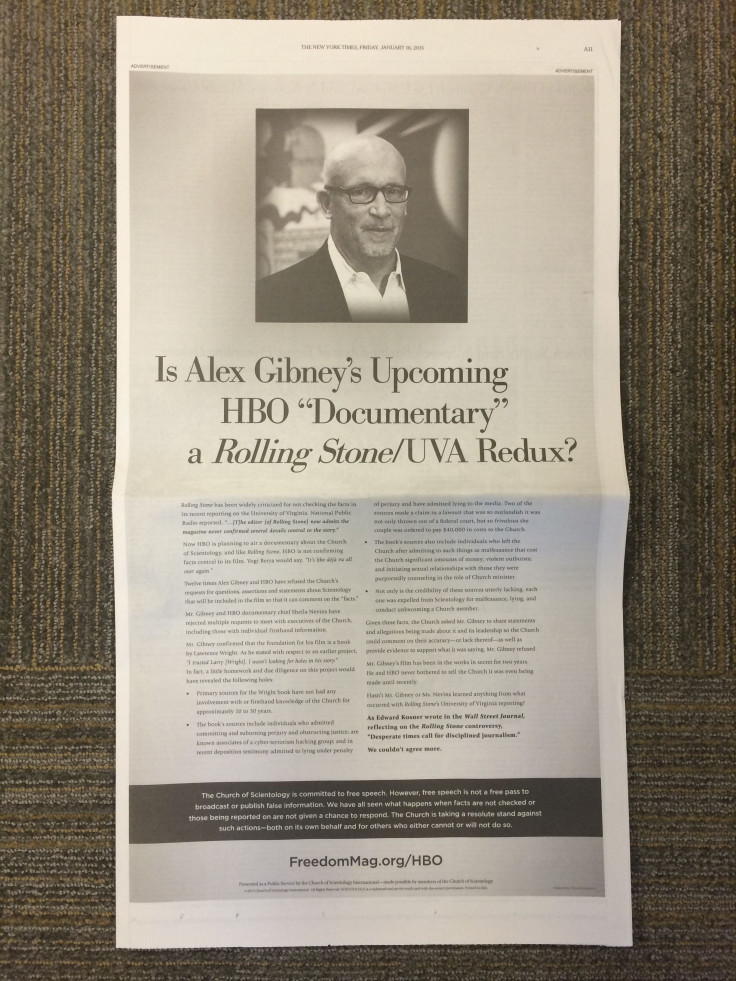 In large, bold print, the ad asks, "Is Alex Gibney's Upcoming HBO 'Documentary' a Rolling Stone/UVA Redux?" The headline, of course, is a pointed reference to a November article in Rolling Stone magazine that has been criticized for its discrepancies while reporting on a rape at the University of Virginia.
"HBO is planning to air a documentary about the Church of Scientology, and like Rolling Stone, HBO is not confirming facts central to its film," the ad states, adding that the church made 12 fact-checking requests to HBO and the documentary's director, Alex Gibney, that were rejected.
"Going Clear" is based off the 2013 book of the same name. The nonfiction book, written by Pulitzer Prize-winning author Lawrence Wright, includes interviews with former Scientologists who criticize the religion as well as an analysis of the church's relationship with Hollywood actors Tom Cruise and John Travolta.
"Primary sources for the Wright book have not had any involvement with or firsthand knowledge of the church of approximately 10 to 30 years," the ad states.
The ad makes other allegations against the book's sources, including individuals who have "admitted committing and suborning perjury," are "known associates of a cyberterrorism hacking group" and "left the church after admitting to such things as malfeasance that cost the church significant amounts of money; violent outbursts; and initiating sexual relationships with those they were purportedly counseling in the role of church minister."
In a tweet published on Friday morning, director Alex Gibney called the ad a "chosen device of a business protecting market share, not church protecting belief."
© Copyright IBTimes 2023. All rights reserved.