Heat Dome Alert: Southeast US Expected To Experience Sweltering Temperatures This Week
KEY POINTS
Southeast states are set to face a heat wave this week
Temperatures can go as high as 90 degrees Fahrenheit
People should stay hydrated and keep out of the sun
People in Southeastern United States should prepare for extreme temperatures this week as a heat dome is expected to push the mercury to possibly record levels.
It's not technically summer yet, but some states will experience an early taste of it this week because of a heat dome, CNN reported. Temperatures are expected to run "at least 90 degrees" or even higher this week, possibly breaking daily heat records.
This is expected to affect cities such as Tennessee, Alabama and Atlanta, while others, including New Jersey and Atlantic City, already started feeling the heat as early as Saturday.
Although a cold front will provide some respite to mid-Atlantic cities for about two days, the heat wave is expected to come back. The temperature in Boston, for instance, may go down to 60 and 70 degrees on Monday and Tuesday but it will come back to 90 degrees by Wednesday, CNN said.
"Much cooler/seasonable temperatures to start the work week, but the warmth returns by mid-week," the National Weather Service (NWS) Boston/Norton said.
What is a heat dome?
A heat dome occurs when the atmosphere "traps" the hot ocean air and pushes it downward toward the surface rather like a lid, the National Oceanic and Atmospheric Administration (NOAA) explained. Even if the warm air tries to escape, this "lid" makes it sink back down, resulting in favorable conditions for heatwaves.
Such conditions can be quite dangerous. In the U.S., excessive heat was found to be the leading "weather-related killer," the NOAA and NWS said. In 2019, for instance, it caused 63 fatalities.
"A combination of high heat and humidity can lead to heat-related illness, including heat cramps, heat exhaustion, and heat stroke," the agencies said. "Heat-related illness can occur when the ability of the body to cool itself is challenged, or when there are insufficient levels of fluid or salt in the body due to sweating or dehydration."
People should be prepared for extreme heat conditions by remaining hydrated, keeping out of the sun and staying more in air-conditioned places. Those who have to stay out should take breaks in the shade and choose to wear light and loose-fitted clothing.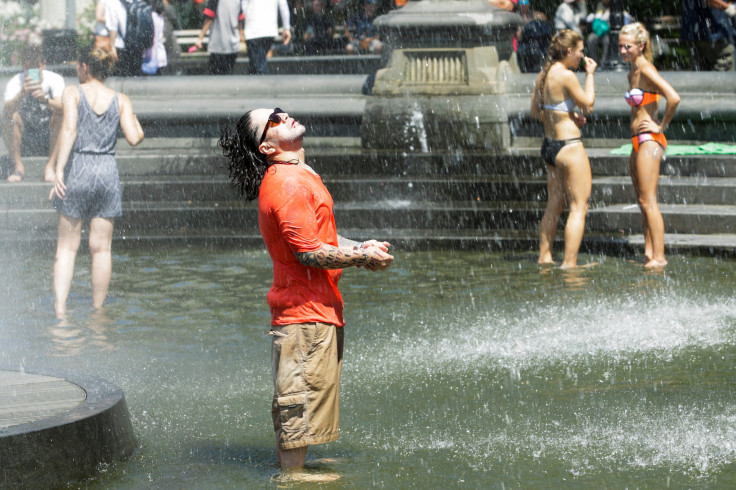 © Copyright IBTimes 2023. All rights reserved.