Here Are The December 2013 'Big Eight' US Auto Sales Numbers: GM, Ford, Chrysler, Toyota, Honda, Nissan, Volkswagen, Kia/Hyundai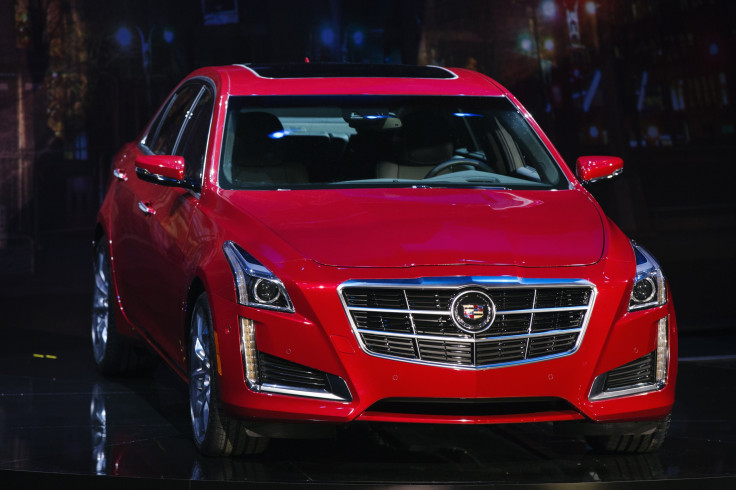 Note: Click here for the final results. Click here for the December and 2013 U.S. new-auto sales preview.
The world's eight top auto manufacturers are releasing their December new-car and light-truck sales figures for the U.S., the world's second-largest auto market after China, throughout the day on Friday. Auto-industry analysts forecast that the total monthly sales figures from these auto companies will come to about 1.4 million vehicles, up by about 5 percent from December 2012. December is a key sales month for the year, when dealers push hard to meet annual sales targets.
"December is always a big month of truck sales and a really big month for luxury car sales. It looks like a lot of new incentives went into effect on Dec. 20," said Michelle Krebs, senior analyst for the automotive pricing and information provider Edmunds.com. "The bulk of the sales come in at the end of the month with a lot of year-end deal sweetening."
The seasonally adjusted annualized rate, the key monthly metric that gauges the health of the industry and consumer sentiment, is expected to be around 15.6 million units for 2013, up from 14.5 million in 2012.
Click here for the preview of today's Big 8 auto sales numbers.
UPDATE 3:13 p.m. EST: Hyundai Motor America & Kia Motors America
The South Korean siblings announced Friday U.S. combined sales of nearly 1.26 million vehicles for 2013, a slight decline of 0.4 percent from the previous year. For December, sales fell 2 percent to 96,636 units.
The two automakers are typically twinned in industry metrics because they share significant operations, such as research and product development and marketing. Separating the data shows Hyundai growing sales and Kia shrinking them.
Hyundai sold 720,783 units in the U.S. last year, a 2.5 percent rise from 2012. In December Hyundai grew sales 6 percent to 63,005 units. The Hyundai Sonata full-sized sedan saw annual sales decline to 203,648 units, an 11.7 percent retreat, while the Hyundai moved nearly 27 percent mote Elantra compacts in 2013, to 247,912 units. Hyundai's Santa Fe crossover saw a 25 percent jump in annual U.S. sales, to 88,844.
Overall, Kia moved in the other direction. It sold 4 percent fewer vehicles in the U.S. last year and 14 percent fewer units in December at 33,631. The Kia Optima mid-sized sedan ekes out 2.3 percent more sales to 155,893 units. The Kia Soul compact also moved upward just under 2 percent to 118,079 vehicles. Sales of the Rio subcompact were essentially flat.
UPDATE 2:36 p.m. EST: Toyota Motor Sales (TMS), U.S.A., Inc.
The U.S. subsidiary of the world's largest automaker by sales and production volume said Friday 2013 sales in the U.S. grew 7.4 percent to nearly 2.24 million vehicles helped by a healthy 12 percent jump for its luxury Lexus division, a record December for the RAV4 crossover, and a good start for the 2014 Corolla.
"Lexus had its best sales month in seven years and the luxury segment outperformed the overall auto industry in December" Jeff Bracken, Lexus group vice president and general manager, said in a statement announcing the numbers.
Lexus did well in December, too, with a nearly 14 percent jump to 34,757 units. Toyota's overall sales in December declined 1.7 percent to 190,843 units, in line with lackluster December results for competitors that might be attributable to weather conditions that kept may car buys from shivering on snow drifted dealer lots in many parts of the country.
The Camry sedan maintained its 12 year streak as the No. 1 selling car in the U.S. with sales topping 400,000 units for a second consecutive year. The Avalon full-sized sedan did well on low sales volume in December (up 20 percent to 6,212 units) and well more than doubled year-over-year sales to 70,990. RAV4 sales shot up 46 percent in December compared to last year, to 20,970 units. For the year the company moved 218,249 RAV4s, a 27 percent leap. Corolla sales for the year increased 3.9 percent to 302,180 while the 2014 Corolla was up 4 percent since the car went on sale in September.
The Lexus IS entry-level luxury car continues to do well as it has for much of the year, more than doubling sales in December and up over 25 percent for 2013, to 30,017 units. The Lexus ES full sized luxury car also performed well , up over 29 percent to 72,581.
UPDATE 1:56 p.m. EST: American Honda Motor Co.
Honda said Friday it sold 1.9 percent more vehicles in December than it did in the same month last year, at 135,255 units, the best December on record for Honda in the U.S. For the year the U.S. subsidiary of the Japanese automaker sold 1.5 million vehicles, a 7.2 percent increase and the company's second-best year on record.
"The CR-V joins Accord and Civic as the third Honda vehicle to sell more than 300,000 units per year for the first time in our history," John Mendel, executive vice president of sales at American Honda, said in the statement announcing the numbers.
Accord sedan sales had its best annual-sales showing since 2008 with 366,678 units, a 10.5 percent year-over-year increase, while Civic compact sales grew nearly 6 percent to 336,180 units. Combined, the Honda brand's three top sellers (Accord, Civic and CRV crossover) made up almost exactly half of all Honda brand sales in the U.S. last year, excluding the Acura luxury brand. But other models fared well, too, especially the Fit subcompact (up 8.4 percent to 53,513 units) and the Odyssey minivan (up 2.4 percent to 128,987 units).
The Acura division saw 2013 sales rise 5.9 percent to 165,436 units thanks largely to demand for the ILX entry-level luxury car, up nearly 67 percent to 20,434 units; the RDX compact crossover, up almost 52 percent to 44,750 units; and the MDX mid-sized crossover, up 4.3 percent to 53,040. December Acura sales didn't fare so well, declining 1.8 percent because of attractive year-end offers from competing luxury brands.
UPDATE 12:47 p.m. EST: Nissan U.S.A.
Nissan's U.S. sales jumped over 9 percent in 2013, to nearly 1.25 million units, and the company ended the year with stronger December demand than a year ago with 10.5 percent growth to nearly 110,000 unties.
Demand leaders for the year include the Altima sedan, up nearly 6 percent to 320,723 units, the Rogue compact crossover, up 14.3 percent to 162,751 vehicles, and the Sentra compact, up 21 percent to 129,143.
Nissan car sales were up nearly 8 percent in 2013, to 695,139 units, while Nissan trucks sales grew nearly 16 percent to 436,826 on stronger demand for the Frontier extended cab pickup truck and the Pathfinder, which saw sales more than double to 88,632.
The luxury Infiniti division saw a decline in sales in 2013, by almost 3 percent to 116,455. The Infiniti QX60 luxury crossover was the only riser in the Nissan luxury pack in 2013, with a 46 percent jump to 31,602 units.
UPDATE 11:43 a.m. EST
The Detroit 3 automakers sold a combined 7.08 million cars and light trucks in the U.S. in 2013, with a combined average of 9 percent growth from 2012. General Motors Co. (NYSE:GM) estimates that total U.S. vehicle sales for the year will come in at 15.6 million, which if actualized would push annual sales up 7.6 percent from 2012. Final estimates will come out later today.
"GM, Ford and Chrysler demonstrated the importance of a balanced product lineup, since seasonality has a major impact on what cars and trucks appeal to shoppers in any given month of the year," said Edmunds.com analyst Krebs. "This winter, shoppers turned their attention to trucks and SUVs, and by offering some of the most iconic products in these categories, the Detroit brands were able to turn in a respectable performance."
Detroit 3 sales declined a half a percent in December, to 609,222 units due to strong year-end competition and aggressive promotions from the five other major automakers. Numbers for 2013 suggest so far that U.S. automakers took about a 45 percent share of all U.S. auto sales in 2013.
"Sales of GM products were down 6 percent in December led mostly by declines in their Chevrolet and Buick portfolios," said Alec Gutierrez, senior analyst for Kelley Blue Book. "Although volume in the month of December was down, sales for 2013 as a whole were up 10.8 percent, outpacing the growth of the overall industry."
UPDATE 11:17 a.m. EST: General Motors Co. (NYSE:GM)
GM, the top selling automotive manufacturer in the U.S., sold 2.78 million vehicles in the U.S. last year, or 7.3 percent more than in 2012, on robust demand for the automakers utilities and trucks.
The world's second biggest automaker ended the year, however, on a low note, seeing declines in all four divisions (Buick, Cadillac, Chevrolet and GMC) in the last month of the year, not a great sign considering the high inventory levels GM has been maintaining in recent months, levels unseen since before the Great Recession.
Still, GM did well in 2013, with double digit growth in its luxury divisions Buick and Cadillac (at 13.9 percent and 21.9 percent, respectively). The Buick Enclave crossover edged up 6.8 percent to 60,534 while the Buick Verano luxury compact jumped nearly 11 percent last year to 45,527 units.
Sales of the Cadillac XTS full-sized luxury car more than doubled last year to 32,559 while sales of the Cadillac ATS, the compact luxury sedan, leaped four-fold to 38,319 units. GM pushed both models aggressively and globally last year, trying to make the Cadillac brand America's version of German-engineered luxury.
Utility vehicles helped push the Chevrolet division (the third most popular brand in the U.S. after Ford and Toyota) to 1.95 million units for 2013, a 5.2 percent rise. Sales of the Traverse and Equinox crossovers jumped 12.7 percent (to 96,467 units) and 9 percent (238,192 units), respectively. Tahoe SUV sales spiked 21 percent last year to 83,502 units while the Captiva Sport SUV saw sales rise nearly 29 percent to 47,600.
Losers for the year were the Impala and Malibu sedans, which saw sales drop 7.4 percent (156,797 units) and 4.9 percent (200,594 units) respectively. Meanwhile demand for the Chevrolet Silverado and GMC Sierra pickup trucks (both the top selling vehicles in their divisions) increased 14.8 percent, to 480,414, and 17.3 percent, to 184,389, respectively. These two models made up 24 percent of all GM U.S. sales in 2013.
UPDATE 10:41 a.m. EST: Volkswagen Group of America Inc.
The U.S. subsidiary of the German automaker hasn't had a very good year in the U.S. in terms of sales growth, but the company did meet its annual target of topping 400,000 unit sales for the second consecutive year.
"We look forward to 2014, with the introduction of the new Golf family, continued increased awareness and enthusiasm for the brand's core models and the strength of our TDI offerings, we are well positioned for our next phase of growth to come over the next few years," Mark McNabb, chief operating officer, Volkswagen of America, Inc., said in a statement announcing the figures.
As has been the case for months, Volkswagen has been hit by little product refreshment in 2013. The Jetta sedan managed to eke out some growth in December, 4.7 percent to 13,719 units. All other models, except for an increase of very low volume for the Beetle convertible, declined, in most cases, by double digits. All model brands except for that convertible Beetle saw declines in 2013.
Doing the most harm: The best-selling Jetta and Passat fell 3.9 percent (to 163,793 units) and 6.3 percent (to 109,652 units) respectively. The company met its goals for the year, however, and new product in 2014 should help reverse the company's lackluster performance in the U.S. in 2013. Whether the company is able to double U.S. sales in the next four years, as it has stated it will do, is the big question and challenge for the company moving forward.
UPDATE: 9:56 a.m. EST: Ford Motor Co. (NYSE:F)
Ford said Friday it sold 2.49 million vehicles in 2013, a nearly 11 percent rise from the previous year, giving the company its best sales year since 2006 thanks to robust demand for the company's Fusion sedan, Escape crossover and F-Series pickup truck, the country's top-selling vehicle for more than 30 years.
"We saw strong growth across the entire Ford lineup and made significant gains in the import-dominated coastal markets," said John Felice, Ford vice president for U.S. marketing, sales and service, in announcing the monthly figures.
Ford, which was the top-selling auto brand in the U.S. last year, saw strong growth in truck sales in December, at 93,305 units (up 7.3 percent from last year's also strong truck-sale performance) led by 74,592 units sales for the F-Series (up 8.4 percent). For the year, Ford sold 763,402 of its top-selling pickup, which represented almost a third of all Ford brand sales.
The Fusion represented the only significant growth in Ford's car segment last month, with a 26.6 percent increase to 24,408. The Mustang was the only other Ford car to see an increase in December, at 3.4 percent to 5,727 units. For the year, Fusion sales topped 22 percent to 295,280, representing more than 37 percent of all Ford brand car sales last year. The Ford C-Max compact saw sales leap on low volume, to 35,210 units (up 165 percent from last year) while the Focus -- the second-best selling Ford car in the U.S. -- saw sales decline 4.6 percent to 234,570. The Fusion and the Focus combined made up 67 percent of all Ford brand car sales in 2013.
Ford said American buyers snatched up 2,823 Lincoln MKZ entry level luxury sedans, a 73 percent spike from last year, while the sales of the Lincoln MKS full-sized luxury car fell 20 percent to 1,074. The MKZ was the primary reason for Lincoln brand's 8.1 percent increase in sales last month. For the year, however, Lincoln declined slightly, to 81,694 units. Ford utility vehicles rose 10.1 percent to 681,802 units in 2013, thanks largely to demand for the Escape crossover and Explorer full-sized SUV. The segment fared well last month, too, with a 7.3 percent increase to 60,150 units.
UPDATE: 9:17 a.m. EST
Incentives to lure buyers were up in December by an average of 4 percent in December compared to the same month last year, according to auto information and pricing provider Kelley Blue Book (KBB), to $2,676. The higher the incentive rate the lower the profit margin for each vehicle sale.
According to KBB, Chrysler Group LLC was the only manufacturer to reduce December incentive spending, by 9.4 percent to $2,954. Ford was the leader last month, boosting incentives a whopping 21.7 percent to $3,346. American Honda Motor Co. and the South Korean auto-making duo Hyundai Motor America and Kia Motors America also increased their incentive spending in the double digits: 14.8 percent (to $1,902) and 17.9 percent (to $1,741) respectively.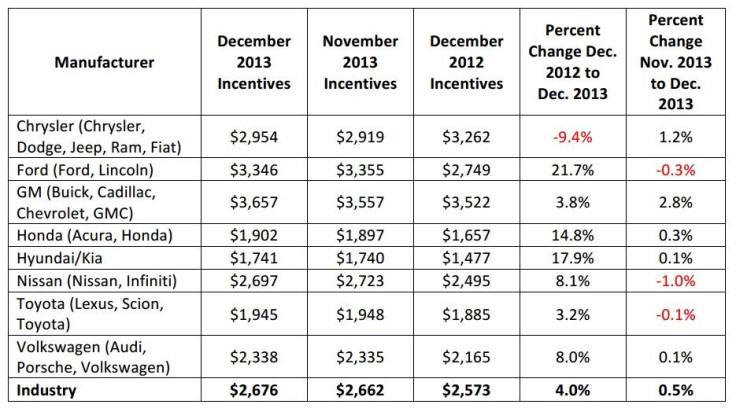 UPDATE: 8:59 a.m. EST
Transaction prices are seen slightly lower in December compared to the same month last year on average.
The Big 8 vehicle average transaction price last month was estimated by the car-buying platform TrueCar.com to be $30,786, or 0.6 percent lower than in December 2012. The average vehicle closing price increased the most for Volkswagen Group of America Inc., up by 6.1 percent over last year to $36,433, while Chrysler Group LLC saw its prices rise considerably, too, up 2.6 percent to $32,245.
Nissan U.S.A. saw the biggest retreat in average transaction price, down 6.5 percent to $26,486. Nissan and the South Korean auto-making duo Hyundai Motor America and Kia Motors America (which saw their combined average transaction price retreat 6.5 percent to $26,486) were the biggest contributors by far to bringing down the industry average.
Chrysler Group LLC
First to report numbers, as usual, is Chrysler, the subsidiary of Italy's Fiat SpA (BIT:F), which on Wednesday announced it was taking full control of the Detroit 3 maker of the Ram pickup, the Jeep Grand Cherokee and the Dodge Charger.
Chrysler said it sold 161,007 cars and light trucks in December, a 6 percent increase from last year and the best December it had since 2007, the month the last U.S. economic recession began and before the ensuing auto industry crash began.
For the year, the Auburn Hills, Mich.-based manufacturer sold 1.8 million units, a 9 percent increase from 2012.
"Our Jeep and Ram Truck brands had a strong finish led by the all-new 2014 Jeep Cherokee and the Ram pickup truck," said Reid Bigland, Chrysler's head of U.S. sales, in a statement announcing the figures. "Sales of the new Cherokee topped 15,000 units in December as our newest SUV continues its solid sales performance out of the gate."
Sales of the Grand Cherokee were knocked down 4 percent by the new Cherokee last month, but it was still the volume leader of the Jeep brand in December and for the year at 154,734 units, a 13 percent year-over-year increase. Other winners for Chrysler include the Dodge Charger, which saw a 29 percent rise in December compared to last year, to 10,145, and a 19 percent jump from total 2012 numbers, to 98,336.
December sales of Chrysler's top-selling Ram pickup truck jumped 11 percent to 33,405 units. For the year, Americans bought 355,673 Ram pickups, a 21 percent leap. Ram made up almost 20 percent of Chrysler's total U.S. sales for 2013.
Chrysler losers for 2013: Sales of the Chrysler 300 full sized luxury sedan fell 18 percent last year to 57,724 while the Dodge Caravan, a high volume seller for Chrysler, retreated 12 percent to 124,019.
Overall, the Ram and Dodge brands saw double digit rises in 2013, by 22 percent and 14 percent, respectively. Jeep grew 3 percent to 490,454 units. The Chrysler brand shrank 2 percent to 302,492. The Fiat brand is essentially irrelevant in the U.S. Total annual sales decline 1 percent, or 43,236 units. Customers bought 2,324 Fiat 500 city cars in December, a 37 percent drop year-over-year. Only 1,421 new Fiat 500L five-door multi-purpose vehicles (similar to the Mini) sold last month.
© Copyright IBTimes 2023. All rights reserved.
FOLLOW MORE IBT NEWS ON THE BELOW CHANNELS