November US Auto Sales Preview: GM Seen Gaining Most Market Share, Highest Sales Growth; Ford Sales Expected Up Nearly 7%; Chrysler Outlook Is Up 10%; Nissan, Honda Grow Incentive Spending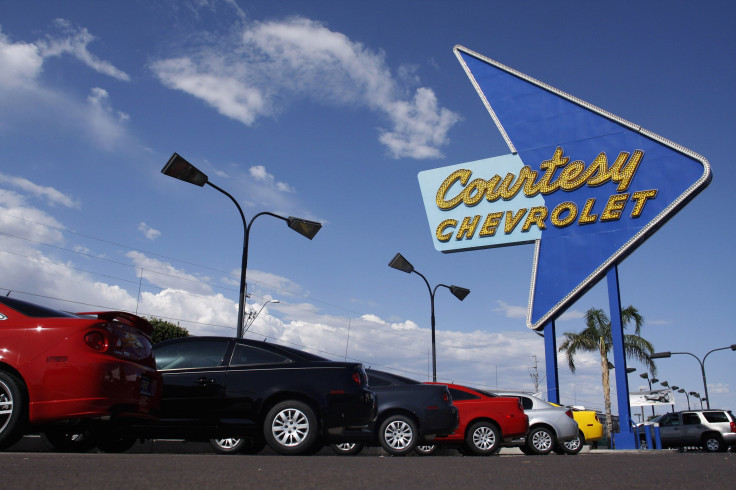 UPDATE, Dec. 3: Click here to read the live blog of November U.S. new car and light truck sales from the world's Big 8 automakers. The results came in, too: U.S. carbuyers flocked to dealerships over the Thankgiving holiday weekend, shattering expectations by growing new car sales by nearly 9 percent. Read the finaly tally here.
Original story begins here:
The great big American car buying spree is expected to continue in November with sales expected to rise 4 to 5 percent. Those sales are projected to hit 1.2 million units with a seasonally adjusted annualized rate coming in between 15.6 million and 16.1 million, depending on the forecasting service. The world's top automakers will announce their monthly U.S. sales figures on Tuesday.
If the 12-month running average of total car and light truck sales (adjusted for seasonal fluctuations) hits the top end of the estimate band, it will exceed the year's highest SAAR of 16 million, in August, which benefited from an end-of-the-month bump due to the unusual timing of the Labor Day holiday sales weekend.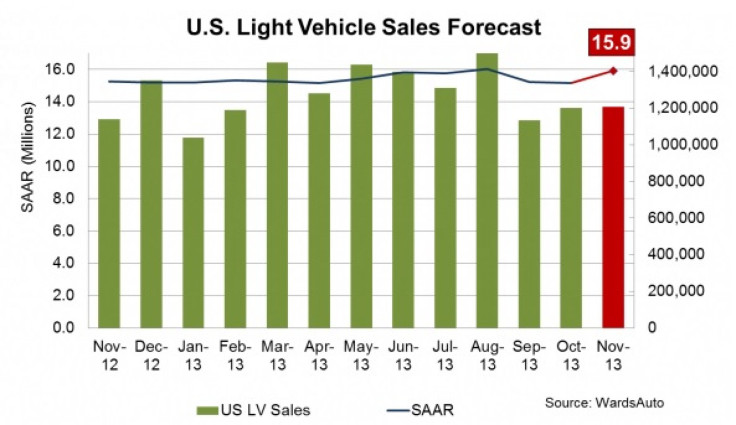 Likewise, November will get a similar bump, as it always does, with the Thanksgiving holiday and its corresponding Black Friday seasonal sales event that, for car buyers, runs through the weekend.
"Any economic uncertainty that car shoppers might have felt in October seems to be a distant memory by now," said Jessica Caldwell, senior analyst for auto pricing and information provider Edmunds.com, referring to the partial government shutdown in the first half of October that many feared would impact auto sales but didn't last long enough to have a significant effect. "Car buyers are already taking advantage of advertised holiday deals, and as we plow deeper into the holiday season the table is set for 2013 to finish on a very strong note."
Most estimates expect U.S. new car and light truck sales to end the year above 15.5 million, more than topping the 14.5 million sold last year the 10.4 million sold in 2009, a year that was heavily impacted by the last recession, which was caused by the sub-prime mortgage meltdown that crashed the auto industry. Some estimates even suggest this year could end with 16.1 million new vehicles sold, similar to the number sold in 2007, the year before the steep economic downturn began, but by most accounts it will fall short of that estimate. However, estimates are in line for sales to recover to pre-recession annual sales volume by the end of next year.
"Dealerships across the country continued to experience robust sales numbers in November, fueled by attractive discounts on the outgoing 2013 model year vehicles as well as several new, compelling 2014 model year introductions," said Jesse Toprak, senior analyst for the auto intelligence website TrueCar.com. "We are on track to reach nearly 15.7 million new vehicles sold in 2013, followed by our forecast of 16.5 million units in 2014."

So who's expected to come out ahead?
Edmunds.com sees Chrysler enjoying the best year-over-year performance with sales projected to rise 10 percent on robust demand for its Jeep Grand Cherokee, Dodge Ram pickup and Dodge Durango SUV. General Motors is seen gaining the most market share as it's boosted by truck and luxury sales.
"The Chevrolet Silverado and GMC Sierra should have solid growth, as demand for pickups continues with the strength in the real estate market," said Alec Gutierrez, senior analyst for auto pricing and data provider Kelley Blue Book. "Solid gains also are expected for Cadillac and Buick, as consumers continue to look to the new Cadillac ATS, XTS and Buick Encore as legitimate competitors to traditional luxury players, such as BMW and Mercedes-Benz."
Volkswagen has not been doing so well this year, and that momentum continues as its sales fall and incentive spending –- what automakers spend on rebates and other enticements to grow sales –- grows. According to Eric Lyman, vice president of TrueCar.com subsidiary ALG, which provides residual value and brand-image data to manufacturers, Volkswagen's problems in the U.S. this year are the product of the German auto group's efforts to lower prices.
"The concern is Volkswagen has always existed as kind of a 'mainstream plus' brand with lower volume," Lyman told International Business Times by phone from the L.A. Auto Show on Friday. "When you want to take your brand mass market at the expense of material quality, there's a trade-off there. I think we're starting to see a reaction from the consumers that perhaps the Volkswagen quality and what they've come to expect isn't necessarily reflected in the current product offering they have."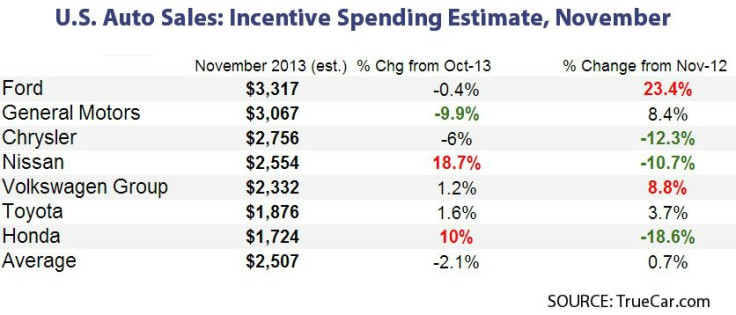 According to TrueCar.com estimates, Volkswagen's incentive spending is up 8.8 percent over last November, an increase that's second only to Ford Motor Co. (NYSE:F), which is now spending more than its peers on enticing customers to this brand.
As far as segment sales are concerned, compact crossovers such as the Honda CRV, the Audi Q3 and the Cadillac SRX, reign supreme right now. Kelley Blue Book sees demand in this segment rising nearly 24 percent from November of last year, followed by full-size pickup trucks. Compacts and subcompacts are down, which also helps explain Volkswagen's other problem in the US: it relies heavily on smaller cars and has no pickup truck in the market.
The takeaway: We could see the best November for new car and light truck sales in years, possibly in a decade. Overall, nobody expects any negative industry-wide surprises. The great big American buying spree continues.
Correction: As pointed out by a reader below, a chart previously posted on this story incorrectly cited the order of volume sales per manufactutrer and was removed.
© Copyright IBTimes 2023. All rights reserved.