Here's What The 'Hocus Pocus' Cast Looks Like Now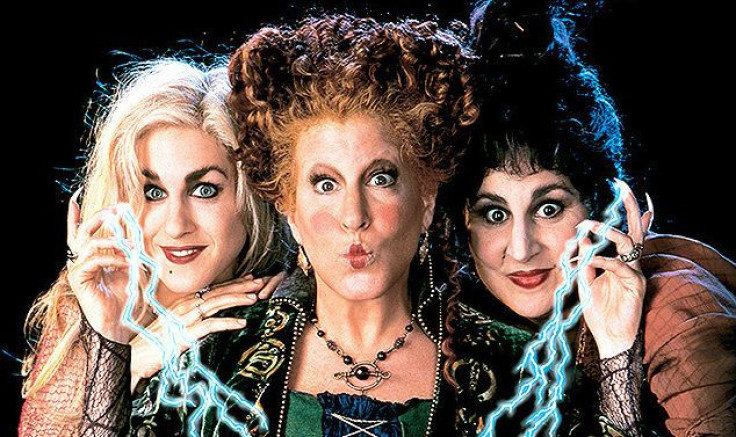 Almost 25 years after its initial release, "Hocus Pocus" is a bonafide Halloween classic.
This might be true now, though, but it wasn't an immediate hit when it came out on July 16, 1993. It has earned its cult status in the years since, gaining extra exposure and love from its yearly showings on TV, especially on ABC Family, which is now called Freeform.
Because of the continued love viewers have for it, Disney Channel recently announced that a TV movie remake of the Kenny Ortega-directed film is in the works, though none of the original cast is expected to reprise their roles.
While the original cast likely won't be taking part in the remake, let's take a look at what those actors actually are working on now.
Bette Midler (Winifred Sanderson)
Midler started her acting career years before this film came out, starting with an uncredited role in the 1966 movie "Hawaii." "Hocus Pocus" didn't come out until almost 30 years later. After the movie released, the roles only continued for the seasoned actress. She starred alongside Goldie Hawn and Diane Keaton in 1996's "The First Wives Club" and landed her own short-lived series "Bette" in 2000. From there, she started to take some breaks in-between her roles, but was in "The Stepford Wives" in 2004, "The Women" in 2008, "Parental Guidance" in 2012 and "Freak Show" this year, as well as a couple others throughout those years.
The reason she wasn't acting in films and shows consistently was because she's also a singer and has released 14 studio albums from 1972 to 2014. She also acts and sings on Broadway, with her most recent role being that of Dolly in "Hello, Dolly" this year.
Sarah Jessica Parker (Sarah Sanderson)
While this remains an important role in Parker's career, it's not the most significant one for her. That honor is given to her role as Carrie Bradshaw in the much-loved series, and sequel movies, "Sex and the City." The show lasted for almost 100 episodes from 1998 to 2004 and earned the show, and her, many fans.
Since then, she's filmed quite a few rom-coms, including "Failure to Launch" in 2006 with Matthew McConaughey, "Did You Hear About The Morgans?" in 2009 with Hugh Grant, and "I Don't Know How She Does It" in 2011. Currently, she stars as Frances in the HBO comedy "Divorce."
Kathy Najimy (Mary Sanderson)
Going back, Najimy had three pivotal movies one right after another, starting with "Sister Act" in 1992, followed by "Hocus Pocus" in 1993 and then the "Sister Act" sequel later in 1993.
After her roles in those movies, she continued to book gigs every year since, with some of her biggest roles being both in TV and movies. She was on 67 episodes of "Veronica's Closet" from 1997 to 2000, was in another Halloween classic, Disney Channel's "The Scream Queen," in 2002, played the role of Dr. Mildred Finch on "Numb3rs" for nine episodes starting in 2006, had a multi-episode stint on "Make It or Break It" in 2011 and 2012, as well as roles on "Younger" and "Veep" recently.
Throughout most of that, she also voiced the character of Peggy Hill on the long-running "King of the Hill" series from 1997 to 2010.
Omri Katz (Max)
Before landing the lead in "Hocus Pocus," Katz was on the original "Dallas" for almost 150 episodes from 1983 until 1991 when he got the main role in the short-lived cult series "Eerie, Indiana."
After filming the Halloween classic, Katz slowed down his acting and only had a few more roles before retiring from the field in 2002, including a six-episode stint on "The John Larroquette Show," a "Dallas" TV movie and small role on an episode of "General Hospital" in 2000. His last credit was in 2002 for a film short called "Journey Into Night."
Vinessa Shaw (Allison)
Shaw started acting in 1981, but this film was a huge kick-off role for her. She continues to be recognized for her part in it and she's managed to book roles, sometimes multiple, every year since its release in 1993.
She starred in "Corky Romano" in 2001 with Chris Kattan, "3:10 to Yuma" in 2007 with Russell Crowe and was in multiple episodes of the one-season CBS series "Vegas" starring Dennis Quaid in 2012 and 2013. In 2014, Shaw landed a 10-episode role on "Ray Donovan" as Kate McPherson. Most recently, she was in the thriller "Clinical," which came out earlier this year.
Thora Birch (Dani)
The girl who played cute little sister Dani has had quite the career since then. She starred with Christina Ricci in the cult coming-of-age 1995 film "Now and Then" and then had a few more roles before landing "American Beauty" in 1999 with Kevin Spacey. She's taken a few acting gaps here and there, but overall, her career has been fairly consistent.
She currently has four films in the works, including the rom-com "The Competition" with Chis Klein, the drama "Public Affairs" with Adrian Grenier and the crime-thriller "Above Suspicion" with Emilia Clarke.
You can catch "Hocus Pocus" during one of its 19 airings on Freeform as part of its 13 Nights of Halloween event. The first 2017 showing on Oct. 19 at 8:50 pm EDT to its last on Nov. 1 at 12 am EDT.
© Copyright IBTimes 2023. All rights reserved.