Heroin, Opioid Epidemic Under Donald Trump: What Will He Do As President To Fix The Problem?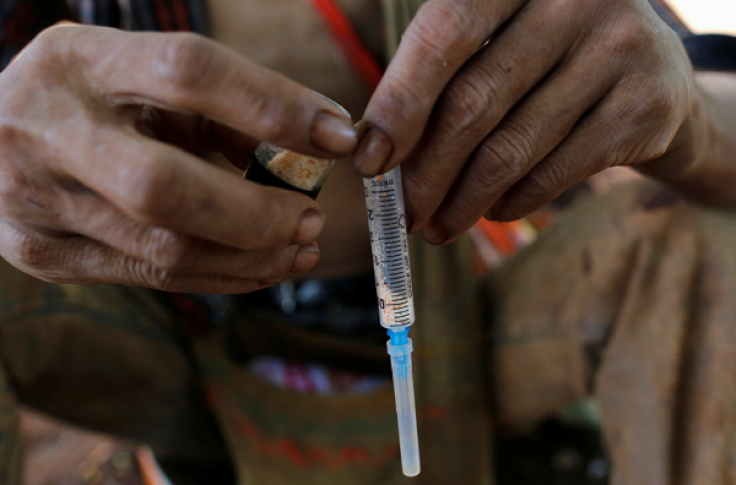 President-elected Donald Trump vowed on the campaign trail to take on the opioid and heroin crisis currently sweeping the nation, and now the Drug Enforcement Agency (DEA) is streamlining a new program that could help Trump's crusade against illegal drugs in the U.S.
The DEA will announce the department's newest strategy to tackle the heroin, fentanyl and opioid epidemic currently taking place throughout New Hampshire on Tuesday, which will directly target gangs and organizations notorious for illegally flowing drugs into Manchester.
During a press conference on Tuesday, Special Agent Michael J. Ferguson will announce the new 360 Degree Strategy, a partnership between the DEA, Manchester Police Department, Manchester Boys & Girls Club and many other healthcare professionals and social service organizations aimed to create more drug awareness and support programs throughout the city.
While campaigning in New Hampshire back in October, Trump promised residents that he would put an end to the influx of drugs taking over the inner cities like Manchester and Portsmouth and said he would actively help people suffering from serious addition problems by providing more services catered to kicking drug habits and expand access to naloxone, a substance used to treat overdoses. Trump also proposed creating "drug courts" and "mandated treatment" programs sponsored by state and local governments.
However, Trump failed to outline exactly how he plans to fund any incentives for treatment. He also has not offered a policy on low-level or non-violent drug offenders.
Along with promising to "stop the flow of illegal drugs into the country," Trump hinted at following Vice President-elect Mike Pence's drug strategy in Indiana to ease the flow of throughout cities by increasing mandatory minimum sentences for serious drug offenders. Trump vowed to work with Border Patrol and Immigration & Customs Enforcement officers to help reduce drug trafficking across country lines while simultaneously ridding the U.S. of "illegal immigrant drug traffickers. Trump also suggested cracking down on loopholes within the U.S. Postal Service that allow users and dealers to have access to fentanyl and other drugs via mail.
"We will dismantle the illegal immigrant cartels and violent gangs, and we will send them swiftly out of our country," Trump said in a speech on Oct. 15. "We will aggressively prosecute traffickers of illegal drugs, and provide law enforcement and prosecutors with the resources and support they need to do their jobs."
Trump has also said that he would lift the cap on the number of patients doctors can treat in an effort to provide more treatment options to people in need. He has also said he would fix the "misguided rules and regulations" that have apparently led to an overhaul of prescription and heroin abuse throughout the country by encouraging the DEA to reduce the number of Schedule II opioids that can be made, sold and used in the U.S.
© Copyright IBTimes 2022. All rights reserved.
FOLLOW MORE IBT NEWS ON THE BELOW CHANNELS