Hikers, Dogs, Stuck On Mt. Baldy's Steep Icy Terrain In California Rescued By Choppers
Four hikers and two dogs were rescued after they reported a threat to their safety while stuck on steep icy terrain on Mount Baldy over the weekend, the highest point in Los Angeles County, California.
Rescue crews were first dispatched to the area at 11 a.m. local time Saturday after a pair of hikers identified as Janelle and Joseph Rasich along with their two dogs got stuck in an inconvenient area from where they found it difficult to find a way out, CBSNews reported.
They attempted to hike and make their way back to a trail and slid 20 feet while doing so, after which stopped and remained in place, according to a news release.
The hikers flagged their situation on a 911 call and reported their coordinates to the San Bernardino County Sheriff's Department officials. Two helicopters were dispatched to the area, and the ice rescue team members successfully brought the hikers to safety using a rope rescue system, FontanaHeraldNews reported.
Meanwhile, another couple found themselves stranded at a tricky spot at Mt. Baldy. They contacted authorities at 1:20 p.m. to report that they had arrived at an icy patch and felt as if they would slide down the mountain if they continued any further.
While turning back, they saw the previous hiker pair being rescued. They requested similar rescue aid as they "did not feel comfortable hiking out on their own," Pilot Corporal Ryan Peppler told the outlet.
All four hikers and the dogs were transported to a Fontana deputy at the San Antonio Dam. None of them were reported to have sustained any injury.
In March, a Texas man during a hiking trip in Canada lost his eye after a tree branch pierced him as he slipped and fell. Edward Steinkamp was hiking with his son on the West Coast Trail in British Colombia's Pacific Rim National Park on May 3 when the freak accident occurred. In another incident, a 4-year-old boy survived a 70-foot fall into a gorge during a hiking trip with his parents in October 2021 near the Princess Arch section of the Red River Gorge in Kentucky.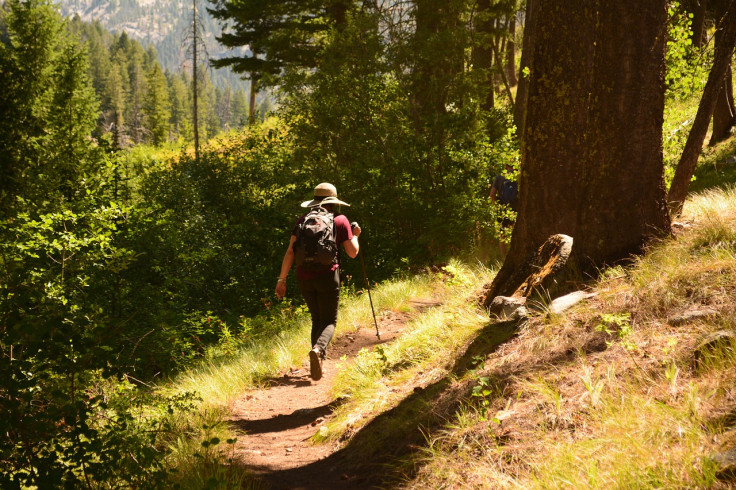 © Copyright IBTimes 2023. All rights reserved.