Hillary Clinton Says She Was 'Starstruck' By George Clooney And His Human Rights Lawyer Wife Amal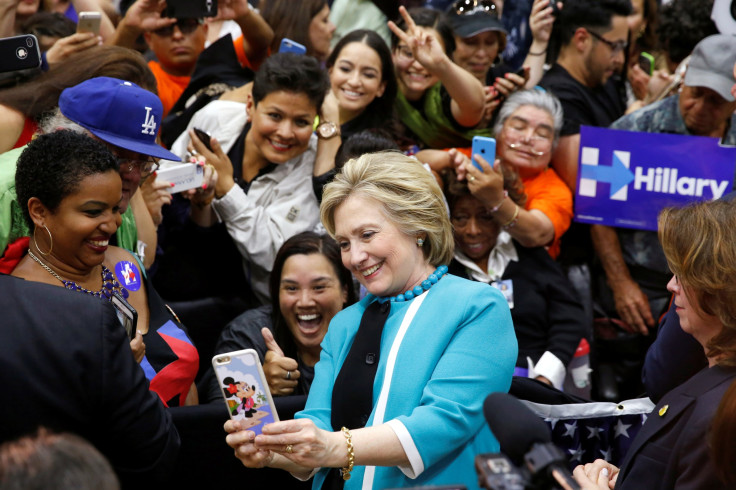 Hillary Clinton, the Democratic presidential candidate said she was "starstruck" by Hollywood heartthrob George Clooney and his human rights lawyer wife Amal. The presidential hopeful and her daughter Chelsea Clinton were speaking to ET Online in an exclusive interview Wednesday. George and Amal Clooney hosted a fundraiser for Hillary at their Los Angeles home in April.
"Oh my gosh, when George Clooney and Amal did that event for me at their home, I was starstruck. I mean, obviously I'm a huge fan of George's, and I hadn't yet met Amal, but I knew people who knew her because she is a human rights lawyer, which I am enthusiastically impressed by," said Hillary. She added that at the gala dinner they got to spend some personal time together, and by that time she was "pretty starstruck-y."
The former Secretary of State said that it was great and terrific meeting the Clooneys. As for 36-year-old Chelsea, she was completely starstruck when Katy Perry performed at a rally for her mother in Iowa in October. She recounted how girls in the audience were inspired by her mom and Katy standing together, and she was "pretty starstuck by that moment."
The soon-to-be mum Chelsea said that she was fully confident on her mom. The daughter of the former U.S. President Bill Clinton and Hillary added that her mom was extraordinary in many ways and she was completely and unabashedly biased toward her and was a proud daughter. Chelsea said she was in awe of her mom's strength, grace, her resilience and her can-do attitude.
Chelsea, who has a one-year-old daughter Charlotte, said she was ready for the political attacks her mom is bound to face in the coming months. But, she was more worried as to how she would try and explain it to her daughter. Talking to ET Online in September, Chelsea had revealed that she was friends with 34-year-old Ivanka Trump, daughter of Donald Trump. She told that she and Ivanka talk about everything and was grateful she was her friend. Chelsea praised Trump's daughter saying that she was a great woman, and she supported her as she supported all her friends.
Aside from Clooney and Perry, celebrities who are supporting the 68-year-old Hillary are Beyonce, Ellen DeGeneres, Kim Kardashian West and her husband Kanye, and Steve Harvey, have shown their support for her presidential campaign.
© Copyright IBTimes 2023. All rights reserved.