Hillary Clinton vs. Donald Trump Latest Swing States Polls: Florida, North Carolina, Nevada, New Hampshire Up For Grabs?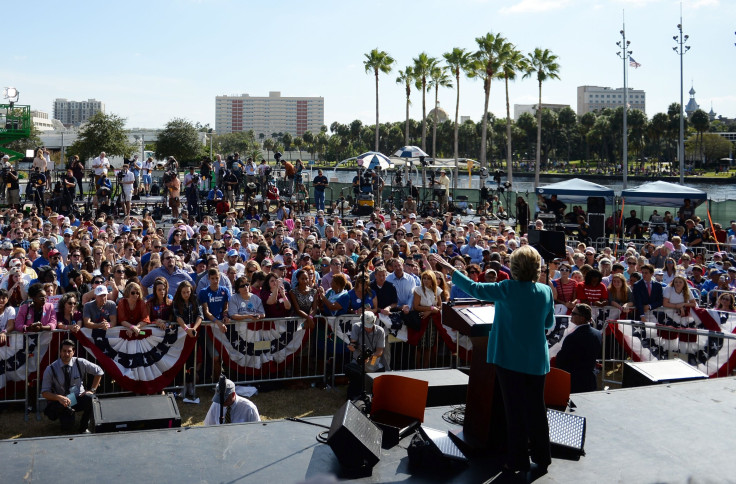 Many national polls reflect a potential double-digit victory for Democrat Hillary Clinton over Republican Donald Trump come Nov. 8. But the final story of the 2016 presidential election could be how the first woman U.S. president managed to wrangle regular GOP strongholds and a number of swing states for their electoral college votes.
Whether it's a four-way or two-way race, the former first lady and secretary of state is largely sweeping the latest polls, according to RealClearPolitics tabulations over the last few days. Several are predicting a double-digit victory.
Still, others, like the IBD/TIPP Tracking poll, reflect a slim one-point advantage in a four-way race including Libertarian Gary Johnson and the Green Party's Jill Stein. There is just a two-point margin when pitted only against the upstart Trump.
Clinton — who is scheduled to attend an early voting rally in the swing state of North Carolina with first lady Michelle Obama Thursday — could build more of a buffer from Trump if she can corral the swing states below. Her campaign is also aggressively hitting swing states like Ohio, where running mate Tim Kaine is scheduled to hold two early vote rallies Thursday. Clinton's daughter Chelsea is doing the same in North Carolina.
Here's a quick breakdown of where Clinton and Trump stand in the latest polls from Florida, Nevada, New Hampshire and North Carolina along with the 54 electoral votes they together hold.
Florida
Florida's 29 electoral votes, tied with New York for the third-most in the country, appear to be Clinton's to lose. She holds the lead in four of the six polls by as much as four points. A Bloomberg poll gives Trump a two-point edge in four-way race, according to RealClear Politics. Clinton held a rally in Florida Wednesday, and President Barack Obama will also stump for her in Orlando on Friday.
Nevada
The Las Vegas Review-Journal's poll, conducted between Oct. 20 and Oct. 23, shows Clinton up by seven points. Two other polls hand her Nevada by as little as two points, though an NBC/Wall Street Journal/ Marist College poll calls the state a tie.
New Hampshire
Democrats have claimed New Hampshire in five of the last six elections, according to 270towin.com, and that trend may not change. Five polls show Clinton is up by as much as nine points, with an average lead of 6.5 points. Monmouth University's poll from Oct. 22 to Oct. 25 reflected the smallest lead of four points.
North Carolina
While North Carolina has been a Republican stronghold for much of the last 50 years, the state went blue in 2008 for Obama and red for Mitt Romney in 2012, according to 270towin. Each time it was the second-closest race of the election. Current polls show Clinton has a slight two-point average lead over Trump, but a New York Times/ Siena College poll reflects a high of seven points. Still, given the state's history and its 15 electoral votes, North Carolina will continue to be a major battleground for Clinton and Trump.
© Copyright IBTimes 2023. All rights reserved.