'The Holiday Sitter' Hallmark Movie Premiere: Trailer, Synopsis, Cast
Hallmark Channel's merry holiday season continues with the newest "Countdown to Christmas" holiday premiere, "The Holiday Sitter." The film, starring Jonathan Bennett and George Crissa, premieres Sunday night.
The film will be a major milestone for the network, as it is the first time a same-sex couple is being featured as the romantic leads in any film Hallmark had made. While same-sex couples have been represented as minor characters in previous films, this is the first time they are going to be front and center in one of the network's holiday films. Luckily, fans will also get to see this historic moment unfold with an actor that has been a Hallmark favorite the last few years.
Bennett, who is still beloved for his role as Aaron Samuels in "Mean Girls" back in 2004, has become a staple on Hallmark in recent years. His roles have included the films "Love at First Glance," "Christmas Made to Order" and "Wedding of a Lifetime." He also starred as one half of the first male/male same-sex couple to feature in a Hallmark film as a secondary story in both "The Christmas House" and "The Christmas House 2: Deck Those Halls." In those films, his husband was portrayed by Brad Harder.
This time, Bennett takes the lead as someone first finding romance, this time with Crissa, who fans may recognize from his previous role in "Road Trip Romance."
Chelsea Hobbs ("Martha's Vineyard Mysteries") also features in the film.
So what can fans expect from this momentous occasion? Let's find out.
"Sam (Bennett) is a workaholic living his best bachelor life in New York City. Just as he's ready to head to the airport to spend Christmas in Hawaii, his sister (Hobbs) calls him into active uncle duty when she and her husband have to leave town early when they learn the baby they're adopting is being born two weeks ahead of schedule," a synopsis for the film reads. "After some brilliant sisterly guilting, Sam agrees to head upstate to watch his teen nephew and young niece while they're away."
What Sam doesn't expect is that watching the kids is harder than he expected—leaving room for a handsome neighbor to step in and help.
"When Sam gets to their suburban home he meets Jason (Krissa), a friend and next-door neighbor who steps in to help until Sam arrives. Even though his sister left a detailed schedule to follow—along with takeout menus to avoid the kitchen fire he caused the last time he babysat—Sam realizes he's ill-equipped for the job, at best," the synopsis continues. "He enlists the help of Jason, who is also the contractor putting the finishing touches on the nursery and is planning to adopt since he's tired of waiting to find the right guy and start a family of his own. Sam is so desperate for help he offers to hire Jason as a 'consultant' of sorts to help him survive the next two days without major mishaps. But when the new baby's arrival takes longer than expected, Sam has to adjust his vacation plans once again."
However, an extended stay starts to make Sam see things in a different light, and despite initially wanting to get through things as quickly as possible, he starts to realize there may be something more for his life that's better than his bachelor lifestyle.
"As he spends more time there with his niece and nephew—and Jason—he begins to rethink his commitment to the bachelor life and realized he may have found something he wasn't looking for, including love," the synopsis concludes.
"The Holiday Sitter" premieres Sunday, Dec. 11 at 8 p.m. EST on Hallmark Channel.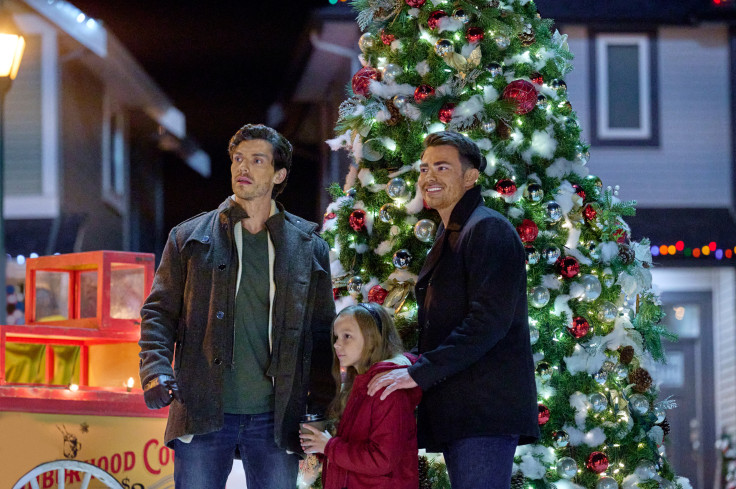 © Copyright IBTimes 2023. All rights reserved.