Homeless Man Tests Givers Based On Religion, Says 'Atheists Are Winning' [PHOTO]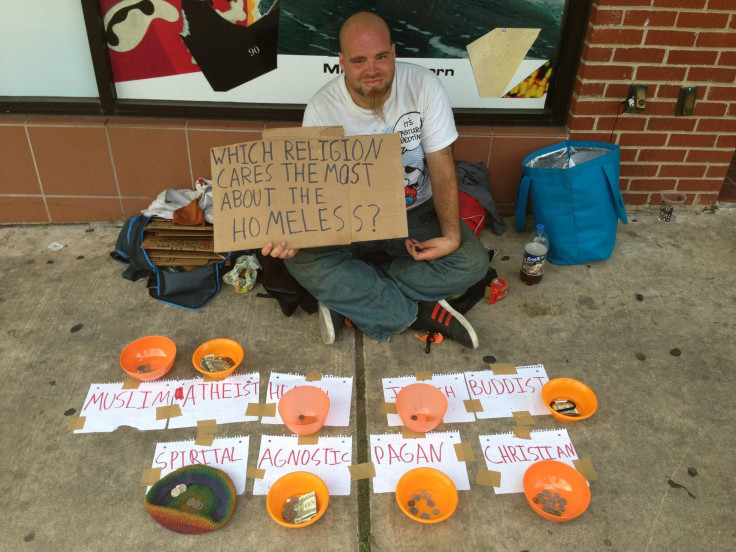 Which religion cares most about the homeless?
That's a question one homeless man asked on the streets of Austin, Texas. Redditor Ventachinkway, who posted a photo of the man on the social news site, said the man shouted, "The atheists are winning!"
Since submitting the photo on Tuesday, it has racked up more than 2,000 points and nearly just as many comments.
The image shows the man surrounded by nine bowls denoting different faiths who sits crossed-legged in front of a store.
Loose change can be spotted in the Muslim, Hindu, Jewish, spiritual, pagan and Christian bowls. Dollar bills are visible in the Buddhist, agnostic and atheist pots.
Since the photo was posted, one Redditor found the man, whose name is reportedly James, and asked him about his findings.
"When I asked why he thought atheists were winning, he simply said the 'atheist seem very competitive.' 'For them,' he said, 'its all about the competition,'" he said.
The homeless man is known to be a joker. The photo shows a bag filled with cardboard signs.
"He has a million. They're always so hilarious," Ventachinkway said in a comment and admits to taking the man's picture often.
"Exiled death eater forced to live with muggles! They took my wand" is his favorite.
Another Redditor has seen the man before -- on the University of Texas campus.
"I ran into him around Taco Bell on UT campus, listening to his iPod and playing his PSP. ... Yes, this is where your money goes folks," Redditor Inlover said.
© Copyright IBTimes 2023. All rights reserved.