Hong Kong Stocks End Day Higher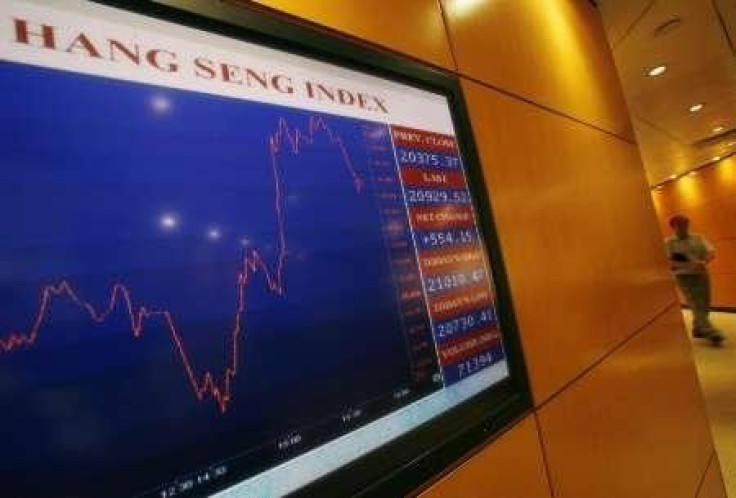 (REUTERS) -- Hong Kong shares held firm on Wednesday supported by short-covering and gains by insurers, even as markets in Shanghai gave up some of the previous session's strong gains as investors turned cautious ahead of the week-long Lunar New Year holiday.
Shares of AIA and China Life Insurance provided some of Wednesday's biggest gains for the Hong Kong benchmark, which ended the day up 0.3 percent at 19,686.92.
The market was definitely consolidating after yesterday's strong jump and I expect that'll be the story over the next two days, said Daniel So, a strategist at Sun Hung Kai Financial in Hong Kong, referring to Tuesday's 3.2 percent gain in Hong Kong.
Turnover before the holidays next week is going to remain low, he said.
Markets have expected some sort of policy easing in China for a while now so if no announcements are made during or after the holiday, there could be some disappointment once markets reopen.
On the mainland, the Shanghai Composite fell 1.4 percent to 2,266.4 despite gains in beaten down growth-sensitive stocks such as metals, as the 2,300 level on the index again proved a tough hurdle to surmount.
Losses on China's domestic markets accelerated sharply last month when the benchmark index fell below 2,300, and an attempt to test it failed last week.
Part of the Hang Seng's gains were driven by funds looking to square short positions ahead of the Lunar New Year holiday, said a Hong Kong-based trader, since Wednesday was the last trading day in Hong Kong to clear settlements before the holiday.
Hong Kong follows a T+2 settlement schedule for ordinary cash equity transactions, which means that trades are settled two days after execution.
AIA shares rose 1.6 percent in Hong Kong. One trader cited a Reuters report that Asia's No 3 insurer, about one-third owned by American International Group, may bid for the $6 billion Asian insurance operation of ING Groep.
Also seeing active trade were shares of Swire Pacific , which fell 3.7 percent following the trading debut of its property spin-off Swire Properties.
Shares of Swire Properties closed up nearly 3 percent at HK$17.24.
SHANGHAI EASES
China's domestic stock markets fell slightly, weighed down by Tuesday's biggest gainers such as ICBC and Petrochina, which both fell around 1 percent.
On Tuesday, Chinese shares rose 4.2 percent, their biggest single-day jump in 27 months, after Beijing reported that the world's second-largest economy grew faster than expected in the last quarter of 2011.
Slowing fixed asset and property investment, key drivers of China's economy, has stoked talk that authorities will begin easing policy this year.
Angus To, an analyst at ICBC Securities, said in a note to clients that Chinese authorities were likely to cut reserve requirements further to support loan and money growth, particularly in the first half this year as capital outflow leads to tighter liquidity conditions.
While profit-taking led large-caps lower, certain resource plays bucked the trend to extend overnight gains. Jiangxi Copper climbing 0.7 percent.
© Copyright Thomson Reuters 2023. All rights reserved.