Hong Kong Toast of Wine World Amid Global Woes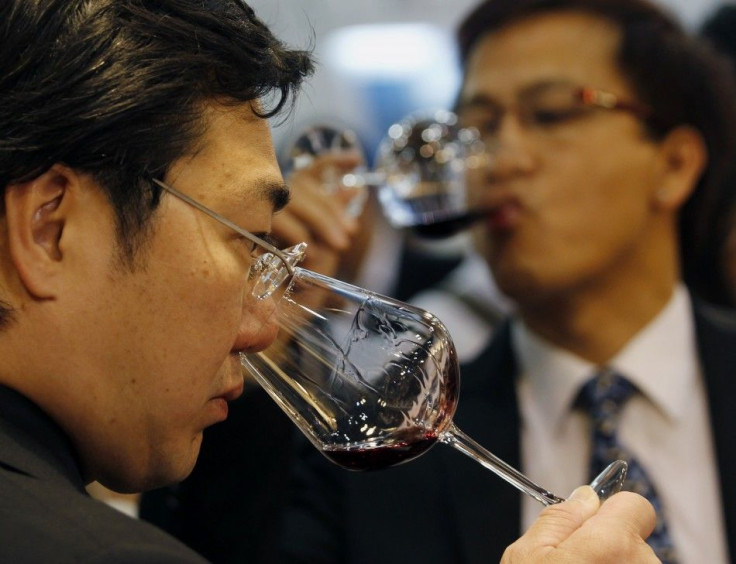 Hong Kong's wine imports have remained strong even as global economic uncertainty cuts demand for luxury goods, underscoring the city's credentials as a preeminent wine hub buoyed by strong demand from mainland Chinese buyers.
Even with Europe's debt crisis and continued fragility in the U.S. economy continuing to weigh on consumer demand, Hong Kong's wine trade has grown steadily, with imports surging 57 percent in the first nine months, year on year, to $940 million.
Since the teeming former British colony scrapped wine duties from 40 percent to zero in 2008, wine imports have almost quadrupled to $898 million in 2010 with the mushrooming of wine merchants, auctioneers, distributors and storage cellars.
Auction houses such as Christie's and Sotheby's, along with specialised wine sellers such as Acker, Merrall & Condit, helped propel wine auction sales in the city to $164 million in 2010, according to industry figures, making it the world's leading wine auction hub over London and New York.
In the first three quarters this year, the city recorded $940 million of wine imports from all major wine-growing regions including France, Italy, Australia and South America, many of the best vintages being channelled to meet growing demand from affluent and regular buyers.
China is the fastest growing wine consumption market in the world, said K.C. Chan, Hong Kong's secretary for financial services and the treasury.
Strong economic growth, increasing prosperity and an improving lifestyle have led to continuing increase in demand for wine in Mainland China.
At Asia's largest wine and spirits fair in Hong Kong's harbour-front convention and exhibition centre, some old world wine producers said that while the financial uncertainty was hurting business, China remained an important new sales frontier.
The only source of growth we have for the time being is the U.S. and the Chinese market, said Denis Stevens, the head of the French pavilion at the fair, which this year attracted a record 934 exhibitors from 37 countries.
For the time being, Bordeaux is still the big winner of growth but more and more, all the regions are getting in the spotlight.
Despite the bullishness there have been signs of more discerning buying by the Chinese, with Bordeaux prices coming down from record highs and a growing focus on Burgundy vintages.
Bordeaux (wine) has levelled and maybe a few wines have come down a stick or two, but overall the market is stable, John Kapon, the head of Acker, Merrall & Condit, the veteran U.S.-based wine auctioneers, told Reuters.
China is very important, it's almost 60 percent of our revenues ... and we expect this to continue for many, many years, added Kapon, whose firm's four auctions in Hong Kong this year have already netted around $45 million.
© Copyright Thomson Reuters 2023. All rights reserved.