'House Of The Dragon' Fans React To Incest Scene In Newly Dropped Episode 4
The fourth episode of HBO's "House of the Dragon" dropped Sunday and left fans with mixed reactions to the incest scene between two characters played by 22-year-old actress Milly Alcock, and 39-year-old actor Matt Smith.
While Alcock plays the teen princess, Rhaenyra Targaryen, Smith plays her older uncle, Daemon Targaryen in the popular series. Following the latest episode, viewers shared their opinions on Twitter regarding the incest scene.
"House of Dragon had me a lil bit uncomfortable this sun. They drag that incest scene down the street and around the corner," one of the viewers wrote while another one added, "I can't believe house of the dragon is making me an incest stan."
A viewer noted that the episode just didn't show incest but it also had pedophilia, considering the actress is portraying a 17-year-old princess in the show.
Another viewer tweeted, "House of the dragon can be good actually, in that it will attract all the weirdos who like incest and then they can stay away from MY favorite media."
A Twitter user shared a meme that suggested how episode 4 made them feel.
Regarding the fourth episode, the young actress revealed that filming the scene with Smith was "quite comfortable," The Post reported.
"No, strangely enough. [Smith and I] were just kind of mates. So, it was quite comfortable," she told the outlet. "We had an intimacy coordinator, and we worked with her through the rehearsal process and blocked it out months before."
The incest scene shown in the latest episode was shot in a made-up brothel, surrounded by extras who were nude. The actress disclosed that the director, Clare Kilner didn't show the actress any "brothel stuff" until they were on the sets filming it.
"Clare Kilner, our director, made sure that we hadn't seen any of the brothel stuff until we were shooting," the actress told the outlet. "So, that was our first time walking through the brothel, and he's guiding her through the room with all of these other bodies."
Alcock further revealed how the extras being completely nude and in sexual positions for 12 hours made her and Smith feel "overdressed."
"There were extras who we had just met who were like, 69-ing for 12 hours," she recalled filming this scene. "It's pretty gnarly. We felt pretty overdressed because everyone else was nude."
Based on George R. R. Martin's "Fire and Blood," "House of the Dragon" is a prequel to HBO's "Game of Thrones" series and is set 300 years before the events of the show.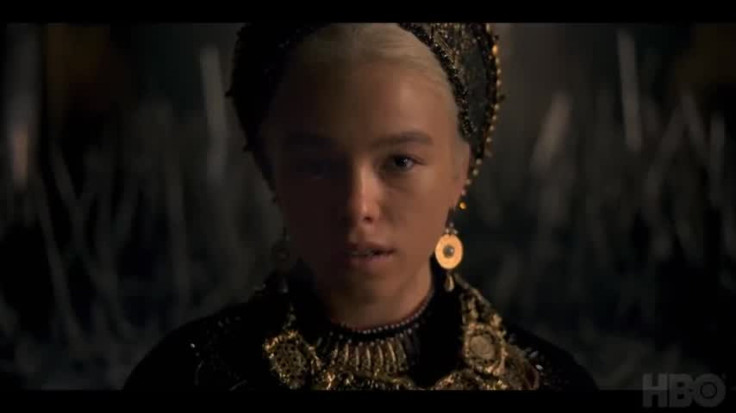 © Copyright IBTimes 2023. All rights reserved.
FOLLOW MORE IBT NEWS ON THE BELOW CHANNELS