How To Buy A Real Christmas Tree: Purchase And Care Tips To Make Sure You Get The Best In 2015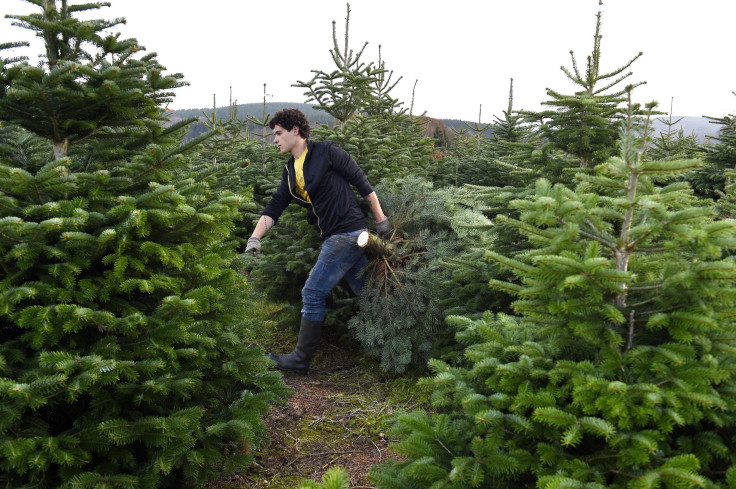 Now that all the Thanksgiving leftovers are over, homes all over the country are finally ready to bust out their holiday decorations. What could be better Christmas-time décor than a real tree? However, with the task of picking out and caring for a large tree becoming more difficult each year, some may need a little assistance in 2015.
Sadly, many may opt to avoid the headache altogether and buy an artificial tree instead, but the allure of a real farm-grown tree cannot be overstated. While simply purchasing a plastic tree may be a significantly more convenient option, those that invest in a proper Christmas tree will tell you that there is a marked, albeit ineffable, difference between the two. So, to help you and your family take a shot at the real thing in 2015, below is a rundown of the basic things you need to know to select and care for a tree:
Measure It Or Regret It
Don't be a hero and think you'll be able to eyeball the right tree once you find yourself standing in a massive farm full of them. There's nothing wrong with grabbing a tape measure, figuring out what size will best fit your allotted space, and then measuring the trees at the farm. Sure, you might feel a little silly while shopping, but it's nothing compared to how silly you'll feel when you grab a tree that's too tall for your living room. Don't forget to factor in the star on top too.
Know Where You're Going
While most people have a good idea of where to buy a tree each year, for first-timers or purists the National Christmas Tree Association compiled a handy database of the best farms in the United States. Simply go to their website and enter your location and the service will tell you the best place to shop.
Be An Informed Shopper
While the average tree salesman isn't necessarily out to gouge you financially, there's also no reason not to be well-informed about what you're buying. Luckily, the folks at Home Depot created a handy guide to help the average person pick out the tree they're looking for before they even head to the tree farm. It's also the time to start asking yourself what kind of look you're going for: Do you want a skinny tree or a fat tree? A bushy tree to catch tinsel and garland or one that's pointy so you can hang ornaments more easily?
In addition, it never hurts to know what kind of stand to purchase. It turns out that Christmas tree stands have quite a wide variety of selections from metal, plastic or a combination of the two, according to Purdue University. When you select which type of tree you want, be sure to take its weight and size into account when springing for a stand. It may set you back a pretty penny, but hopefully it's a purchase that will last a few years.
Don't Be Afraid To Check/Pass
No one is going to get mad at you if you give your potential tree a light shake at the farm. The emphasis here is on the word "light" because if you give any tree a real heave, its pine needles will fall off. However, if after a light rattle an inordinate number of needles fall off, that means you should pass on that tree as it likely won't last until the end of the holiday season. According to Home Depot, the average tree will last about six to eight weeks after it has been cut, so it's important to find out when the tree of your choice was first cut.
Another thing to look out for are brittle branches. If they snap or shred easily, that means they're part of an unhealthy tree. Forestry notes that if you choose to buy later in the season, most of the healthier trees will all have been sold.
Going Home
You've done it! You picked out the perfect tree and managed to get it back to your own driveway without it falling off the top of your car. That was the hard part, right? Well, not necessarily. There are a few tips to follow to ensure your tree's health and beauty once it goes inside. For starters, these trees thrive in cold environments. So, avoid putting it near a radiator or fireplace. In fact, many people recommend leaving the tree out in water in the cold for a day before bringing it inside. The reason for this is that the wind tends to dry them out about as much as sunlight. So, to help cure it from the long ride home, a little outdoor recovery before bringing it inside is key.
Once you are ready to place it in the stand, Purdue suggests taking the extra moment to saw about ½ inch off the trunk. This will open its pores and allow it to absorb more water. By the way, it's going to need to drink a lot of water. Your stand should have a place for a bowl to rest the entire trunk comfortably. It's up to you to check this water level daily and make sure that the bottom of the trunk is always submerged. If you see the level dropping, and you will, simply replenish with regular tap water.
Recognize The Danger
Alright, admittedly this is the least fun part of buying a Christmas tree, but it's also the most important part. According to the National Fire Protection Association, between 2009-13 Christmas trees were the first item to be ignited in an estimated 210 home fires each year. These accounted for an average of seven civilian deaths, 19 injuries and $17.5 million in property damage. In short, with all the lights, ornaments, stars and other decorations, these things have been known to light up like a…well, you get it. However, this shouldn't scare you from celebrating the holiday season with this perfectly fine tradition. Whether you opt for a real or fake tree this season, it never hurts to double check your lights for damage frequently and keep a fire extinguisher close to the tree at all times. It may look a little unsightly, but so do charred Christmas presents.
FOR FREE to continue reading
✔️ Unlock the full content of International Business Times UK for free
offer available for a limited time only
✔️ Easily manage your Newsletters subscriptions and save your favourite articles
✔️ No payment method required
Already have an account?
Log in
© Copyright IBTimes 2023. All rights reserved.