How To Celebrate The Feast Of Our Lady Of Guadalupe: History, Facts And All You Need To Know About The Catholic Saint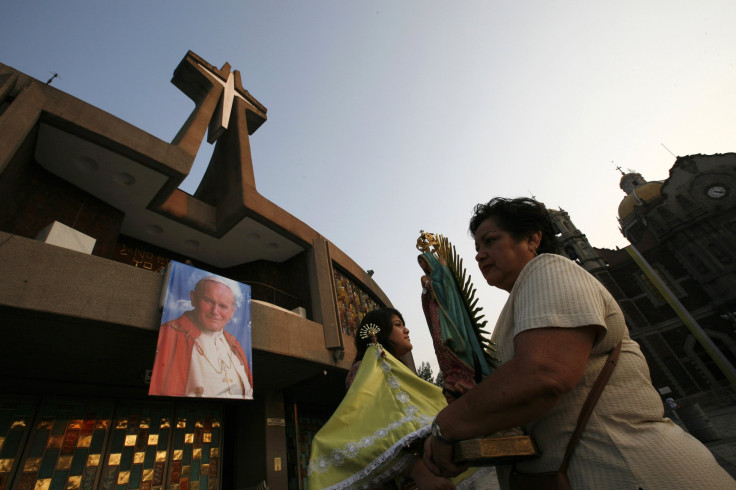 Saturday marks the Feast Day of Our Lady of Guadalupe, an important religious celebration for Catholics in Mexico and across Latin America that celebrates the "Patroness of the Americas." The story of the day dates back almost 500 years.
In 1531, the Virgin Mary appeared to a farmer, Juan Diego, on Tepeyac Hill, which would become part of Villa de Guadalupe, near Mexico City. Diego was a convert to Catholicism. She asked that a church be built on the hill so that religious people may pray and ask for healing from suffering. An Aztec temple used to stand on that spot.
After a local bishop denied the request to a build a church, she asked Diego to gather flowers and bring them to the bishop. When Diego opened the cloak he was wearing in front of the bishop, an image of Our Lady of Guadalupe appeared. Other variations of the story involve several other steps before the appearance of the image.
"That whole image of this 57-year-old Aztec Christian encountering this woman and not wanting to get involved with something he knew would be viewed with great skepticism. Yet, [the news] was eventually seen as a miracle that helped spread Christianity throughout the Americas," said Michael Witczak, an associate professor of liturgical studies at the Catholic University of America in Washington, the Catholic News Service reported.
For over 400 years, religious pilgrims have visited the church honoring Our Lady of Guadalupe. In 2002, Pope John Paul II canonized Diego and named the Virgin of Guadalupe "Patroness of the Americas." Diego became the first indigenous person from the Americas to reach the level of sainthood in the church.
The celebrations begin in the days leading up to the feast day. Several readings are suggested for the day from the U.S. Conference of Catholic Bishops. The festival in Mexico involves conchero dancers near the church and celebrations featuring food, including moles and flan, showing how it has become both a religious and cultural holiday.
Mexican Nobel literature prizewinner Octavio Paz once wrote "after two centuries of experiment and failure, the Mexican people only believe in the Virgin of Guadalupe and the National Lottery."
© Copyright IBTimes 2023. All rights reserved.