How Close Were Georgia And South Carolina Election's?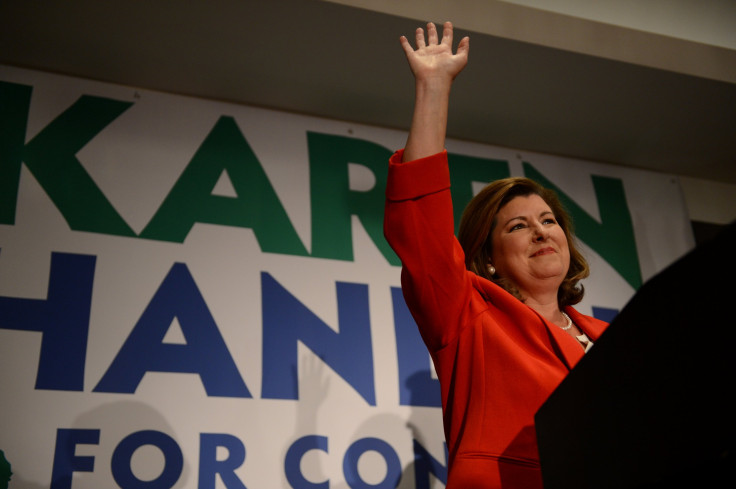 Last night Republicans won two special House elections in Georgia and in South Carolina. The South Carolina race didn't get as much coverage as Georgia's, which became the most expensive House race in history. The Georgia election was seen as much closer, but last night's results didn't seem to bear that out.
Both the Georgia sixth district and the South Carolina fifth are reliably red districts, the chance at flipping either for Democrats was remote. The hope for Democrat Jon Ossoff who was beaten by Republican Karen Handel was President Donald Trump. In the 2016 presidential election, Trump only beat Hillary Clinton in that district by 1.5 percent. When Ossoff started the race he channeled national anger at the president before pivoting away from Trump and focusing on local politics.
READ: How Republicans And Democrats On Twitter Responded Differently To Georgia Special Election
Last night, however, Handel beat Ossoff by 3.8 percent. Which is relatively close considering the district has been led by a Republican for decades, but not as close as South Carolina's. Georgia's seat was vacated by Republican Tom Price before he took a job in the Trump administration as Secretary Health and Human Services. Before that, the district was represented by former Republican Speaker of the House Newt Gingrich. Mitt Romney beat former President Barack Obama in the district by 23 percent.
In South Carolina, Republican Ralph Norman beat his Democratic opponent Archie Parnell by only 3.2 percent, .6 percent closer than Handel's win, in a much redder district.
Trump beat Clinton there by over 18 percent. Mick Mulvaney left the seat open when he joined the Trump administration as Director of the Office of Management and Budget. Mulvaney, who is a founding member of the far-right Freedom Caucasus of the Republican party, won by landslides in each of his elections. Mulvaney beat his last Democratic opponent by 20 points, The Herald reported Tuesday.
Trump played a large role in this election as well, Norman aligned himself closely with the President who even recorded an automated robocall message for Norman. Parnell actively campaigned against Trump and his policies. He even made a campaign ad styled after the Netflix show "House of Cards."
"Archie Parnell is no Frank Underwood, and Washington shouldn't actually be like 'House of Cards,'" the ad read. The fictional politician Underwood at one point represents South Carolina's fifth district.
READ: Georgia Election 2017: How Much Money Is Being Spent Between Democrats, Republicans For House Seat?
The two Republican victories last night come as the latest set of close but no cigar losses for Democrats in special elections this year. Races in Kansas and Montana showed closer than usual margin's for Democrats but ended up staying Republican. Democrats did manage to keep a safe seat in California's 34th in April.
The next two special elections are in August, one is to replace Attorney General Jeff Sessions' old Senate seat in Alabama. The other is for Jason Chaffetz's House seat in Utah's third district.
© Copyright IBTimes 2023. All rights reserved.