How 'Dancing With The Stars' Has Changed Things Up For Season 28
Making some shocking cast cuts and not revealing the pro/dancer partnerships before the premiere are only some of the ways "Dancing With the Stars" appears to be trying to revamp things for Season 28.
The ABC reality competition series is making some big changes in the new season after taking nearly one year off following Season 27, which saw controversy over the outcome and an all-time low in ratings. While not every change has been necessarily confirmed as of yet, some have been causing some controversy. Here's everything we know about what fans can expect on the new season.
Official Partnerships Are Being Kept Secret
While fans are making their guesses and some of the celebrity participants have reportedly slipped up and revealed who they are dancing with, the show itself is not confirming who is dancing together until premiere night. However, the identity of the celebs and pros who are participating were announced on "Good Morning America" in August.
The Season 28 celebrities are Christie Brinkley, James Van Der Beek, Karamo Brown, Hannah Brown, Kel Mitchell, Sean Spicer, Ally Brooke, Kate Flannery, Lauren Alaina, Ray Lewis, Mary Wilson and Lamar Odom. Meanwhile, familiar pros coming back are Brandon Armstrong, Lindsay Arnold, Alan Bersten, Cheryl Burke, Witney Carson, Val Chmerkovskiy, Sasha Farber, Jenna Johnson, Keo Motsepe, Peta Murgatroyd, Gleb Savchenko and Emma Slater. They will be joined by two new faces, Daniella Karagach and Pasha Pashkov.
Shocking Pro/Troupe Ousters
While most of the pros fans have come to know and love the last few years will be back, the elimination of the troupe dancers-which included Britt Stewart, Hayley Erbert and Arthur Adamski—saw their jobs eliminated this time around. In addition, Artem Chigvintsev revealed he was also let go, admitting, later on, he didn't think he'd be watching the new season because it would bring him "negative energy," while reigning champ Sharna Burgess was also cut, reportedly due to budget constraints. A source told Pure DWTS that she had been the highest-paid female pro before she wasn't asked back.
Rotating Pros
Fans of the show quickly noted that there are 14 pros participating on the show, but only 12 celebs. While that initially led many to believe that two more cast announcements could be in the works, Dance Dish reports that the show is actually taking a cue from British counterpart "Strictly Come Dancing" and calling everyone a Pro, even if they don't have a partner. The two extras are going to generally act in the former Troupe's space by filling in for injured pros if needed and dancing in group numbers. The website reports that in an interview with SiriusXM's "On The Pulse Morning Show," host Tom Bergeron revealed that newbie Daniella and Keo would be the pros who are filling in on that spot.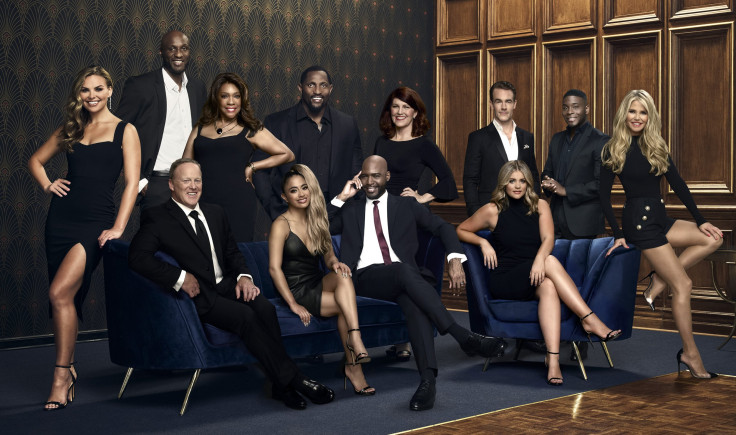 New Look
The show will also have an entirely different look and revamped set, emphasizing more of a professional feel than it has in previous years. Entertainment Tonight reports it will have an art deco feel, and there will be plenty of gold tones this season.
Different Money
Part of the show's revamp also comes down to the money that is being paid out. While the show did make an effort to go after some bigger names than previous years as promised, the bigger paychecks celebrities earned from appearing on the show in the past have gone away, also due to the budget constraints.
While the contestants will all make a minimum $125,000 for the rehearsal period and the first two weeks they appear on the show, the amounts they can earn for making it through later stages of the competition have changed. Previously, celebrities were paid on a sliding scale if they made it onto further installments, earning an additional $10k, $20k or $30k for the further installments they make it through. If they made it to the final two episodes of the season, they would earn an additional $50k, making the max amount of money a finalist could earn $345,000. Per a new report by Variety, the new maximum contestants can earn is $295,000, a decrease of $50k total. Where the changes occurred in the pay scale remains unclear.
Voting
Thankfully, the show does appear to have listened in some regard to the change fans wanted the most from the show after Bobby Bones' controversial Season 27 win and Joe Amabile's advancement to the semi-finals, and there will be some tweaks to how votes are accounted for.
Executive Producer Andrew Llianres revealed there would be a live voting element to the show now while appearing at the D23 Expo in August, indicating that the days of fans voting after one week's dance and having those votes reflect an elimination one week later would be in the past.
"One thing we are going to do, we're going to introduce live voting throughout the season, which is something we haven't done before," he said. "You'll see a show, so you might see the Disney show, and then you'll see the result at the end of that show, based on what happened that night. So, we get the immediacy of the results."
It's unclear if additional voting changes could be revealed later that fall more in line with fan suggestions since Season 27, which included making the judges' votes count more than fan ones and allowing the judges to have "Save" options if they disagreed with the results.
"Dancing With the Stars" Season 28 premieres Monday, Sept. 16 at 8 p.m. EDT on ABC.
© Copyright IBTimes 2023. All rights reserved.