How Donald Trump And The Clintons Have Surprisingly Empowered Sexual Assault Survivors
A man accused of sexual assault will soon reside in the White House, regardless of the outcome of the presidential election. Whether Donald Trump or Hillary Clinton wins, their ties to sex crime allegations, as well as the unprecedented national conversation those controversies have created, aren't going away.
Accusations of sexual assault have followed Trump and Bill Clinton throughout their careers, but the issue became one of the most contentious talking points of the presidential election when an audio recording featuring the GOP nominee talking about grabbing women by their genitals leaked in early October. The shocking tape began a nationwide debate on what exactly constitutes sexual assault. A dozen women came forward to accuse Trump of sexual harrassment or assault, and across the country, a multitude of women spoke up about their own experiences of abuse.
The weekend after the tape went public, the national sexual assault hotline saw a 33 percent increase in people calling for support, the Rape, Abuse and Incest National Network (RAINN) told International Business Times. The organization saw a continued 24 percent uptick in sexual assault reporting throughout October, compared to 2015 statistics.
"Many survivors have been traumatized by the recent national discourse surrounding sexual assault," said Terri Poore, policy director at the National Alliance to End Sexual Violence. "At the same time, there's a recognition of strength in numbers, as well as support and empowerment for women sharing their own experiences. There's a certain extent to which this election has caused a general shift in the public's understanding of sexual assault."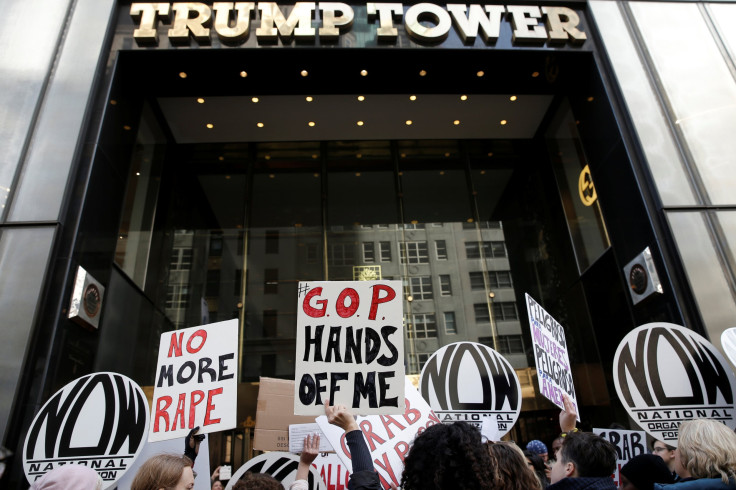 Trump counteracted the controversial leak with a surprise of his own, inviting several of Bill Clinton's sexual assault accusers to an impromptu press conference held minutes before the second presidential debate. The women, including Paula Jones, Juanita Broaddrick and Kathleen Willey, each described the alleged harassment or sexual assault by the former president, as well as why they support the real estate magnate for office. Hillary Clinton's campaign effectively ignored the move, but the Trump campaign and its surrogates continued to spotlight Bill Clinton's former indiscretions.
Former New York Mayor Rudy Giuliani defended Trump, describing the leaked conversation as "locker room talk" between two men which should never have been introduced to the national stage, and he questioned why the former president was never prosecuted for allegedly raping Broaddrick. He also reminded voters of Clinton's prevarications about White House intern Monica Lewinsky — linking the president's credibility issues with his wife's.
"There was semen on her dress, which proved he lied to America," Giuliani said on MSNBC of Clinton's most notorious infidelity. "Just like her husband, she is getting away with lying to America."
For sexual assault survivors, the issues of rape culture in the U.S. and a lack of sex crime education and prevention are not political talking points but real-life challenges. Nearly half of rape crisis centers across the country have a waiting list for counseling services, with 45 percent of those programs experiencing an overall decrease in funding over the past year, according to the National Alliance to End Sexual Violence. Rape cases cost the United States more than any other crime annually at $127 billion, followed only by assault at $93 billion. Both costs include estimated varying factors, from prosecution and healthcare costs, to survivors experiencing reduced adulthood incomes incurred from victimization. Murder crimes cost the nation $71 billion.
"There isn't one political affiliation for sexual assault survivors," Laura Palumbo, communications director at the National Sexual Violence Resource Center, said. "I think that can make it challenging for a survivor's political identity, who hears the stories of survivors being met with disbelief and shame. The greatest cost of hearing a misinformed response to a victim of sexual assault, is that it perpetuates silence."
Sexual assault is one of the most underreported crimes in the United States: Only 26 percent of sexual assault crimes are reported to the police, according to the Bureau of Justice Statistics.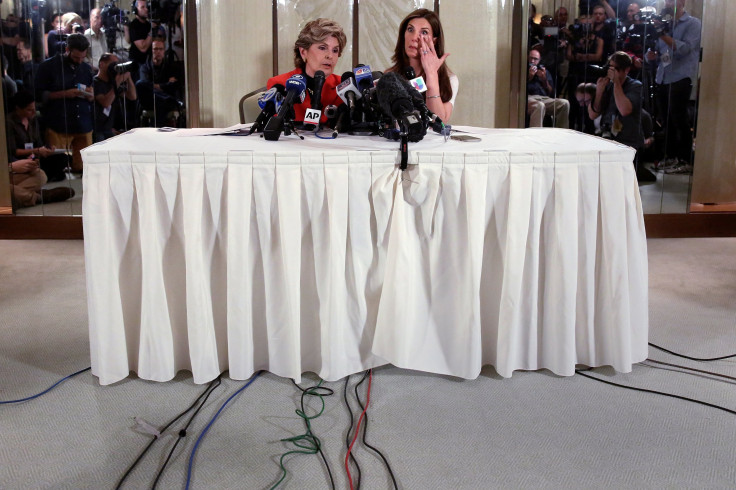 Several organizations promoting sexual assault awareness agreed that the scrutiny and hostility that women face when discussing their experiences are a prime reason that women typically don't report such crimes. Trump has threatened to sue each of the women who have accused him of sexual assault.
"The treatment people who come forward face really challenges the idea that this is something someone would do for personal benefit," Palumbo said. "It's a very vulnerable position to disclose an experience of sexual assault, and for many people, it remains unclear what even defines a sexual assault experience to begin with."
Trump's surrogates and supporters aren't alone in supporting a presidential candidate accused of sexual assault while attacking the women involved. Bill Clinton's primary campaign was nearly taken down in 1992 when a sex scandal involving Gennifer Flowers made national headlines. The Clintons repeatedly denied allegations of an affair, and Hillary Clinton played an active role in undermining each woman's story who came forward during her husband's campaign and presidency. She reportedly dismissed Lewinsky as a "narcissistic looney tune."
The young intern was publically humiliated, even by those who didn't question that the Oval Office relationship had occurred. New York Times reporter Maureen Dowd, who won a Pulitzer Prize for her coverage of the Lewinsky affair, described her as a "ditzy, predatory White House intern." Nearly 20 years later, Lewinsky described the pain of such attacks, telling the Guardian that "the shame sticks to you like tar."
"I would say that everybody should be believed at first," Hillary Clinton said of her husband's accusers while on her own campaign trail in November. "Until they are disbelieved based on evidence."
One sexual assault survivor working on the Clinton campaign, who asked not to be named for privacy concerns, told IBT that the national conversation must continue for any real change to be made in sex crime prevention and awareness. "The way some conservatives and Republicans address assault just goes to show how blind we've been for so long on this issue," she said. "Before we make any significant progress in policy, we need to change the way we have political conversations about this. Some Republicans refuse to even authorize the Violence Against Women act."
The 1993 Violence Against Women act, legislation co-written by liberal and conservative officials and sponsored by Vice President Joe Biden, was expected to be reauthorized in 2013 by Congress after the Senate approved the bill with a 68 to 31 vote. Although the legislation was reauthorized in 2000 and 2005 without a problem, GOP officials slammed the bill for its support of immigrants, the LGBTQ community and Native Americans. The bill failed to pass.
"Politics have changed so much, and yet the way we talk about these policies is still so polarizing and ingrained in sexism," the Clinton staffer continued.
Long after the divisiveness spurred by the presidential campaign subsides, sexual assault survivors and organizations say they plan to urge the next administration to aggressively tackle the issue. The Obama administration has been lauded for its extensive efforts to promote sexual assault awareness and prevention, assembling the Task Force to Protect Students from Sexual Assault. Vice President Biden has spearheaded such efforts, appointing the first ever White House advisor on violence against women and advocating for women and survivors across college campuses.
But because both presidential candidates have been singed by sexual assault charges, it's not clear that the issue will be a welcome topic in the next White House.
"I think anytime anyone in a position of power perpetuates myths and victim blaming, that is damaging to survivors," Poore said. "What we'd like to see instead is concrete policies that would invest into programs like the CDC's rape prevention and education program. Investments that would make survivors feel universally supported, regardless of politics."
© Copyright IBTimes 2023. All rights reserved.