'How To Get Away With Murder' Season 3 Spoilers: Episode 7 Synopsis Released Online; What Will Happen In 'Call It Mother's Intuition'? [VIDEO]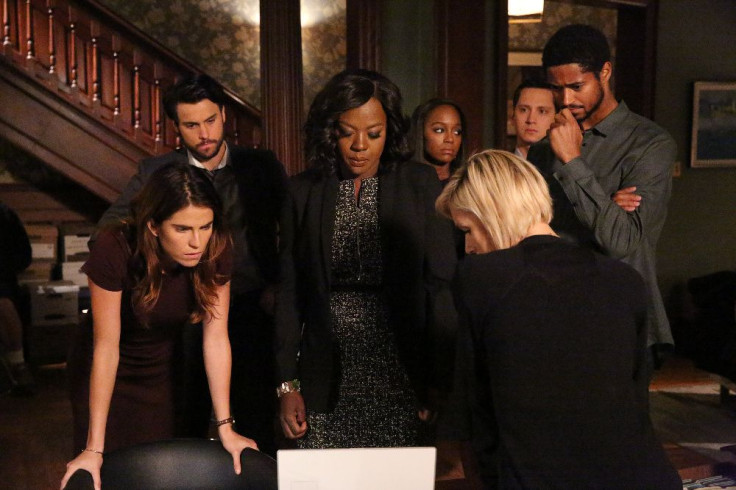 ABC's "How To Get Away With Murder" crossed one more person off the list on who could be the unidentified male that died in the fire in Annalise Keating's house. After we got to know that Oliver certainly wasn't in the house, Michaela desperately searched for her boyfriend Asher at his dorm. She found out that he was busy partying while the lawyer's house was burning down.
What will happen next week in "How To Get Away With Murder"?
After Wes (Alfred Enoch) stopped becoming a suspect in the Charles Mahoney case, Annalise's (Viola Davis) students will take on a case defending siblings who have been charged with conspiracy to commit murder against their mother in Season 3, episode 7. But the case won't be the only interesting thing in "HTGAWM."
Frank (Charlie Weber) proved his loyalty to the tough-as-nails attorney by making Mahoney's son a suspect. He planted the murder weapon and the son's prints on the weapon. Then, he left the evidence in the trunk of his car, ensuring that the police would arrest him. Although it seemed like a good thing to do, the synopsis of Season 3, episode 7 states that Frank's actions will lead to a painful consequence.
Furthermore, we will get to see more of Michaela's (Aja Naomi King) mother Trishelle (Brett Butler). Remember when Michaela called her adoptive family "trash"? In the upcoming episodes on the ABC series, we'll get to know why she calls them that. "We are definitely going to see more of Michaela's mom, Trishelle, and that's really exciting," King told TVLine, "It's going to give us a better understanding of what Michaela was talking about [with that comment] and why she admires Annalise so much."
King also said that Michaela has a hillbilly side that will be explored soon. She has a temper and can be a little violent sometimes.
Moreover, expect Laurel (Karla Souza) to be more dependent on Wes after they got back together. "The appearance of Meggy has made Laurel see other things that she didn't see in him," Souza told Entertainment Weekly. The couple will also keep their recent hookup a secret since they don't want to burst their happy bubble just yet.
The promo of the upcoming episode shows that someone will rat out Annalise. She has been charged with first degree murder after someone ratted her out and provided the evidence anonymously. The traitor will be revealed in episode 7.
Watch the latest episode of "HTGAWM" on Thursday, Nov. 3 at 10 p.m. EDT on ABC to find out who -- Nate (Billy Brown), Wes, Connor (Jack Falahee) or Frank -- was under the sheet.
© Copyright IBTimes 2023. All rights reserved.