How To Get Tickets To 'SNL': Watch Melissa McCarthy And HAIM Live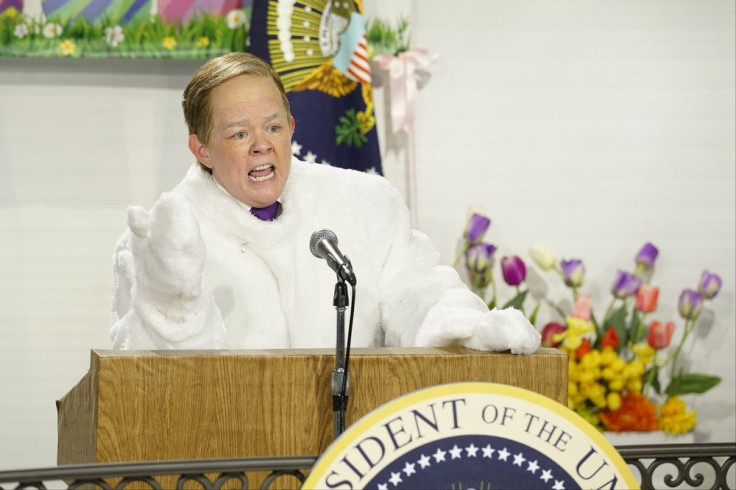 With just two episodes left in the season, fans of "SNL" may want to catch the show live and in person. While the "Saturday Night Live" lottery for Season 42 has passed, you can still get standby tickets to a taping of the show including the May 13 episode hosted by Melissa McCarthy.
Standby tickets can be difficult to obtian and don't always guarantee you will be admitted into the show but if you really want to watch the show in person, here's what you have to do. Tickets are distributed at 7 a.m. EDT on the 48th St. side of 30 Rockefeller Plaza in New York on the morning of the show, which means you have to line up early if you want a chance.
You will have the choice of selecting a standby ticket for the 8 p.m. dress rehearsal — which features more sketches before they're cut for the live taping — or the 11:30 p.m. live broadcast. The NBC website warns that "aside from minimal, necessary breaks, all stand-by line members must remain in line at all times."
If you do get your standby tickets, you will then have to come back to the studio no later than 7:15 p.m. or 10:45 p.m, depending on which taping you chose. While NBC doesn't get to in depth with the details, first-hand accounts state you'll have to wait in another line to get into the show.
According to Fansided, "The system is organized chaos, with the staff, clipboards in hand, shouting and running and in constant contact with some nebulous voice upstairs." Guests are then let in by groups and told where to sit.
If you want to avoid the standby line next time, you can join the "Saturday Night Live" lottery. This season's lottery took place in August and involved sending an email that placed you on a list. If selected, you receive two tickets to a random show and time. Like the standby line, entering the lottery does not guarantee a time.
"SNL" will return on May 13 and once again feature its new live coast-to-coast format that it started on the April 15 episode hosted by Jimmy Fallon. The experiment proved to be successful as the April episode averaged 7.9 million viewers and a 2.3 rating in the 18-49 demographic, the network said in a statement.
According to NBC Entertainment Chairman Robert Greenblatt, going live across all time zones allows fans across the nation to enjoy the show together. "That way, everyone is in on the joke at the same time. Kudos to Lorne Michaels, the producers and cast for making SNL one of the most relevant and anticipated shows in the zeitgeist," he said in a press release.
The final two episodes of "Saturday Night Live" will air live at 11:30 p.m. EDT, 10:30 p.m. CDT, 9:30 p.m. MDT and 8:30 p.m. PDT on NBC.
© Copyright IBTimes 2023. All rights reserved.