How Many Muslims, Mosques Have Been Attacked Since Donald Trump's Election? Genocide Letters Mark Latest Hate Attacks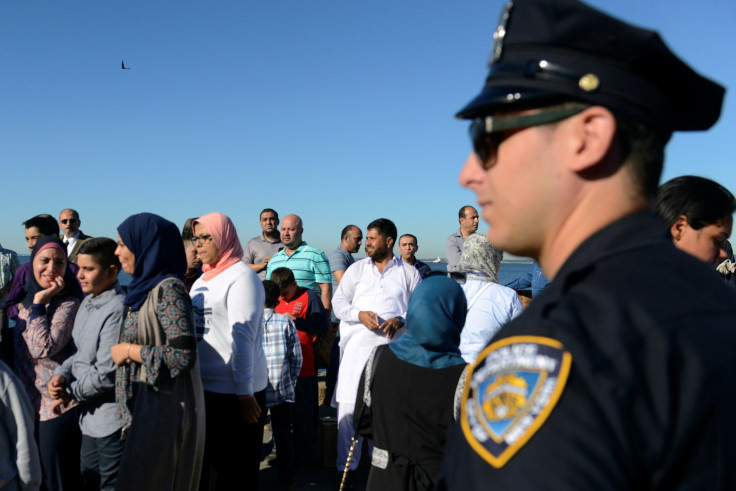 At least four mosques received copies of an anti-Muslim, pro-Trump handwritten letter in California and Georgia threatening genocide against Islam since Thursday, adding to a wave of hate crimes and threats against the Islamic community across the United States. As minority communities report a surge in violence since President-Elect Donald Trump's Election Day victory, Muslim leaders say other mosques may have also received the letter, signaling recent assaults against Muslims could just be beginning of a new era of Islamophobia in the U.S.
The letter begins by addressing Muslims as "the children of Satan," warning Trump is "going to do to you Muslims what Hitler did to the Jews." It goes on to purport Trump will "cleanse America," and calls on Muslims to pack up and flee the country.
In California, San Jose's Evergreen Islamic Center confirmed it was one of the mosques that received the threatening letter Thursday night. "We informed the proper authorities and San Jose police have started a formal investigation," Jazakum Allahu Khairan of the mosque's board of directors wrote on Facebook. "It is extremely important to make a note of the rapid reaction we received from the law enforcement, from our local leaders and our entire community. It is heart-warming to know that there are so many good people out there including our long-term neighbors who reject hatred and have offered us unconditional support during these trying times."
As additional mosques reported receiving the same letter, the Council on American-Islamic Relations called on police departments across the country to protect Islamic centers and Muslims openly practicing their faith in the face of increased violence and anti-Muslim sentiments.
"We urge local law enforcement authorities to work with Muslim community leaders to ensure the safety of all houses of worship," Zahra Billoo, executive director for the civil rights group's San Francisco chapter, said in a statement. "Our state's political and religious leaders need to speak out against the mainstreaming of Islamophobia that we are witnessing in California and nationwide."
The Muslim-American community saw a large increase in reported hate crimes since Trump announced his campaign for the presidency in 2015, with a 67 percent surge in crimes against Muslims and Islamic centers. There were at least 257 reported attacks on the Muslim community last year. Since Nov. 8, the Council on American-Islamic Relations said at least 100 attacks against Muslims have been reported, a show of violence only comparable to hate crime statistics directly after the attacks of Sept. 11, 2001.
Trump, who promised to ban all Muslims from entering the United States and vowed to surveil mosques throughout the country, addressed the national rise in hate crimes in a recent interview with "60 Minutes," telling his supporters perpetrating such violence to "stop it."
But Ibrahim Cooper, national communications director for the Council on American-Islamic Relations, said those with anti-Muslim sentiments feel validated by the president-elect's victory and will continue to attack the Islamic community until Trump properly addresses the situation.
"Trump's comments on '60 Minutes' was a total throwaway, nobody took it seriously, especially his most violent supporters," Cooper told International Business Times Monday after a fourth mosque reported receiving the threatening letter. "He could change the course of violence if he were to announce an investigation into hate crimes, if he disavowed anti-Muslim sentiments in a statement, if he wouldn't choose anti-Muslim appointees to head White House positions, but of course he's not doing any of this."
The Council on American-Islamic Relations has urged Muslims to continuing practicing their faith freely in the face of attacks.
"Muslims across America should continue to go to mosques, continue to practice their faith openly and proudly, continue to demand peace," Cooper said. "We invite all local police forces to look after our mosques and places of worship through community policing and responsible efforts."
© Copyright IBTimes 2023. All rights reserved.