Threats Against Minorities Spike On Donald Trump's First Day As President-Elect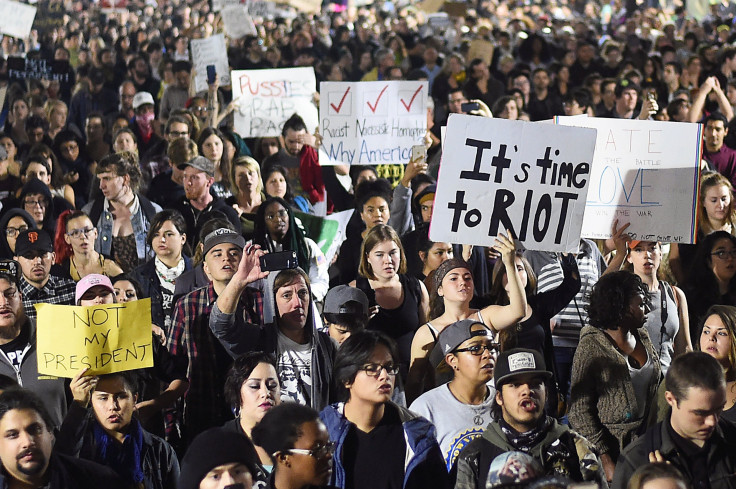 Donald Trump announced his candidacy by vowing to remove undocumented Mexican immigrants, calling the majority of them rapists and criminals. He's called for a ban on Muslims entering the United States, "until our country can figure out what the hell is going on." He's repeatedly vowed to reverse the Supreme Court's ruling on marriage equality, as well as repeal executive action protecting LGBT communities from discrimination based on sexuality and gender-identity.
Now, in his first official day as president-elect, it seems Trump's controversial remarks about minorities may have normalized a level of vitriol and harassment those communities are facing. And it could be just the beginning.
Americans shared on social media Wednesday accounts of verbal attacks and aggressive behavior in the immediate hours after Trump was announced the victor of the 2016 presidential campaign.
"As I'm stopped at a gas station this morning, a group of guys yell over: 'Time to get out of this country, Apu!'" Twitter user Manik Rathee wrote on Wednesday. "Man, I'm a light-skinned Indian guy. I'm not a small dude. I dress in professional work attire. I speak English. This is our America now."
Luis Rivera, a 25-year-old New York resident, didn't participate in the election because he didn't feel supportive of either major candidate vying for the White House. But he still experienced its aftermath.
"A man started yelling 'Get ready to be deported!' as I was on my way to work," he told International Business Times Wednesday. "I was in shock. I told him I've lived here all my life, and he replied Trump was going to kick out my illegal parents. My parents are American citizens. But I didn't expect Trump's comments to have such an immediate impact on my life. It's all pretty surreal."
A rise in hate speech, as well as verbal and physical abuse, has been a longtime coming. Hate crimes against Muslims have soared since Trump announced his campaign, with rates reaching as high as levels reported after the attacks of Sept. 11, 2001.
"We're seeing these stereotypes and derogative statements become part of the political discourse," Brian Levin, the director of the Center for the Study of Hate and Extremism at the San Bernardino campus, told the New York Times. "The bottom line is we're talking about a significant increase in these types of hate crimes."
Others also reported disturbing remarks from Trump supporters, noting the chants and insults hurled at them were likely spurred by the color of their skin or religious identity.
"To the boy who just shouted 'get lost terrorist immigrant' at me, you don't represent my America," Numa Rehmani tweeted Wednesday. "My America will prosper with love."
Europeans flocked to social media in the wake of the so-called Brexit to report similar instances of nearly-immediate discrimination, after an arguably equal shock came to British voters when the country decided to remove itself from the European Union, largely over disagreements concerning immigrations and the European refugee crisis. Users shared stories of white men and women physically and verbally attacking minorities in the days following the unprecedented vote.
"We should be absolutely clear that this government will not tolerate intolerance," former Prime Minister David Cameron's spokeswoman told reporters at the time. That intolerance included "intimidating migrants, telling them they need to go home," she said.
© Copyright IBTimes 2023. All rights reserved.
FOLLOW MORE IBT NEWS ON THE BELOW CHANNELS