How Many People Voted For Trump? Hillary Clinton's Popular Vote Lead Increases To 1.7 Million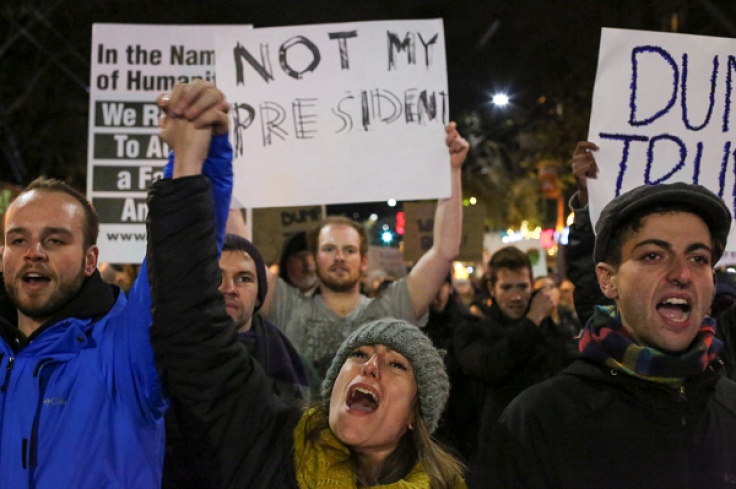 Donald Trump may have gained more Electoral College votes on Election Day, but the president-elect is significantly trailing behind his Democratic opponent Hillary Clinton by more than 1.7 million popular votes as of Monday, according to a Cook Political Report analysis. Since the official election on Nov. 8, Trump has won 61,900,651 popular votes.
Clinton's popular votes continue to climb closer toward President Barak Obama's 2012 election votes. As of Monday morning, Clinton had 63,620,704 votes. Back in 2012 when Obama ran against Mitt Romney, Obama won with a total of 65,915,795 votes. Clinton has stayed in the lead, with 48 percent of the popular vote, while Trump has maintained 46.7 percent.
As the popular vote gap continues to widen between Trump and Clinton, protesters have launched campaigns and petitions with hopes of persuading Republican electors to swap their Trump ballots for another one of the nominees, whether it be Clinton or independent contenders Gary Johnson or Jill Stein, who have collectively gained more than 7 million votes. Trump won the presidency with 290 electoral votes, compared with Clinton's 232 votes.
If protesters were able to convince Republican electors to change their ballots, it would be a first in American history. Many activists have been using social media to reach out to electors and urging them to vote for the majority popular holder in their state.
Not all the Facebook messages, emails and phone calls electors have received since Trump won the election have been so pleasant. Art Sisneros, a Republican elector from Texas, told the Associated Press he's received "threatening and vile things" from supporters. Other electors have reportedly received death threats.
This isn't the first time a massive group of voters have attempted to sway electors. When President George W. Bush won the election back in 2000 against Al Gore, Florida residents bombarded electors with requests for them to change their votes.
Carole Jean Jordan, a former GOP elector during the 2000 election, told Associated Press that electors received a wave of nasty letters and calls from people angry over the recount between Bush and Gore. Jordan said threats were so extreme that police had to keep watch over her house until electors arrived in Tallahassee to cast their votes, during which they all had to stay in the same hotel with security guards. They also had to be escorted by the guards from their hotel to the voting facility.
© Copyright IBTimes 2023. All rights reserved.