How Much Does Child Care Cost? Hillary Clinton Proposal Highlights Climbing Price Of Having Kids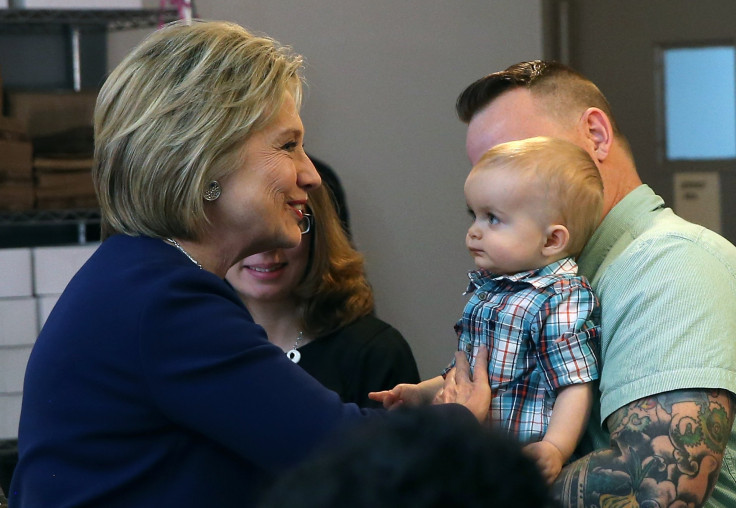 Babies do more than pee, poop, coo and cuddle. They also cost — a lot.
Democratic presidential front-runner Hillary Clinton took on the climbing cost of raising a child Tuesday in a package of proposals aimed at improving child care in the United States. Her plan, to be revealed at a campaign stop in Kentucky, would increase child care workers' pay and expand home visit programs, the Huffington Post reported. It would also make it so no family spends more than 10 percent of its income on child care, which has been called the largest annual household expense for American families.
Clinton's campaign hadn't yet said Tuesday how it planned to pay for the plan, which an aide told the Wall Street Journal would include mixing federal spending with tax breaks. But the sheer fact that Clinton is introducing the topic into the 2016 presidential race could accomplish something on its own: ​It could spread more awareness about the high cost of child care.
Having your kid or kids supervised by people, programs or the government while you work can be incredibly expensive depending on where you live and what you do. Last year, for example, the Economic Policy Institute found that rent cost less than child care in 500 out of 618 residential areas it studied. In 33 states, infant care was more expensive than college tuition at four-year public schools.
"People save for years and years and go into debt to go to college," Elise Gould, an economist who worked on the report, told the New York Times. "And here are these young families, they haven't been saving for 18 years to send their kid to day care."
More than 32 million kids, including 61 percent of all preschoolers and about half of all grade schoolers, spend time in child care with relatives, organizations or local businesses. The cost of such arrangements has almost doubled over the past three decades. In 1985, the weekly cost for families with working moms was $84. As of 2011, it was $143, according to Census data.
To put this in perspective, for families who live above the federal poverty line of $24,300 for a family of four, child care takes up an average of 8 percent of their income. For families below it, who often need it the most, child care eats up 30 percent.
For many, the alternative to pricey child care is staying home from work. American businesses lose about $3 billion every year when parents have to miss work to take care of their kids, according to the nonprofit and referral service Child Care Aware of America in Arlington, Virginia.
"It's a crisis for families with young children," Richard M. Clifford, a senior scientist at the Frank Porter Graham Child Development Center at the University of North Carolina at Chapel Hill, told Parents magazine in 2012.
The Republican-run Congress hasn't spent much time on the issue, according to the Huffington Post, though the White House has broached the subject. In 2014, President Barack Obama reauthorized the Child Care and Development Block Grant Act, which opened up about $5.3 billion in subsidies to help low-income families afford child care, and in 2015 he proposed further expanding programs to cover about 2.6 million kids by 2025. Essentially, states develop child care systems that meet certain requirements and then get money to bring down out-of-pocket costs for parents, according to a report by Child Care Aware.
But the Center for American Progress noted that funding is "scarce and sporadic," only benefiting about a third of low-income families who put their kids in child care centers. The liberal think tank has previously suggested a High-Quality Child Care Tax Credit that could give families up to $14,000 per child in care programs.
Another crisis comes in the form of ensuring the child care program you select takes care of your kids. The median annual salary for day care employees is about $20,000, and standards for centers vary by state. Every parent has heard the horror stories. In Missouri in 2013, a 2-year-old had to go to the emergency room when a day care worker roughly dragged her by her arm. In Indiana in 2014, employees covered up the sexual abuse of a 3-year-old girl during nap time. In New Jersey last year, two workers made headlines when they organized and Snapchatted a toddler fight club.
Clinton's proposal would address those concerns, too, aiming to not only improve the quality of child care programs but also pay skilled workers in the field better, Politico reported. She has previously called for universal preschool and expanded access to child care for college-student parents, saying in December that "we have to help do a better job supporting families," ThinkProgress reported.
Of course, with about two months until the Democratic National Convention, every move is a campaign strategy. But whether the former secretary of state's plan scores her votes among women and families remains to be seen, especially because it's a topic her rival, Sen. Bernie Sanders, I-Vt., has brought up on the campaign trail, as well. Sanders called the American child care system a "disaster" and an "embarrassment" last summer while demanding higher wages for day care workers.
As of Tuesday morning, Clinton had 2,228 of the 2,383 delegates needed to secure the party's presidential nomination. Sanders had 1,454.
© Copyright IBTimes 2023. All rights reserved.