With His West Virginia Win, Has Bernie Sanders Run Out Of Good News?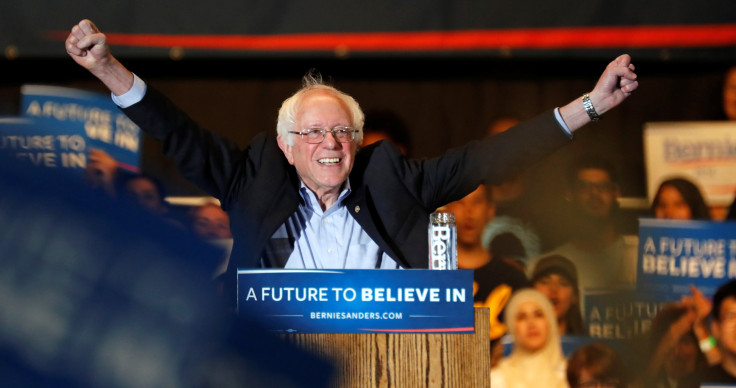 Bernie Sanders is still racking up victories in the race for the Democratic presidential nomination, but he's running out of places to win them. On Tuesday night, he bested front-runner Hillary Clinton in West Virginia, a second consecutive win after last week's upset in the Indiana primary.
"Tonight it appears we've won a big, big victory in West Virginia," the U.S. senator from Vermont said after the race was called. "With your help, we're going to win in Oregon next week."
Sanders is indeed favored to win Oregon on May 17, but Clinton will probably dominate in Kentucky the same night. Then comes the Virgin Islands caucus June 4 and the Puerto Rico primary June 5, followed by the last of the season's Super Tuesdays on June 7. That's when delegate-rich California will finally vote, along with Montana, New Jersey, New Mexico, North Dakota and South Dakota.
Sanders can certainly win some of those states — Montana, North Dakota and South Dakota are all demographically predisposed to feel the Bern — but California and New Jersey are Clinton country. As in New York, the suspense is only over whether she'll win by double digits or single digits.
That leaves just one more vote, on June 14, in the District of Columbia. The district is nearly 50 percent African-American, a demographic balance that favors Clinton. Sanders tends to perform best in states where the overwhelmingly majority of Democratic voters are white, and West Virginia was no exception to the rule. In fact, exit polls showed that more than 90 percent of the voters in that state's Democratic primary were white.
That means Tuesday in West Virginia might have been the very last unambiguously good night for the Sanders campaign. There could be more statewide victories, but it's difficult to see how Clinton's lead becomes anything except more insurmountable from here on out.
Sanders himself was not conceding anything in his victory speech, pledging to keep running until the very last state has voted. "We are in this campaign to win the Democratic nomination," he said. Winning would be an "uphill climb," he said, but he asserted that he still saw a path to victory.
Sanders is likely to rack up more delegates in the final weeks, which may give him more influence at the Democratic convention, July 25-28 in Philadelphia, when it comes to things like writing the party's platform.
Two weeks ago, when asked what his objectives would be if he doesn't win the nomination, Sanders told the Washington Post he wanted to "make certain that the platform that comes out of that convention is the most progressive platform in the history of this country, a platform that includes many of the ideas that we have been fighting for throughout this campaign." He has previously called for the Democratic platform to include a commitment to a $15 federal minimum wage.
By staying in the race past the point of certain defeat, Sanders may also make a strategic point about how the Democratic Party can win going forward. By drawing strength from white, working-class parts of the country, he may have demonstrated how the Democratic Party can stitch together a majority coalition without relying on appeals to the rich.
Such a coalition would have to make more room for the economically precarious white workers who have proven central to Sanders's success. In West Virginia, those voters were out in droves. In addition to finding an overwhelmingly white primary electorate in the state, West Virginia exit polls revealed deep worry over the state of the economy.
More than 60 percent of the state's Democratic voters said jobs and the economy were the most important issue in deciding their vote, according to ABC News exit polling. Few if any other states have seen comparably high numbers for the same issue.
In West Virginia, as in many other prior states, economic anxiety appears to deserve a large share of the credit for Sanders's victory. That anxiety has not proven sufficient to deliver him the nomination, but it might be something Democrats can mobilize to their benefit in the general election — using his example as their guide.
© Copyright IBTimes 2023. All rights reserved.