How Much Money Do Americans Usually Spend On Thanksgiving?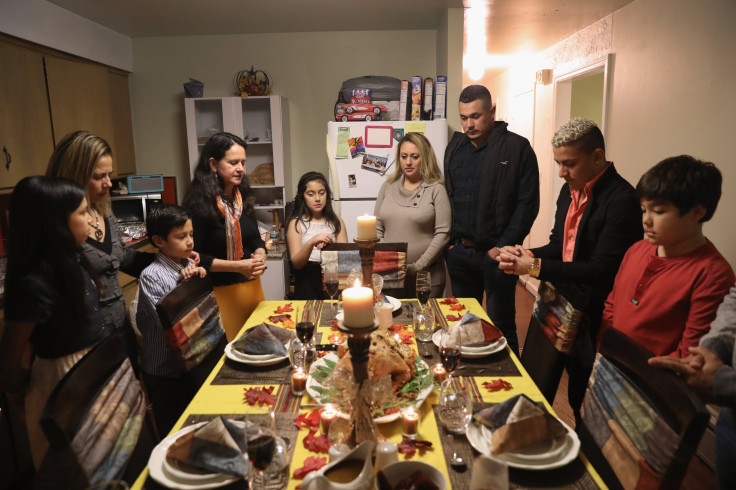 Thanksgiving is a holiday centered around family and friends and often features a massive holiday feast with side dishes like mashed potatoes, corn on the cob and cranberry sauce. But feeding up to dozens of house guests can be pricey, and Americans are likely to spend a sizable sum on food this year.
Even before those "door-buster" deals that draw millions to retailers for Black Friday, Americans are expected to spend $2.9 billion on Thanksgiving-related groceries, according to a 2017 report compiled by Statistic Brain. The average U.S. household will spend about $59.18 on dinner with all the fixings. During Thanksgiving weekend, the average household is projected to spend a total of roughly $342.
Data shows Thanksgiving costs have been climbing. The American Farm Bureau Federation reported from 2005 to 2015 that the average price of a family's feast has risen 36 percent from $36.78 to $50.11.
Last year, one pound of green peas cost $1.58, 12 ounces of fresh cranberries was $2.39, a half-pint of whipping cream was $2.00 and a three-pound bag of fresh sweet potatoes cost $3.60, according to Fortune. But part of these inflated costs relates to the succulent turkey, which is the most important part of the meal for most. The price per pound of a frozen turkey increased 46 percent in the last decade, according to the Bureau of Labor Statistics.
To bring down those costs, Americans will have to think outside the box, said Phil Lempert, a grocery expert and food industry analyst who runs the product review site SuperMarketGuru.com.
"You have to be a creative cook," Lempert told USA Today. "A lot of your menu depends on who you're inviting over: people with allergies, gluten-free, people who don't like turkey. Plan out as much as possible. If you try to do everything for everyone, you're going to waste a lot of money. You're not saving any money if you're throwing away a lot of food."
© Copyright IBTimes 2023. All rights reserved.