How Old Is The World's Oldest Killer Whale? Granny The Orca Pronounced Dead At Over 100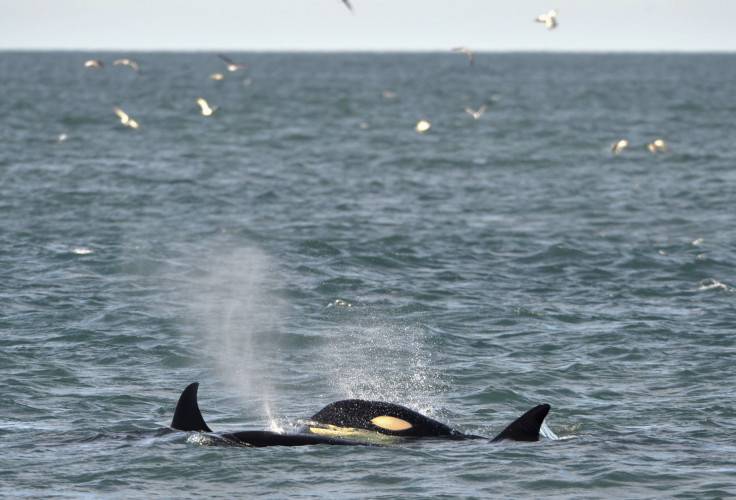 Fate has finally befallen the world's oldest killer whale, who was thought to be well over one century old.
Granny, who was around 105 years old, was reported missing Tuesday and was determined to be dead, BBC News reported Tuesday. The announcement was first made by The Center for Whale Research's Executive Director and Principal Investigator Kenneth C. Balcomb on the Center's website Saturday. The research center studies the southern killer whale population, which is based in the Pacific Northwest.
Granny, who was typically seen around the Puget Sound coastal region in Washington, was presumed to be dead after she had gone missing from her pod, otherwise labeled the J pod. Granny was last spotted in October, according to the announcement. When she did not turn up by the end of the year, she was pronounced deceased by the center.
"She is one of only a few 'resident' whales for which we do not know the precise age because she was born long before our study began," Balcomb said in the announcement. "I last saw her on Oct. 12, 2016, as she swam north in Haro Strait far ahead of the others. Perhaps other dedicated whale-watchers have seen her since then, but by year's end she is officially missing from the SRKW population, and with regret we now consider her deceased."
The orca whale's "Granny" name was a nickname that was bestowed upon the creature and she is actually known to scientists as "J2." Scientists began to study the creature following her first sighting in the early '70s, according to SF Gate. Orca whales normally live until the age of 60 or even 80 years old.
In August of this year, Granny had been spotted swimming with a couple dozen killer whales at False Bay at the San Juan Island, according to Nature World News. Killer whales normally stick closely to pod groups, which is what led experts to believe that she might have died when she was not seen with her fellows.
© Copyright IBTimes 2023. All rights reserved.