How To Stop Terrorism? Trump Travel Ban Seen As Ineffective, Anti-Muslim And Certain To Face Court Challenge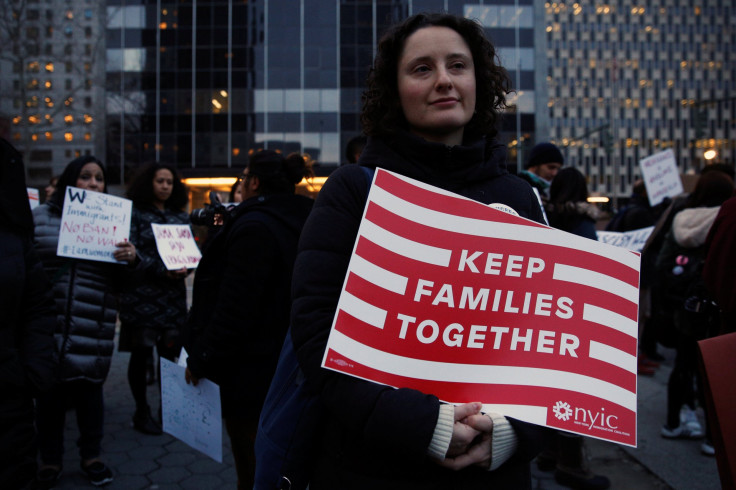 The Trump administration unveiled its reworked temporary travel ban Monday, but the revisions are unlikely to quell criticism even if it has a better chance of withstanding judicial review.
Sen. Chris Murphy plans to introduce a bill to block the ban by withholding enforcement funding.
The 90-day ban, which takes effect in 10 days and targets travelers from from six Muslim-majority countries — Iran, Libya, Somalia, Sudan, Syria and Yemen (the original ban also included Iraq) — already has been labeled a "Muslim ban," flying in the face of constitutional guarantees of freedom of religion.
"You can't blueline-edit hate and bigotry this way," Abed Ayoub, national legal and policy director at the American-Arab Anti-Discrimination Committee, told the Daily Beast. "You cannot remove certain language or remove a country and think it takes away from it being a Muslim ban."
Sen. Bernie Sanders, I-Vt., called the ban racist.
Though the administration is trying to cast the ban as an effort to keep the chaos from those countries out of the United States, President Donald Trump's comments during the presidential campaign and former Mayor Rudy Giuliani's statements that Trump came to him for a rationale that could pass muster make it unlikely the courts will ignore the ban's religious connotations.
"The only way to actually fix the Muslim ban is not to have a Muslim ban," said Omar Jadwat, head of the American Civil Liberties Union's Immigrants' Rights Project. "Instead, President Trump has recommitted himself to religious discrimination, and he can expect continued disapproval from both the courts and the people."
Sen. Richard Blumenthal, D-Conn., urged President Donald Trump to "ditch" the ban.
"It is essentially the same and suffers from the same constitutional defects [as the first ban]," Blumenthal told the Hartford Courant. "It continues to impose a religious test or preference focusing on Muslim-majority nations and barring refugees only from those nations."
The new ban provides exclusions for those who hold green cards and valid visas. Iraq was left off the list this time because Baghdad has agreed to share more information with the U.S., administration officials said.
Secretary of State Rex Tillerson said the State Department has been reviewing vetting procedures since the first travel ban was issued in January and has identified areas that could be improved.
Critics likely will argue the ban is over-inclusive since young children and grandmothers from the six countries as well as fighting-age men are banned, but it has no effect on possible terrorists from those countries already in the United States.
The administration has said it needs time to develop extreme vetting procedures to guarantee safety, but immigrants already go through a two-year process before they are admitted that includes interviews, fingerprinting, background checks and vetting through a network in which the State Department shares information with other countries.
States like Washington and Minnesota, which were responsible for the suit that stopped the original version of the ban, likely will pursue their claims a travel ban harms their universities and other institutions.
The Hill said to justify the ban in court, the administration might be required to show classified evidence that current screening procedures are insufficient.
© Copyright IBTimes 2023. All rights reserved.