HTC Announces Standalone Vive VR Headset Exclusively For Chinese Markets
HTC has announced that it is launching a standalone Vive VR headset for Chinese markets. The upcoming premium VR headset will be built on the Viveport content platform and will be powered by Qualcomm's Snapdragon 835 processor.
"China is the leading mobile market in the world today, and has the momentum to lead the global VR market as well," HTC's China regional president of Vive Alvin W. Graylin said. "Partnering with Qualcomm to deliver an easy to use and more affordable Vive VR system will enable us to make premium standalone VR widely accessible to the masses in China."
Since the new Vive standalone VR headset is using a Snapdragon 835 mobile chip, it's performance won't match VR headsets that are tethered to high-powered PCs.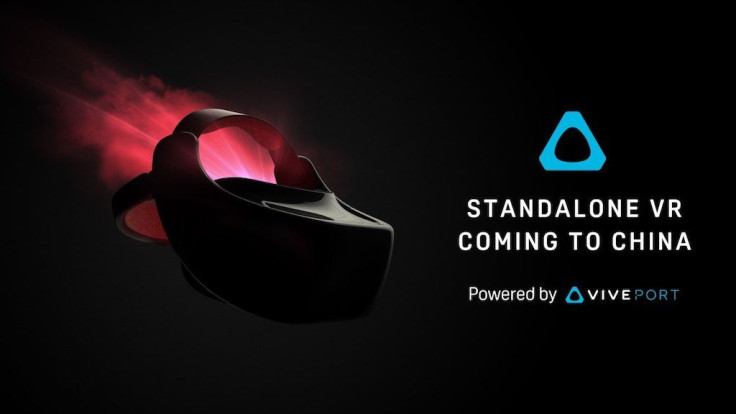 READ: HTC's Next Mid-Range Smartphone 'Ocean Life' To Feature Edge Sense
Interestingly, using a mobile chip does offer some advantages. First off, this new Vive headset is completely wireless and doesn't need a separate smartphone or need to be wired to a PC. It can offer a completely wireless VR experience. This makes the headset a bit less bulky in addition to its slicker design, as pointed out by Engadget.
The Snapdragon 835 processor is also cheaper and more affordable than buying high-powered PC components. This opens up the possibility of bringing VR experiences to a slew of new users.
"Snapdragon 835 is designed to deliver superior VR experiences without the need for wires or a separate PC," Qualcomm senior director of product management Hugo Swart said. "We are thrilled to work with HTC's Vive team as they utilize our rich feature set to create exciting, new VR experiences in the first truly mobile VR headset of the Vive ecosystem."
The Snapdragon 835 also offers inside-out positional tracking features, albeit a bit more constricted than what PC-powered VR headsets are capable of. Qualcomm's tracking technology should be able to recognize movement that involves dodging or ducking. Bigger movements such as walking around a room cannot be tracked by Qualcomm's tech.
On the content side, HTC will be utilizing its own Viveport VR platform. HTC first launched the Viveport store last year, and it was where users were able to download non-gaming VR content for the HTC Vive. But now, it has become a hub for VR gaming content as well.
READ: Palmer Luckey Gives $2,000 Pledge To Bring Oculus Rift Games To HTC Vive​
It's still unclear what HTC will use for an input device for the new standalone Vive headset. For battery life, Qualcomm says that it's targeting for two hours of usage, according to TechCrunch. Pricing hasn't been announced yet, but HTC did market the new standalone VR headset as a "premium" device.
Although this standalone VR headset isn't heading to the United States, HTC is working on another one that will. Back in May, Google announced that it has partnered with Lenovo and HTC to make standalone VR headsets that will make use of its Daydream VR platform.
Additionally, Google and HTC's standalone Daydream VR headsets will feature a far more advanced form of positional tracking. Google will also work alongside Qualcomm to make this possible, but it will use the WorldSense tracking system.
The Daydream-powered standalone VR headset from HTC and Lenovo are set to arrive in "late 2017."
© Copyright IBTimes 2023. All rights reserved.
FOLLOW MORE IBT NEWS ON THE BELOW CHANNELS