Hugh Hefner Net Worth: Playboy Magazine Founder Valued At $50 Million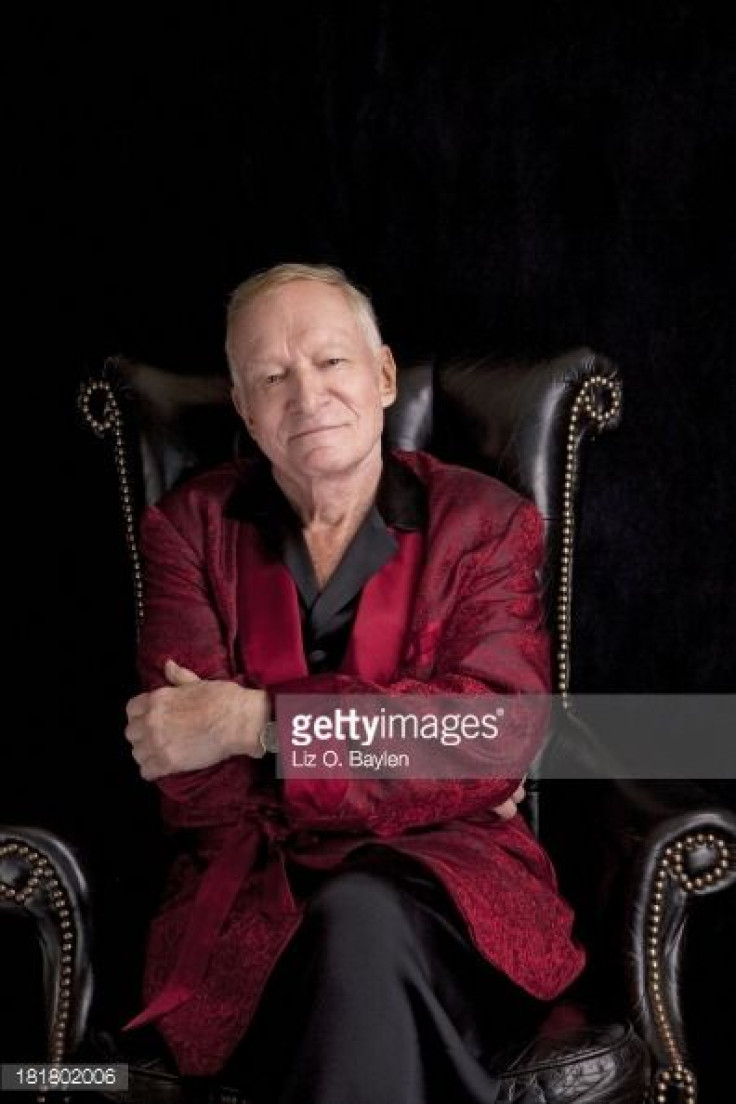 Iconic founder and editor of Playboy magazine, Hugh Hefner died late Wednesday, the official Twitter account of the magazine said. He was 91.
Playboy Enterprises confirmed Hefner's death in a statement to E! News: "Hugh M. Hefner, the American icon who in 1953 introduced the world to Playboy magazine and built the company into one of the most recognizable American global brands in history, peacefully passed away today from natural causes at his home, The Playboy Mansion, surrounded by loved ones."
The renowned Casanova is known for pioneering the Playboy magazine which helped Americans in the 1950s and early 1960s become more comfortable with the idea of talking about sex. By the 1960s, Playboy had begun selling roughly 1 million magazines per month. In the 1970s, the magazine earned $12 million in profits during its peak time. At its height, Hefner's net worth was rumored to be around $200 million.
According to CNN, Hefner founded Playboy in 1953 with $600 and built it into a multimillion-dollar empire, which included several television shows, a jazz festival and a string of Playboy Clubs.
Celebrity Net Worth puts his net worth at the time of his death at $50 million. According to the Gazette Review, Hefner's annual income was more than $4 million a year. At least half his income came from the magazine which added $150,000 to his earnings every month. He was also estimated to get income from interest payments, rental properties and other business interests.
However, due to a minor stroke in 1985, he stepped down as CEO and turned over all the magazine's business operations to his daughter, Christie, who expanded the company and guided its cable TV channel but closed down the Playboy Clubs.
According to COED, Playboy's stock price fell 80% because of a decline in magazine sales. According to paperwork filed in 2009 as part of a divorce, he estimated his own net worth to be $43 million.
Hefner took the company private in 2011, with private equity firm Icon Acquisition Holdings, a partnership that Hefner himself controlled, having acquired it. Another private equity firm called Rizvi Traverse eventually bought out Icon. At the time of his death, Hefner owned 35 percent of the Playboy brand and 100 percent of the actual magazine, reported Celebrity Net Worth.
Although it is commonly assumed that Hefner himself actually owns the famous Playboy mansion in Holmby Hills, Los Angeles, California, he, in fact, does not. Hefner paid an annual fee to cover rent and other expenses like food and parties he hosted, to Playboy Enterprises.
Celebrity Net Worth estimates that the rent came to around $1 million a year typically, including room and board for Hefner's girlfriends who lived in the mansion. In January 2016, Playboy Enterprises announced that it had put the mansion up for sale for $200 million. It was bought in June 2016 for $110 million by Daren Metropoulos co-owner of Hostess Brands, a bakery company.
Hefner was also a philanthropist and was involved in a lot of charitable work. In his fight against censorship, Hefner created the Hugh M Hefner First Amendment Award to honor those who fought to protect the First Amendment. The Gazette Review stated he also funded a course at the University of Southern California called 'Censorship in Cinema' and donated $2 million to fund a position teaching American film history. He assisted organizations such as Much Love Animal Rescue by holding fund-raising events.
© Copyright IBTimes 2023. All rights reserved.