Human Rights Lawyer Amal Clooney Will Represent Nadia Murad And Other Victims Of Yazidi Genocide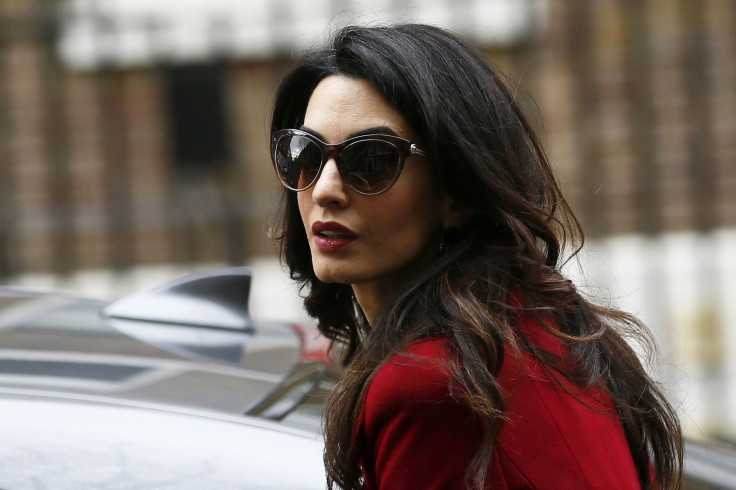 Human rights lawyer Amal Clooney will represent most of the victims of the Yazidi genocide in 2014. These women have been enslaved and trafficked by the Islamic State group, also known as ISIS. The 38-year-old lawyer plans to seek an International Criminal Court investigation and prosecution of crimes against the Yazidi ethnic and religious minority.
After representing Mohamad Nasheed, former president of the Maldives, as well as award-winning Azerbaijan reporter Khadija Ismayilova, she has now turned her focus to ISIS rape survivor, Nadia Murad, and other victims of the Yezidi genocide. Nadia has been nominated for the Nobel Peace Prize in January for her tireless efforts to focus the attention of the world towards Yezidi genocide.
"The European Parliament, the Parliamentary Assembly of the Council of Europe, the U.S. government and the U.K. House of Commons have all recognized that there is a genocide being perpetrated by IS against the Yazidis in Iraq," said Amal, who is married to Hollywood actor George Clooney in a statement to New York Times. She added that it was difficult for her to understand how such a heinous crime was being committed before everyone's eyes and the perpetrators were not being prosecuted by the International Criminal Court in The Hague.
The British-Lebanese barrister also represents Yazda, a non-profit organization that has helped the Yazidi community since the genocide began. ISIS targeted the Yazidi population of about 230,000 people because they do not practice Islam. About 5,200 women were abducted by ISIS in 2014, mostly women, while over 400,000 were forced from their homes.
Nadia and all other women were kidnapped from Northern Iraq and forced into camps where they were sexually brutalized for belonging to a religious minority in an area. After enduring three months of torture, Nadia escaped in November 2014. The 23-year-old activist has been tireless in her efforts to bring more political attention to the Yezidi genocide.
She praised Amal as an "incredible passionate woman" who has given her "renewed hope" in the fight. The young woman wants justice for the victims like her and accountability to perpetrators of genocide.
© Copyright IBTimes 2023. All rights reserved.