Hurricane Sandy Anniversary: As New York's Power Grid Prepares For Another Hurricane Sandy, Phone Companies Drop The Line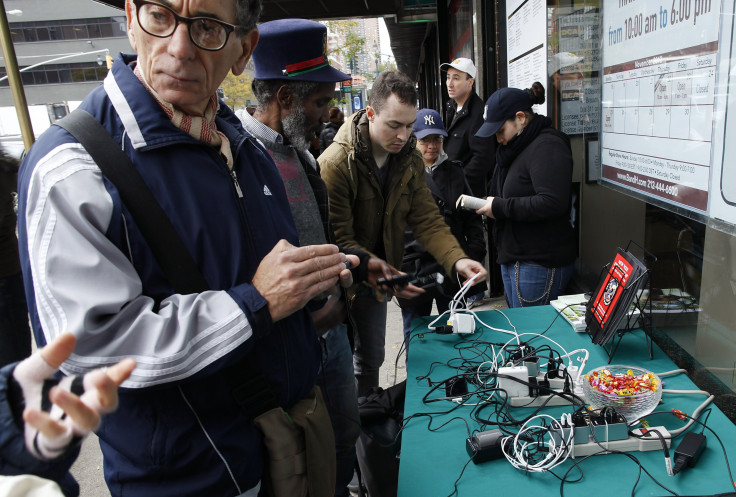 When Hurricane Sandy slammed into New York City in 2012, it knocked out power for 2 million customers and disrupted wireless service when people needed it most. Two years later, power and communications companies are still hardening their defenses to prepare for the storms that meteorologists expect will make Sandy look mild.
Widespread power outages throughout New York and New Jersey quickly snowballed, knocking out much of the metropolitan area's cellular network. Those who did try making calls found that the networks were overwhelmed by the number of callers trying to contact loved ones. With 41 percent of Americans electing to go without landlines though (a number that's only grown since 2012), the need for reliable methods of communication is especially pressing.
Utility companies and the telecommunications industry became a popular punching bag in New York in the days and then weeks that followed Sandy. Some New Yorkers waited more than a week for their lights to turn back on, long days that forced residents to scavenge for spoiled food and worry about elderly relatives unable to feed themselves or keep warm. Tension only grew when people, struggling to keep warm and contact family, left their homes to wait in lines organized by military personnel giving away gasoline.
Con Edison thinks it's found part of the solution. The gas and electric company serves more than 3.3 million customers throughout the New York metro region, many of whom found themselves in the dark when Sandy's 9.41-foot storm surge flooded power stations throughout Lower Manhattan. ConEd preemptively shut down a number of the stations to prevent fire, but since then has been working to ensure that power stations are equipped to remain in operation when future storms make landfall.
"By June 1 of last year our substations were above 14 feet," said Matthew Sniffen, chief engineer at ConEd. "If Sandy happened again our substations that cover Lower Manhattan wouldn't be affected."
Smart grid technology could help prevent such dramatic power outages. Working with the Federal Emergency Management Agency, ConEd is installing remotely operated fiber switches capable of isolating an area (about 20 blocks) and preemptively knocking out power to that area before flooding can damage the station, which could prolong an outage for weeks.
"The impact of a Sandy today would result in 30 to 40 percent less customers being affected," Sniffen said. "We're retrofitting our submersible equipment, so if we have to shut down an area our ability to come back is much faster."
Sniffen also said that, over the next few years, the company is working to install 17-foot barriers in vulnerable substations. Of special interest are facilities along the East River, where a viral video recorded during Sandy showed a transformer exploding, followed by an immediate blackout in the surrounding area.
The most vulnerable equipment will be better protected by 2016, while lower-priority stations will be retrofitted by 2019, a ConEd spokesman said. The New York State Public Services Commission approved the plan, saying customers should "expect fewer outages during storm events." But that's five years away, and a full seven years after Sandy. Customers who spent 10 days in the dark in 2012 will take little comfort in the fact that power companies have spent hundreds of millions of dollars to upgrade their equipment if those same customers are still unable to charge their phones if a storm hits next month.
That's where the COWs come in.
Officially known as a cell-on-wheels units, COWs consist of a cellular antenna tower, electronic radio transmitter and other equipment that essentially replicates cellular networks in the event of a mass infrastructure outage or overload. They've been deployed previously in disaster aftermaths and at President Barack Obama's 2009 first inauguration, when millions of extra phone calls and text messages were sent from the National Mall.
Now, though, the technology is becoming more widespread thanks to a growing recognition of its reliability. While customers might still be stuck without power at home, they can visit a nearby COW truck and charge their phones and get in touch with family members without having to worry about network accessibility.
Like the other telecommunications companies, AT&T has stressed the value of preparedness. Storm response teams use data analytics to watch a storm as it makes its way toward their area, canceling employee vacations and ferrying in technicians and equipment before it strikes to speed cleanup. They also conduct three to four storm response simulations every year, but when it comes to keeping customers talking after a storm it's all about the COWs.
Company representatives from AT&T refused to disclose exactly how many COWs the company uses for "security reasons," but did say that when it becomes clear a storm is imminent trucks begin transporting COWs to the threatened area days before the weather hits.
"At bottom we have enough," Chris Nurse, regional vice president of AT&T and a member of the Northeast Emergency Operations Center, which oversaw service restoration after Hurricane Sandy, said of the COWs. "And we can get more."
Verizon is also known to deploy Cell On Light Trucks (COLTs) which, operating similarly to COWs, also supply up to three days of wireless service wherever they go. Still, either for fear of revealing trade secrets or because they're simply not prepared for another disaster, there's a general reluctance among the major telecommunications companies to provide specifics about how COWs and COLTs are deployed.
The lack of transparency has been frustrating enough that Mayor Michael Bloomberg's administration released a Hurricane Sandy After Action Report in 2013 in which it recommended that carriers be forced to report more details to the Federal Communications Commission and city officials in an emergency.
Among the suggestions were to make it required, not voluntary, for carriers to report outage information to the FCC's Disaster Information Reporting System, which reports on communications infrastructure in the immediate aftermath of a disaster. That hasn't happened, in part because, as an FCC official said, "all of the major carriers" report to the DIRS without being compelled to do so.
However the New York City report also recommended that carriers develop a plan with the city to "pre-stage COWs and other critical telecommunications assets where they could be needed following a coastal storm." That, by all accounts, is also not happening, though each company acknowledged that customers notice when their service is slow to recover in instances where others have seen it return.
"I really can't imagine any more that we could have done," Nurse said, remarking on the level of work that went into Sandy preparation. "It's a very competitive market and we are very dedicated to restoring service to our customers. It takes a little while to overcome these big, bad natural events."
Maybe, telecommunications watchdogs say, but the sheer absence of any actual "competitive market" eliminates any incentive for companies to make it easier for customers to communicate in an emergency. Sources said Verizon, in particular, still has extensive work to do to repair the damage done during Hurricane Sandy, in part because the company has sought to slash maintenance and staffing costs.
A Verizon spokesman stated in an email that the company has spent billions on enhancing and updating its wireless networks since Sandy. Yet Susan Lerner, executive director of New York Common Cause, which aims to keep government and corporations accountable, said "enhancing wireless networks" essentially boils down to replacing traditional copper networks with fiber optic lines so the company can charge for FiOS services. Representatives from AARP worried that such changes would adversely affect New York's elderly population, in particular, which experienced an especially high death toll during Sandy compared to other age demographics.
"The entire push of the industry, and there are advantages to going to fiber as well as disadvantages, but it's happening in a way that's driven by the bottom line," Lerner said. "The big problem with FiOs, unlike the old- fashioned wired system, is that if your power goes out then your phones go out as well. Some benefits of the copper system haven't been picked up, including the emergency system. It's definitely a public safety issue."
© Copyright IBTimes 2023. All rights reserved.
FOLLOW MORE IBT NEWS ON THE BELOW CHANNELS