I Burned The American Flag, Here's Why: True Story Explained By SCOTUS Winner Joey Johnson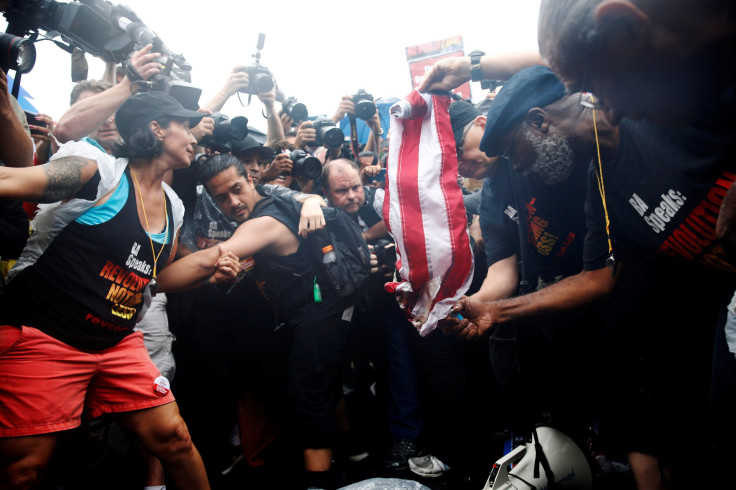 Flag burning pioneer Gregory Lee Johnson ignites the red, white and blue because he sees it not as a symbol of freedom, but one of oppression and American imperialism. Johnson, 60, was the defendant in the landmark Texas vs. Johnson case heard by the Supreme Court in 1989. The 5-4 verdict was in Johnson's favor and determined the practice of burning the flag falls under the First Amendment's protections as "symbolic speech."
That right, which Johnson has exercised ever since, including most recently at the 2016 Republican and Democratic National Conventions in Cleveland and Philadelphia this summer, has re-entered the national spotlight following a tweet this week from President-elect Donald Trump calling for punishments like fines, imprisonment or even the stripping of citizenship for anyone who burns the U.S. flag.
It's unclear exactly what spurred Trump to make his comments at 7 a.m. Tuesday morning, but they sparked activists to burn flags outside of Trump International Hotel in New York City later that day.
Johnson, who goes by the nickname Joey, first claimed 32 years ago that flag burning was "symbolic speech." In a phone interview with International Business Times Wednesday, Johnson said he burns the flag out of an internationalist responsibility, "cause I see it as a symbol of oppression and murder, and ugly imperialism."
Johnson called Trump's threats of imprisonment for flag burning "fascist."
"He's taking a national symbol, the flag, and attaching one permissible meaning to it," Johnson said. "And upon threat of imprisonment or stripping people of their citizenship, he's saying that everyone must submit to that interpretation or that permissible meaning of the flag. I'm serious when I say it's fascist and it has very broad and very dangerous implications."
Johnson cited interventions in Iraq, Afghanistan and Vietnam, as well as slavery and the killing of Native Americans throughout history as examples of the U.S.' imperialism and oppression. He said Trump's proposal was "an attempt to close up people's minds, and not have people be exposed to the outrages and the crimes that have been committed in the name of that flag and the name of the system that it's a symbol for, which to me, is a system of American capitalism and imperialism."
"That's how I see the flag, as a symbol of an ugly system of imperialism and oppression," he added.
Johnson kick-started a national controversy over flag burning more than three decades ago at the 1984 Republican National Convention in Dallas. Johnson burned a flag in protest of President Ronald Reagan's administration and was arrested for violating a Texas law against discretion of "venerated objects." He was convicted and sentenced to a year in prison over his protest. He would go on to serve only two days in jail. Johnson was out on appeal bond for five years before the Court ruled.
While government officials may not agree with his stance on burning the flag or his views of the American political system, Democrats and Republicans alike have come out against Trump's stance on the controversial issue. Trump's messages to his 16.4 million Twitter followers led to backlash this week across political party lines. House Majority Leader Kevin McCarthy, R-Calif., told MSNBC Tuesday he disagrees with the practice of flag burning, but that, "We'll protect our First Amendment. That's what the court has upheld."
During the 2016 Republican Convention, Johnson and members of the Revolution Communist Party practiced their Court-granted right by burning a flag outside the Quicken Loans Arena, which eventually led to 17 arrests on various misdemeanor charges, including inciting violence. Those charged, including Johnson, were released 24 hours later, but the charges are still on the books.
Johnson is fighting the charges and he questions anyone who wants to make flag burning illegal, including their reasons for strongly supporting the flag today.
"Even if people don't feel the way I do about the flag," he said, "There's a question of - with Trump calling for forced patriotism, mandatory patriotism, upon pain of punishment - 'Do people then still want to wave the flag?'"
FOR FREE to continue reading
✔️ Unlock the full content of International Business Times UK for free
offer available for a limited time only
✔️ Easily manage your Newsletters subscriptions and save your favourite articles
✔️ No payment method required
Already have an account?
Log in
© Copyright IBTimes 2023. All rights reserved.