Imbolc 2015: 3 Things You Need To Know About The Pagan Festival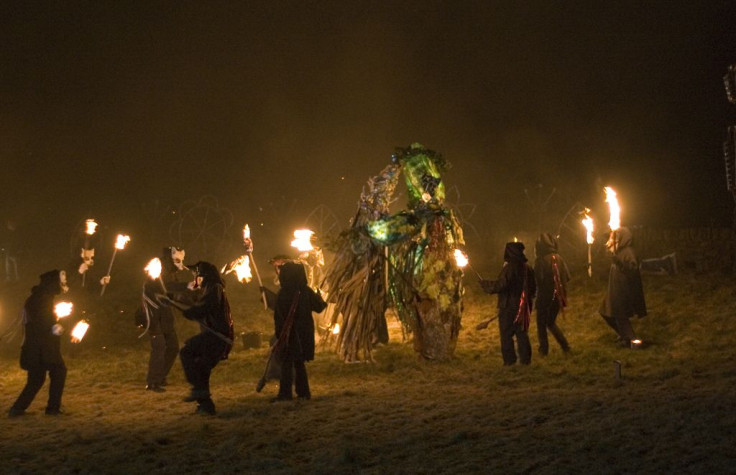 While many were watching to see whether the groundhog Punxsutawney Phil predicted an early spring in the annual ritual Monday, pagans around the world were having their traditional Imbolc festivities. The festival, which falls on Feb. 2, celebrates the first signs of spring.
For pagans, or Wiccans, in the Northern Hemisphere, Imbolc (pronounced "im'olk") takes place during some of the coldest and darkest times of the year, when people are longing for the warmth of spring and summer. Still, the festival is meant to recognize the small seasonal changes that are starting to appear.
"It's a time of year when you can physically begin to see the shift," Bo Nelson, a Wiccan from Wisconsin, told International Business Times. "Sure, it is still cold, and here in Wisconsin we got the most snow we have seen all year hours after our celebration. But the days are getting longer and there is hope and excitement that spring is soon to come."
For those unfamiliar with Imbolc, below are three answers to common questions surrounding the pagan festival:
What is the history behind Imbolc?
Imbolc originated as a Gaelic festival that celebrated the beginning of spring. Until today, it falls at the midpoint between the winter and spring equinox, usually around Feb. 1. The word "imbolc" refers to sheep's milk in Old Irish. During ancient times, lactating ewes represented one of the first signs of spring.
Imbolc is also called Brigid's Day, referring to the Celtic goddess of fertility (later canonized in Catholic tradition) who was reborn on Imbolc from the crone of winter to the maiden of spring. Brigid represents regeneration, livestock and light. Pagans honor her memory during this time by lighting candles and hearth fires and celebrating the sun's rays.
What are the rituals associated with the festival?
Pagans tend to celebrate Imbolc with rituals that focus on spiritual purification and dedication. Wiccan priestess Selena Fox of Circle Sanctuary, a Wiccan church in Wisconsin, suggests performing purification rites to cleanse one's body, thoughts and emotions. Other rituals include participating in torchlight processions to jump-start the upcoming agricultural season, lighting candles to represent the return of the sun, and starting a sacred fire in honor of goddess Brigid's sacred flame.
While some rituals take place in group setting, Imbolc celebrations also encourage personal reflection.
"It is a time when we as individuals begin to make our own personal goals as well, and we talk about the 'seeds' (both symbolic and literal) we tend to plant in the coming year," Nelson said, describing how common topics of conversation in his community involve talking about summer vacations and plans for their gardens. "I think we naturally spend all winter looking forward and making plans for the spring and summer, but Imbolc is the time when we first begin to put those goals into motion," he said.
Like other pagan holidays, there's not one single way to celebrate. Nelson's family draws upon the candle tradition by collecting candle wax from his family's home altars and from candles burned during other festivals throughout the year.
"At Imbolc we will take the chunks of wax and we will carve in words or wishes for ourselves, our family and our community for the upcoming year. We then melt all the wax down in a single pot and create new candles out of them to light in honor of the festival. The candles will be lit regularly from then until spring returns," he said.
For Heather Greene, the managing editor of a pagan news site, the Wild Hunt, Imbolc is an elusive holiday.
"For me, Imbolc is an honoring of what's not present yet. It represents the words yet to be spoken, the potential in our spirits, the 'calm before a storm' of growth, the quiet before the show, and the unknown baby before its birth," Greene told IBTimes. "Imbolc's beauty is in its waiting and not knowing."
How is it related to Groundhog Day and Candlemas?
Imbolc is considered a precursor to two February holidays: Groundhog Day and Candlemas Day. The latter is a Christian tradition that originated in the fifth century to commemorate Mary's ritual purification 40 days after the birth of Jesus Christ. At the time, children would be taken to the temple in Jerusalem and presented to God by their parents.
In early Christianity, Candlemas was a day when candles were brought to the church to be blessed. Candles served a practical and spiritual purpose. Not only were they light and heat sources during winter but they also reminded believers of Christ and the "light" he brought to Earth. Clergy would distribute the blessed candles. Their longevity represented how long and cold winter would be.
Groundhog Day also shares similarities with Candlemas and Imbolc. The secular festival which takes place in Punxsutawney, Pennsylvania, among other locations across the state, stems from German lore, where a sacred badger can determine the coming of spring.
© Copyright IBTimes 2023. All rights reserved.
FOLLOW MORE IBT NEWS ON THE BELOW CHANNELS