Immigration, DHS Shutdown 2015: Moderate Republicans Push For Resolution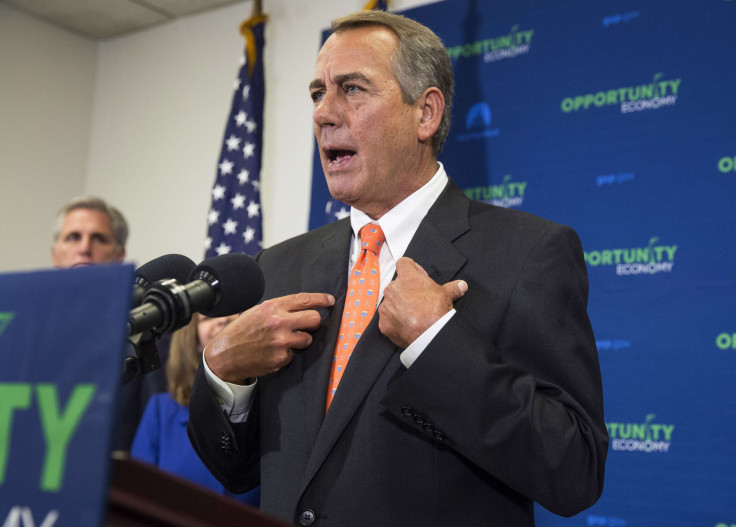 WASHINGTON -- The current funding battle on the Hill has pulled into the spotlight a rarely seen faction of congressional Republicans: pragmatists. Unlike their conservative colleagues, they don't see any point in trying to force President Barack Obama to undo his immigration orders by holding up funding for the Department of Homeland Security. And they are ready to give up on what they consider a futile plan.
"Many of us knew that this strategy had no plan for success and there is no point in doubling down or tripling down on it," Republican Rep. Charlie Dent, of Pennsylvania, said.
Dent has been in this position before. He kept trying to get his Republican colleagues to back away from the attempt to quash implementation of the Affordable Care Act -- a strategy that led to the government shutdown in October 2013. Other Republicans like Arizona Sen. John McCain joined Dent in finally bringing an end to that fight. And in the run-up to what could be a nearly identical scenario, this time with funding for DHS expiring on Feb. 27, Dent is starting to make the same moves.
While Democrats watch, conservatives and Republican moderates fight it out in Congress. So far, conservatives have had their way. The House passed -- on partisan lines -- a bill to fund DHS that also undoes all of the president's executive orders on immigration, including legalizing 5 million undocumented immigrants and providing legal status for those who were brought to the country as children, known as "Dreamers." But that effort has sputtered in the Senate, where Democratic opposition has meant that the bill can't clear the first procedural hurdle that requires 60 votes. There have been three failed votes so far. A fourth is scheduled when the Senate returns and it will likely go down as well.
Congress headed home Friday without a resolution, or even signs of progress. Legislators are on recess for the next week. So when they return to Washington on Feb. 23, there will be only five days to figure something out.
Conservatives dismiss the idea that a Homeland Security shutdown would be a political problem because most of the department's employees would still report to work. "The shutdown would be very limited. It would only be one department and it would only be a small number of people in that one department," said Rep. John Fleming, R-La. "A shutdown, if it occurs, would be because of the president's poor decision-making."
Under pressure from the right, Speaker John Boehner is showing no signs of relenting and moving forward with legislation that would be more likely to gain Senate passage. He has been responding to all questions about what should happen next by repeating the same line about how the House already has passed a bill. He has offered to explain the legislative process to reporters.
"The House Republicans have passed a bill, and we've done our job," Boehner said on Thursday. "I can get that little booklet out of the gift shop and you can all read it. The House passes a bill, the Senate has to pass a bill."
Dent says Senate Democrats should stop blocking the bill -- but also says the House ultimately will have to act.
"At some point leadership has to make a decision in the House. The Senate still has a little time. But come Feb. 24 or 25, that will be nut-crunching time. And at that moment leadership has to make a decision," Dent said. "At some point we'll have to be the adult in the room and pass it, with whatever votes we can put together."
The Senate can't author a new spending bill first, so another bill will have to come from the House. The House could pass a "clean" bill funding DHS without the immigration changes. Or the chambers could approve a short-term continuing resolution, or "CR," that funds the agency for a couple more months with the hope of reviving the fight again later.
Either of those options would infuriate conservatives -- and be trouble for Boehner. That's because passing a "clean" funding bill will likely require the vote of all 188 Democrats in the House. And Dent, who would prefer a clean bill over a CR, said he thinks there are at least 30 Republicans who would get it over the finish line.
"I will certainly vote for it and I think there will be a fair number of Republicans who will vote for it," Dent said.
Dent just has to convince his leadership to let a vote happen. He has been in this position before. The way the Republican civil war is going, he may find himself here again and again.
Correction Feb. 18: This article previously incorrectly listed Wisconsin Rep. Ron Kind as a Republican.
FOR FREE to continue reading
✔️ Unlock the full content of International Business Times UK for free
offer available for a limited time only
✔️ Easily manage your Newsletters subscriptions and save your favourite articles
✔️ No payment method required
Already have an account?
Log in
© Copyright IBTimes 2023. All rights reserved.