'Incorporated' Season 1 Finale Trailer: Ben And Elena Reunite At Arcadia [SPOILERS]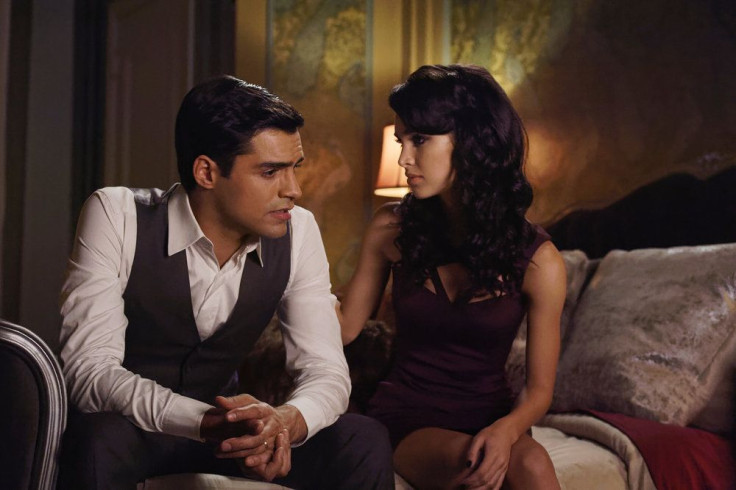 After seeing each other for a very brief moment in episode 7, Ben (Sean Teale) and Elena (Denyse Tontz) are reunited in next week's double-episode Season 1 finale of "Incorporated."
In the trailer for the last two episodes of the installment, Ben — a.k.a. Aaron — finally made his way to Arcadia where Elena is working. After greeting each other at the bar counter, the two head to a room, based on a promo photo for the finale. Ben apparently tells Elena that he assumed a new identity in order to save her. It seems, however, that Elena doesn't need saving after all.
"Do you have any idea how long it's taken me to get here, the things I've done? I've lied. I've cheated. I've killed for you," Ben says in the clip, presumably talking to his long lost love.
Elsewhere in the finale, Elizabeth (Julia Ormond) finds herself in the Red Zone, according to Rotten Tomatoes.
"I don't think she'd last two minutes," Ormond said of the head of Spiga's US Operations at a Television Critics Association party hosted by CBS Television Studios earlier this month. "I think Elizabeth's challenge is that she's been indulged too much. It's kind of like taking a killer whale out of Sea World. It's not easy."
At the same event, Dennis Haysbert revealed that his character, Julian, still has mysteries to solve at the end of the finale. "It will leave him still looking for answers," Haysbert teased. "[But] you'll see some."
"Incorporated's" Season 1 finale airs on Wednesday, Jan. 25 at 10 p.m. EST on Syfy. Check out the synopses for episodes 9 and 10, titled "Burning Platform" and "Golden Parachute," respectively, below:
Episode 9: "Ben's ongoing investigation leads to a shock; Laura's (Allison Miller) patient reveals sobering facts about life outside the wall; Elizabeth and Julian finally enact their bold plan.
Episode 10: "Ben's mission reaches a critical juncture; Laura finds the thief; Theo (Eddie Ramos) ventures inside the wall; Elizabeth and Laura reckon with the fate of the clinic; Julian tracks a killer."
© Copyright IBTimes 2023. All rights reserved.