Independence Day Drinks: Frozen Cocktail Recipes For July 4
What better way to celebrate Independence Day than with a cocktail? Well, a frozen cocktail certainly tastes best on the scorching hot holiday. Cool off on July 4 with these easy icy recipes, which include everything from vodka to bourbon to wine.
RWB Frosé Cocktail Recipe—This Smirnoff recipe is super simple when using a blender, and it'll be picture-perfect for any virtual July 4th parties.
Red Slush Layer
1 cup of cherries, quartered
2 oz Smirnoff Red, White & Berry Vodka
1 cup Rose wine
White Slush Layer
2 cups of ice
2 oz Smirnoff Red, White & Berry Vodka
1 cup lemonade
Blue Slush Layer
2 cups of ice
2 oz Blue Curacao
1 cup raspberry lime seltzer water
Directions: Mix each layer separately before layering on top of each other in a wine glass.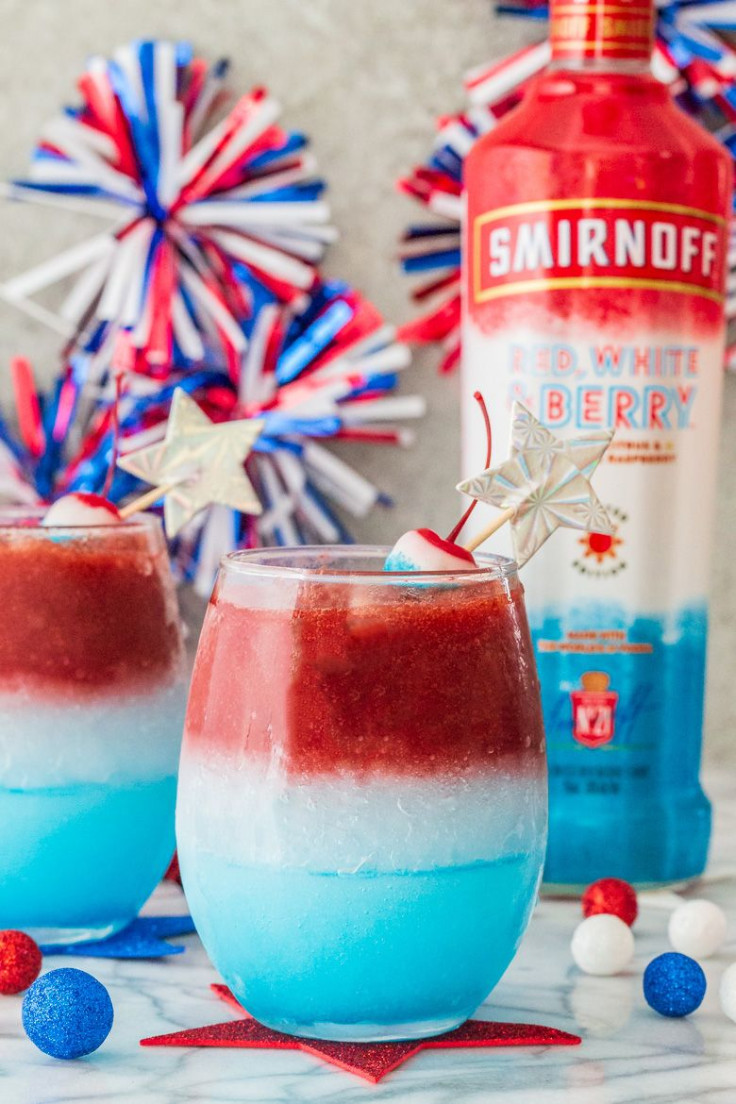 The Shade Maker — Bourbon might not be the typical go-to alcohol for a frozen recipe, but this sweet Bulleit Bourbon recipe might just hit the spot.
1.5 oz Bulleit Bourbon
1.5 oz Unsweetened Coconut Milk
1 oz Pineapple Juice
.5 oz Simple Syrup
.75 oz Fresh Lemon Juice
12-14 oz Ice
Directions: Blend all ingredients on high and serve in a double rocks glass. Garnish with pineapple leaves and dehydrated lemon.
La Pinta Margarita Float— It turns out you don't have to choose between a cocktail or ice cream—have both! La Pinta's recipe takes some time, but it's an easy one to follow.
Strawberry Margarita
1 cup strawberries chopped
1/3 cup sugar or honey
1 cup water
1/2 cup of La Pinta Pomegranate Liqueur
2 tablespoons Cointreau
1/3 cup fresh lime juice
Float
Salt for glass rim
Vanilla coconut ice cream or regular vanilla bean ice cream
Lemon-lime soda water
Pomegranate seeds for garnish
Directions: First up is the margarita part. In a medium saucepan, mix together the strawberries, sugar and water and bring to a boil over medium-high heat. While stirring occasionally, cook until the strawberries break down (roughly 5 minutes). Remove from heat, add to blender, puree until smooth or strain the mixture.
Pour the mixture into a pitcher before adding La Pinta Pomegranate Liqueur and Cointreau as well as fresh lime juice. Refrigerate until cold.
To make the float, alternate layers with 1-2 tablespoons of the strawberry margarita with a few fresh berries and another layer with one scoop of ice cream until the glass is almost full. Pour lemon-lime soda water on top and garnish with pomegranate seeds.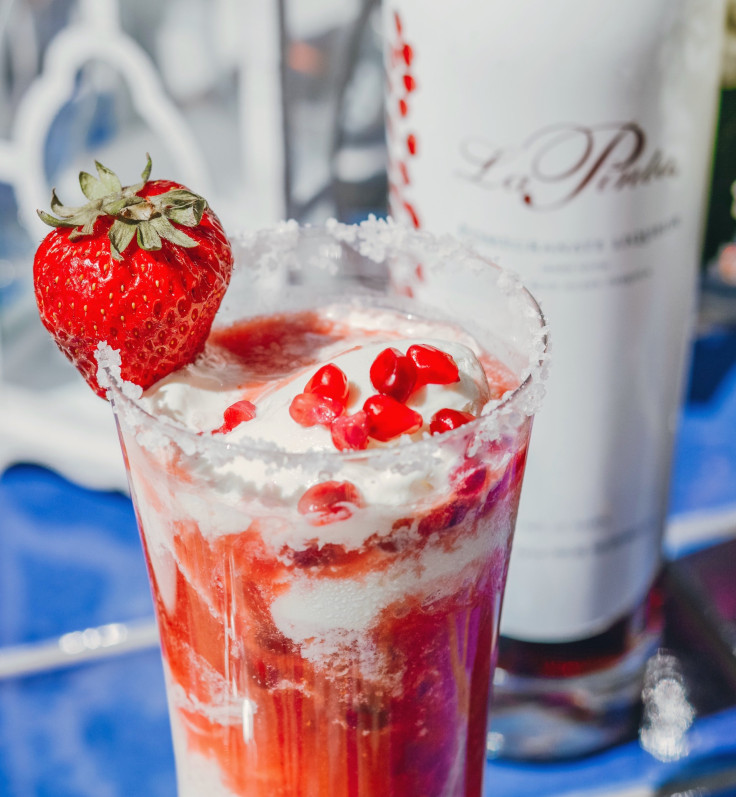 Recuerdo Mezcal Lilly​ —This mezcal cocktail, courtesy of Recuerdo Mezcal, is a creamy, frozen treat for Fourth of July weekend.
1 1/2 oz Recuerdo Joven Mezcal
2 oz cream of coconut
1 oz blue curacao
1 dash evaporated milk
5 fresh raspberries
1 small piece of ginger
Directions: In a martini glass, muddle two raspberries with the curacao and half of the mezcal (3/4 oz). Then, use a blender to mix the cream of coconut, the evaporated milk, the ginger and the other half of the mezcal (3/4 oz) with plenty of ice until it has the consistency of ice cream. Serve on top of the muddled mixture in the martini glass, and garnish with three raspberries on top.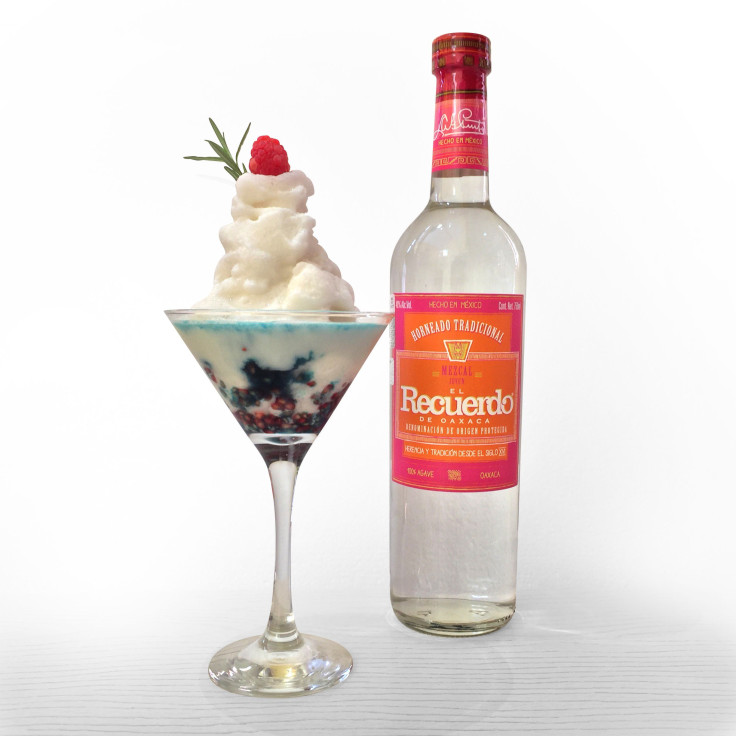 Frozen Cranberry Margarita — Turns out that cranberry sauce isn't just for Thanksgiving. Add it to a July 4 margarita for this tart treat from Ocean Spray.
5 oz Ocean Spray Whole Berry Cranberry Sauce
1 1/2 oz white tequila
1 1/2 oz lime juice
1/2 oz triple sec
5 oz crushed ice
Directions: Put all ingredients in a blender for a few seconds on high speed (or until ingredients are thoroughly combined). Pour into a large glass and garnish with a strawberry fan.
The Sailor's Delight — No blender? No problem. Ripe Life Wines has an adult twist on the icy treat that combines an ice pop and rosé.
Strawberry popsicle (raspberry for tarter taste)
4 oz elderflower soda
4 oz The Clambake Limited Edition Rosé (or other dry Spanish-style rosé)
3/4 cup chopped basil
3 tablespoons sugar
Directions: Make sweet basil ice ahead of time. Put a cup and a half of water in a saucepan with the sugar and basil. Bring to boil, stirring until the sugar is dissolved. Let the mixture simmer for five minutes and refrigerate for 30 minutes. Strain out the basil leaves and pour the remaining mixture into an ice tray.
To make the cocktail, place a popsicle upside down in a wine glass and add the elderflower soda. Wait a moment for the popsicle to melt a little before adding four ounces of wine. Top off with sweet basil ice cubes and garnish with torn basil leaves.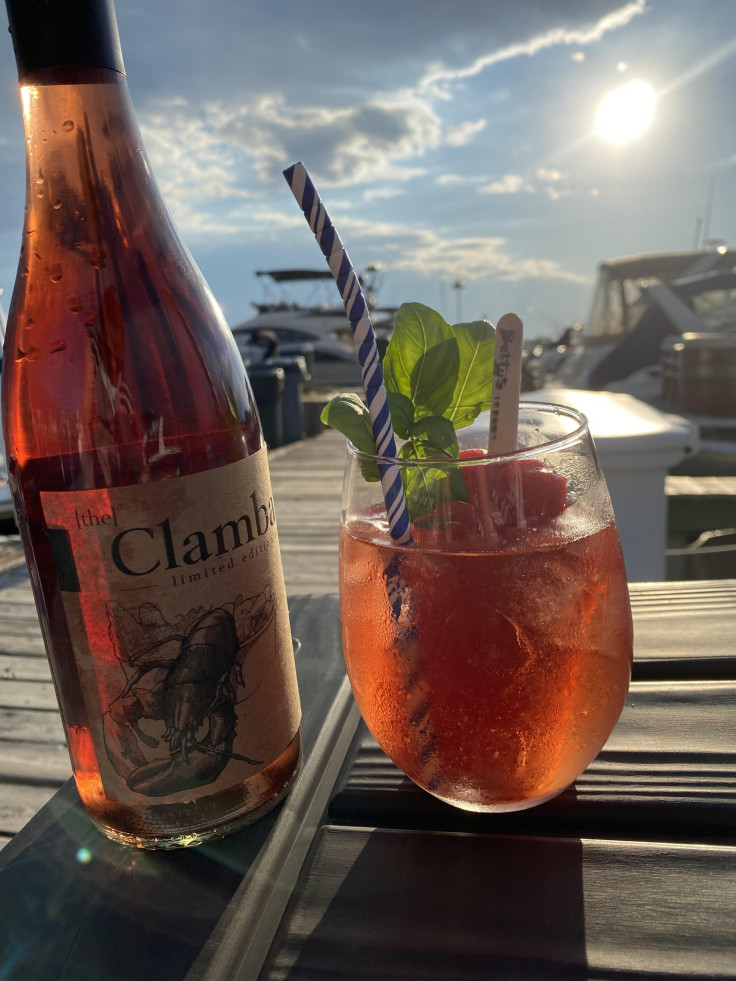 Frozen Chili Parador — This frozen cocktail comes from the restaurant Quinto la Huella at EAST, Miami hotel, and it's another fast and simple recipe.
1 oz orange juice
3/4 oz agave
2 oz tequila
1 oz red wine
1 cup ice
1 chili (garnish)
1 orange wedge (garnish)
Directions: Blend the ice, orange juice, agave and tequila together and pour into a glass. Top off with the red wine before garnishing with the chili and orange on a small skewer.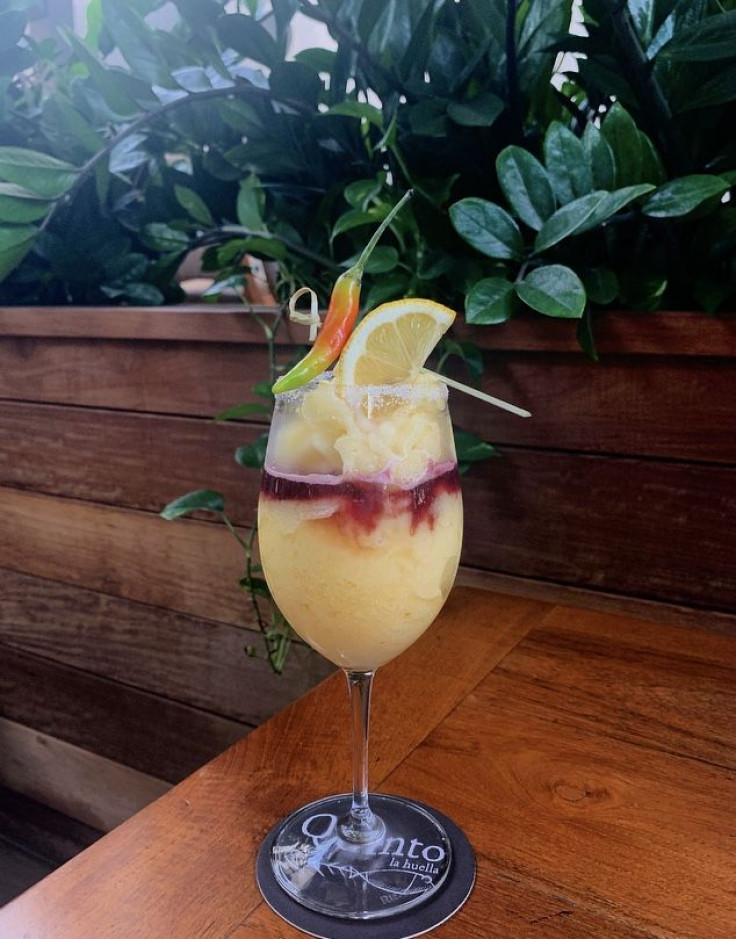 Those who don't want to go through all the work of mixing their own drink don't have to miss out. Slim Chillers are pre-packaged alcoholic freezer pops with 8% ABV. Find them at your local liquor store.
© Copyright IBTimes 2023. All rights reserved.