India, Where Cash Is King, Poised For Mobile-Payments Revolution As Internet Giants Alibaba, Amazon Move In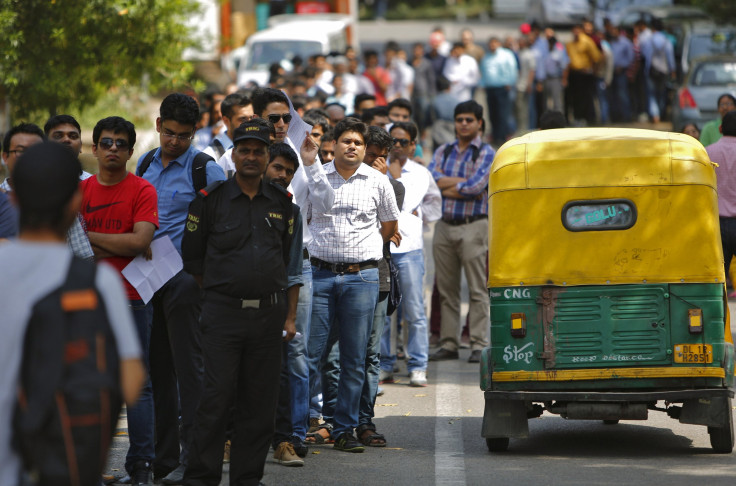 BANGALORE, India -- When Google launched prepaid vouchers in India last week, it was a nod to the country's status as one of the major economies of the world with one of the poorest plastic card penetrations. That consumers on the subcontinent who do have debit cards see them merely as "ATM cards" is a humorless joke among business executives across the country. Typically, Indians use their debit cards to get cash from ATMs, which they then use for most payments -- from groceries to wedding gifts.
It's convenient, but India's obsession with cash threatens to stifle growth in the world's ninth-largest economy. New wealth and job-creating online and e-commerce services that are blossoming in the West won't get traction here unless consumers have a quick and easy way to do business over the Internet. That's where a host of new players – from Amazon.com Inc. to Alibaba Group Holding Ltd.-backed One97 – come in. They're introducing a range of mobile-payments systems that could provide the backbone for an e-commerce boom.
About 210 million Indian households have bank accounts and of them only 2 million to 3 million people have debit cards, said Bipin Preet Singh, founder and CEO at One Mobikwik Systems Pvt. Ltd., a mobile wallet startup in Gurgaon, near New Delhi. Even among those who have debit cards, only about 10 percent are used online, he said. "The remaining debit cards are never activated, or they are used only as ATM cards to withdraw cash then do transactions using cash."
India might have about 8 million to 9 million credit card holders, "which hasn't changed much in the last many years," he added.
India Overview | FindTheData
E-commerce giants have taken note, and are looking for solutions. "India is largely a cash economy: 95 percent of payments are in cash, so if you're able to convert a big part of that into electronic payments and capture a part of that pie, that's the opportunity," said Amit Lakhotia, head of payments at One97 Communications Ltd., the Indian mobile payments startup in which Alibaba Group Holding Ltd. picked up 25 percent earlier this year.
One97 operates Paytm, short for "pay through mobile," comprising both a mobile wallet and a marketplace that competes with Indian e-commerce companies such as Flipkart Internet Pvt. Ltd.
Unlike Venmo or Apple Pay, which are innovations that sit on top of an existing credit card network, mobile wallets such as Paytm and MobiKwik are independent payment systems on their own. People download the app, register, top up typically through an Internet banking money transfer and keep using it until it gets exhausted, then top up again. The wallet is usually tied to the user's mobile phone number.
MobiKwik has taken another step, partnering ICICI Bank, India's largest private sector financial institution. Even people without a bank account, but with a smartphone, can walk into an ICICI branch and deposit cash, which will then reflect in their MobiKwik app for use online.
A Vast Opportunity
Of the 250 million or so Internet users in India today, only about 35 million to 40 million have made any kind of Internet-based payment, Singh said. So there is an immediate opportunity to get the remaining 200 million plus users to start using mobile payments.
Mobikwik and One97 are among a clutch of mobile payment startups in the country bent on changing the country's obsession with physical currency. "In many ways, our fight is with cash. We have declared war on cash in India," said Singh.
The opportunity is that from about $10 billion a year today, the approximate value of e-commerce in India could jump to $150 billion in only the next few years, provided a few enabling factors kick in, said Alok Goel, former chief executive of Accelyst Solutions Pvt. Ltd. SoftBank Corp.-backed Jasper Infotech Pvt. Ltd., which operates India's second-largest e-commerce site, Snapdeal.com, purchased Accelyst this year, for its mobile platform Freecharge.
Freecharge offers a mobile app, as well as a browser-based option, through which users can pay bills, top up phone plans or buy pizza, for instance. The company attracted a user base of over 15 million consumers by offering equal-value rewards for each recharge. So buy a pizza and get the same value off on the next purchase of a certain value, within a certain time period.
Goel, a former Google Inc. executive, said India's smartphone revolution is among the enabling factors that have already made a big difference in how people are changing their financial behavior. "India is moving in leaps and bounds in terms of Internet adoption, and most of the new users are doing this on their mobile phones. (Mobile) commerce is really happening now, and payment is basically a fundamental backbone for all these commerce companies," Goel said.
Physical retailers too have recognized that offering customers a digital option to purchase goods is increasingly a necessity. Some are offering gift cards that customers can redeem both online and at physical stores -- sort of the reverse of what Google has done with its vouchers. One of the companies that has quietly built a massive backbone, offering white-labeled gift cards that any retail chain can sell under its own brand, is Bangalore-based QwikCilver Solutions Ltd. The company has raised an undisclosed amount of money in three rounds of funding and boasts such marquee investors as Accel Partners.
After its third round in December, QwikCilver has also become the first Indian startup that Amazon has invested in, said T.P. Pratap, co-founder and chief marketing officer at the company.
Over the last six years, QwikCilver has built the underlying plumbing that now facilitates the gift cards of a majority of the best-known retail chains in India, touching 10,000 brick-and-mortar points of sale in 400 cities as well as online storefronts of those brands, from household utensils to cinemas to jewelry and luxury goods.
The gift cards from these brands can be bought either at their physical stores by paying cash or on their online storefronts, and even on Amazon.com's Indian website. There is the option to buy either real plastic -- handy as wedding gifts, for instance -- or digital gift cards. While purchases at the retailers' online stores typically require Internet banking or credit cards, Amazon offers "cash-on-delivery" in India for the magnetic tape-enabled physical gift cards, which can then be used at retail outlets.
Mobile Payments, Mobile Debt?
The flipside of all this convenience is that it is making people less disciplined with their savings, according to financial planners such as Priya Sunder, co-founder of Peak Alpha Investment Services PVt. Ltd. in Bangalore.
In South Korea, the explosion of credit card use following the Asian financial crisis of the late '90s quickly created a "debt culture" that put many consumers badly in the red. Sunder worries that mobile payments could cause a similar problem in India. "I try to put my clients on a budget for their discretionary expenses, say it could be 10,000 rupees" for monthly shopping of non-essentials, she said. "What I find is that people tell themselves, 'I'll spend 13,000 this month and make up for it next month by spending less,' but that never happens."
Sunder added: "These online temptations are so much more and I see this trend increasing. Yes it's easy to use the wallet or payments and credit cards, but the repercussions on financial planning -- it does compound in the end."
While those already hooked on one-click purchases on their smartphone apps may be window shopping with glee, there are still huge challenges for the mobile payments companies. Chief among them is to get people to make the behavioral switch from using cash to tapping on their smartphones.
The startups are also trying to outdo each other in acquiring consumers and retaining them. MobiKwik, Paytm and Freecharge have all seen their apps downloaded over 10 million times on Google's Play Store. On Tuesday Paytm took out full front-page newspaper ads, offering as much as "100 percent cash back" to users shopping on its marketplace. Head of payments Lakhotia declined to give details of the company's growth, but said it was on track to end this year with $1.5 billion in total value of all transactions made on the wallet and the marketplace.
Mobikwik, which is looking for another $100 million this year in funding, has some 17 million users making 400,000 transactions a day across 50,000 merchants. "Everything depends on how fast and easy the technology is to use," Singh said.
Correction: This story has been modified to note that one of the investors for QwikCilver is Accel Partners. It had been earlier reported as Sequoia Capital.
© Copyright IBTimes 2023. All rights reserved.
FOLLOW MORE IBT NEWS ON THE BELOW CHANNELS