Blackstone Group's Stephen Schwarzman Says More Money Won't Improve Public Education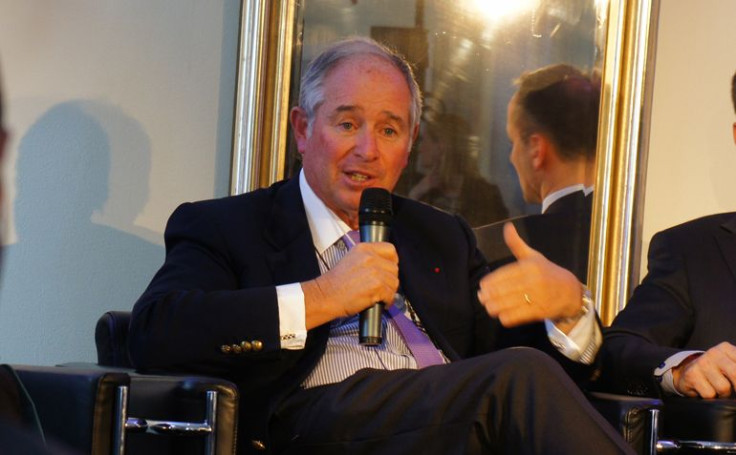 DAVOS, Switzerland -- Private equity investor Stephen Schwarzmann is generally a believer in the power of money, a trait that has netted him billions of dollars worth of that useful commodity. But when it comes to education, Schwarzman says more money is not necessarily a fix for ailing American public schools.
Speaking Friday at a World Economic Forum event called "Business Backs Education," the Blackstone Group CEO was asked by International Business Times if he supports raising more money for education through President Barack Obama's new proposal to increase capital gains taxes or through other proposals to end special "carried interest" tax exemptions for Wall Street financiers.
He declined to answer that question and instead suggested that a focus on resources is misguided.
"In the Catholic schools they spend much less money than the public schools, and they get amazing results. Private schools spend much more money than the public schools and they get remarkable results," said Schwarzman, who was once rumored to have likened tax increases to Hitler invading Poland.
"So as an analyst, this can't be just about money because you keep having great outcomes regardless of that. And so I would suggest that there are a lot of ways to be successful in education. It's usually good to have more resources of all types, but you can make due with a lot less and have great outcomes in large scale."
Despite the financial industry arguing that high pay on Wall Street is needed to retain and develop talent, Schwarzman suggested a potential solution for America education challenges could be unpaid labor.
"I've always wondered, what you do in a society with people who just retire," he told conference attendees. "If you could get those people, like a board, [to be an] unpaid workforce, pay them next to nothing or nothing, and have them go into the school system to be mentors to kids, and be an example of a certain type of success that you would get dramatically different outcomes. If you can get unemployed people that cost nothing, that can have this dramatic difference, that costs nothing. I love things that cost nothing that have great results. Imagine if you laid on technology and other types of things, you could really set the world on fire with this type of stuff."
Schwarzman touted Ohio Gov. John Kasich's efforts to let religious groups run unpaid student mentorship programs in public schools. Kasich has moved to make extra education funding contingent on schools supporting those programs, a move the American Civil Liberties Union says might be unconstitutional.
Schwarzman's views run counter to those of other analysts. A study released by the National Bureau of Economic Research this month suggested otherwise, showing a strong link between education funding and education and economic outcomes. Based on almost five decades of data, the researchers found a 10 percent increase in per-student spending leads to more completed years of education, higher wages and a reduction in the incidence of adult poverty. Those results, concluded the study, are even "more pronounced for children from low-income families."
Schwarzman's firm recently touted its investment in an expanding private education company. Yet, more than a third of Blackstone's entire investment pool is comprised of money from public pension plans -- that is, the retirement money of government employees like public school teachers.
© Copyright IBTimes 2022. All rights reserved.
FOLLOW MORE IBT NEWS ON THE BELOW CHANNELS