'Ink Master' Season 3 Winner Joey 'Hollywood' Hamilton Talks About Season Finale Tattoo, Avoiding A Similar Tatu Baby Walk Out
Season 3 of Spike's hit series "Ink Master" came to a close on Tuesday, with Joey "Hollywood" Hamilton named as the winner. With all the drama among the contestants, viewers barely saw the work that went into the final three tattoos from contenders Joey, Jime Litwalk and Tatu Baby. But Joey took some time to talk to International Business Times about exactly what went into his 35-hour design.
Fans of the series know that Hamilton's final piece for "Ink Master" was an underwater scene featuring a mermaid, a sea turtle and some coral. The tattoo started on the hip of his human canvas, Briana, and reached down past her knee.
The final tattoos were supposed to take 35 hours over the course of five sessions. The main jaw-dropper in the finale came when it was revealed that Tatu Baby's human canvas walked out after their first session, and the artist was left to start from scratch with a brand-new canvas and limited time.
"I only saw those 30 seconds," Joey said, referring to same clip viewers saw on the finale. Explaining that the human canvases must agree to do anything on the show, he admitted that he didn't know Tatu Baby's situation with her canvas. However, he did reveal how he avoided a similar situation with Briana. Understanding that the tattoo is something the participant has forever, Joey spoke with Briana about what she wanted, and the result was the mermaid underwater scene.
Although Joey's brief final inking clip didn't show any trouble with his canvas, he said they did run into an issue in his third session with her. "I did the main body," he explained. "And [then] she wore pants over it."
Joey didn't fault Briana -- the day after her session she got a job that required her to cover it -- but it made the healing "very rough." He spent their last two sessions going over it.
Judges Oliver Peck and Chris Nunez didn't seem to notice Briana's rough healing, but one of the things Nunez criticized was the lack of black ink in the design, calling the tattoo muted. "There's not a lot of black in that scene," Joey admitted of the underwater image. He'd worked on similar designs in the past and said the image wasn't supposed to have a lot of black in it, that the muted look was intended. That said, Joey hasn't seen the tattoo since he completed it. "I would like to look at it," he said. "Maybe boost the contrast that is in the background now."
Acknowledging that the judges aren't there for compliments (and revealing that he enjoys criticizing his own work), Joey said there's one detail he wishes the judges had pointed out: the placement of the mermaid's tail, so that it moves when Briana does.
The "Ink Master" season 3 finale should have focused more on the fantastic artwork by Joey, Tatu Baby and Jime, but the episode ended up turning into an intense (and awkward) power struggle among former contestants.
"I wish I could have said, 'This is why I should have won,'" Joey said of being unable to defend himself from the criticism thrown at him. "Seven out of 12 times I was in the top two."
In all three seasons of "Ink Master," only two people have managed to stay in the top all season long, Joey explained – season 1 winner Shane O'Neill and himself. "And I was in the top four more times than him," Joey said, referring to O'Neill's season having eight challenges vs. 12 challenges in season 3. Bringing up the Asia challenge, Joey said the judges told him he had the best tattoo even though no winner was announced. While it initially didn't matter to him to have the official win, he later said it did matter when the competition became close between him and Jime.
With the "Ink Master" win behind him, what's next for Hollywood? More tattoos! The tattoo artist won not only season 3 of the competition but also the fan vote for best tattoos throughout the season. Although he already works at Club Tattoo in Las Vegas, Joey Hamilton's reward for winning the fan vote was the opportunity to be a guest artist for three to five days at Oliver Peck's Dallas studio and Chris Nunez' Miami Beach shop.
"It'll be interesting to see them off the show and in a different light," Joey said of the judges.
As for getting a tattoo from Joey? "I have an assistant already," he laughed. "Where I am, walk-ins are on demand," Joey said of Las Vegas' Club Tattoo (something to which he credits his versatility and win). "I'm not fully booked," he continued. But people are calling him in advance to get work done that coincides with their upcoming Vegas vacations.
With "Ink Master" over, Joey Hamilton is looking forward to spending some time with his family. This weekend he'll be cheering on his bodybuilder wife as she competes in the IFBB Houston Pro, and he's making plans to spend some time with his son in New York and visiting his supportive hometown in Woodward, Okla.
Keep an eye out for a feature on Joey in "Inked."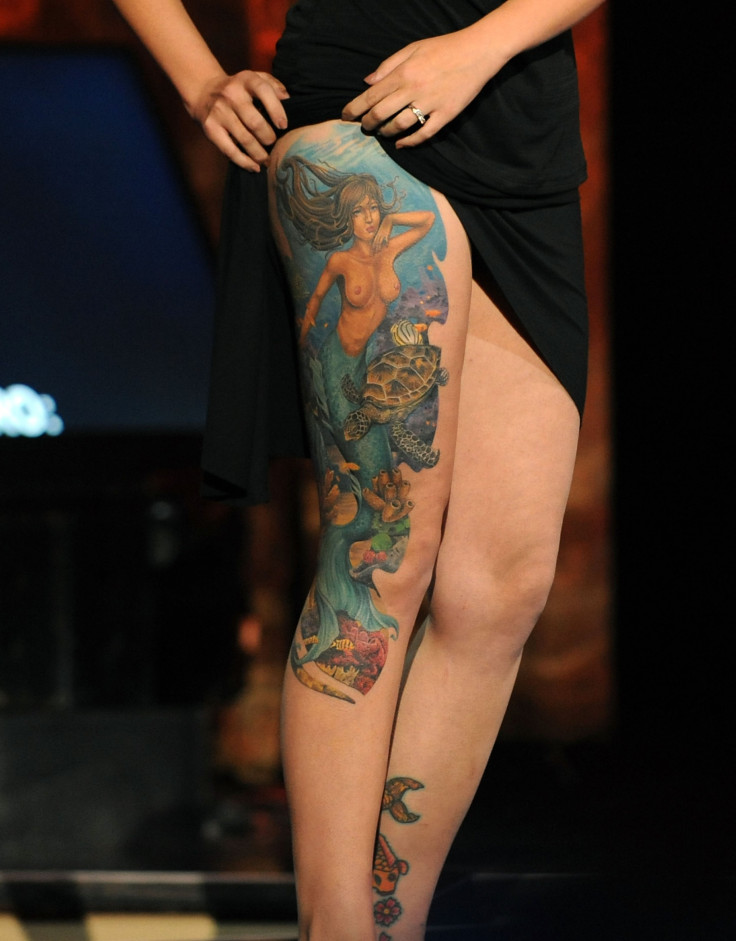 FOR FREE to continue reading
✔️ Unlock the full content of International Business Times UK for free
offer available for a limited time only
✔️ Easily manage your Newsletters subscriptions and save your favourite articles
✔️ No payment method required
Already have an account?
Log in
© Copyright IBTimes 2023. All rights reserved.