'Ink Master' Season 8 Spoilers: Who Is Eliminated In Episode 6? Female Contestants Targeted [RECAP]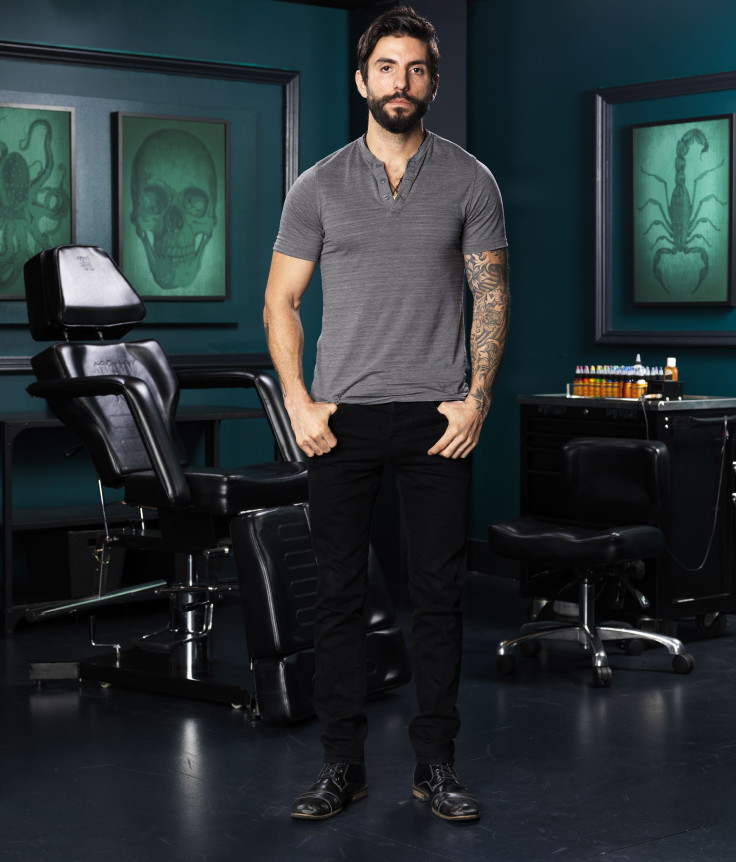 The ladies on "Ink Master" better watch out! The guys are gunning for them in episode 6.
Judges Oliver Peck and Chris Nuñez formed teams as the twist for Season 8 of the Spike reality series. Although the women are on competing teams, they've formed a strong alliance that appears to be rattling the other artists.
Mike, who is on Team Peck, informs his fellow teammate Gia of the threat against her and Ryan Ashley.
"They're definitely terrified," he warns her about the men of Team Peck. "They're going to try to get either you or Ryan out … You know, some dudes, when there is strong women around, they get a little insecure."
Gia thinks the other contestants are just paranoid, but the threat is real. With Team Peck up for elimination this week, Gia or Ryan need to secure the skull picks in order to stay out of the bottom.
Judge and host Dave Navarro revealed the flash challenge in episode 6 would involve brown packing tape and a sheet of Plexiglas. Artists on Team Peck had five hours to layer the tape to create an image showing contrast. Team Nuñez had the opportunity to assign the style, and they decided their opponents must create a face out of the packing tape. Compared to the flash challenge in episode 5, this one appeared to be a walk in the park. However, Peck still warned his team that he didn't want to see any meltdowns.
Everyone got to work and surprisingly created strong pieces. In the end, the judges decided Gian and Ryan had the best design of the day. Gian ultimately secured the win thanks to his "sticker graphic finish," clean lines and contrast. That did not bode well for Ryan and Gia — or Mike — heading into the elimination tattoo. Gian, Boneface and Nate know Mike has been siding with the girls, and Gian is ready to "stir the pot" with the skull picks.
This week the artists on Team Peck had to tattoo a space design, with the focus being on contrast. Gian played tough, giving the hardest tattoos to Mike, Ryan and Gia. Mike's canvas wanted an "alien battle" design on his ribs, Ryan's human canvas wanted "script in space," and Gia's canvas wanted a throat/ chest piece. Everyone immediately got to work, and fortunately Ryan was able to convince her canvas to drop the names from her tattoo. Mike and Gia weren't so lucky.
Check out the critiques from Navarro, Peck and Nuñez episode 6:
Gian — Peck commended Gian for precise lines and soft shading in his astronaut. Although most space tattoos overdo it with the background, Gian's minimal approach worked in his piece.
Nate — Nate also did an astronaut, but did not do as well as Gian. The judges said his astronaut looked deflated, and that he got beat in application, texture and contrast.
Matt — Nuñez had issues with Matt's background while Peck doesn't like the moon, calling it wobbly and over-texturized.
Mike — Mike definitely nailed the contrast part of the challenge, but Navarro called him out for the roughness. Mike put the blame on his canvas for not being able to sit still. Nuñez had other issues with the design. He said it didn't have the finished "polished" look that Mike's past pieces have had.
Ryan — The judges agreed Ryan hit the contrast challenge the best. Nuñez said her rings around the plants were wobbly, but that she got some "good tricks."
Gia — Nuñez liked her digital concept like, but the actual tattoo is rough. She needed clean outlines to make the piece work. Peck warned her if she can't do a clean tattoo every time it's going to hurt her in the end.
Boneface — Technically Boneface had a strong tattoo, but Peck said the contrast was tough. Nuñez agreed, adding that artistically he's got holes.
The judges said Ryan and Gian had the strongest tattoos of the day, but based on contrast alone, Ryan won. Team Nuñez had to form the jury of peers to nominate an artist for the bottom, but things got ugly before they could deliberate. Boneface got into a heated argument with Gia, Ryan and Nikki about his tattoo. They all said it was an ugly piece, but Boneface argued that at least it was more technically sound than Gia's. He then blasted Nikki for "looking 50 when you're 24." That set off the other girls, who have a problem with him getting personal when they're discussing work.
As for who is in the bottom three? Gia, Matt and Boneface ended up in front of the judges. The jury of peers put Gia in the bottom for technical application although not everyone agreed with the decision. Kelly and Nikki told the judges they wanted Boneface in the bottom because of his artistry.
Nuñez voted to eliminate Matt from the competition while Navarro voted for Gia. Peck had the deciding vote and chose to send home Matt in episode 6 of "Ink Master."
© Copyright IBTimes 2023. All rights reserved.