Interior Designer Meri Goldstein: From Reading Blueprints with Her Father to Realizing Clients' Visions
Born and raised in Berlin, Germany, Meri Goldstein was first introduced to design and aesthetic planning by her father, a well-respected lighting designer. He worked on many notable projects in Berlin, including the Sony Museum, art galleries, and even the Berlin International Airport. Observing her father carefully, Meri remembers eyeing the blueprints he would work from. To her, they seemed like maps filled with foreign languages that she could never understand, but her father turned those confusing blueprints into beautiful, breathtaking lighting designs.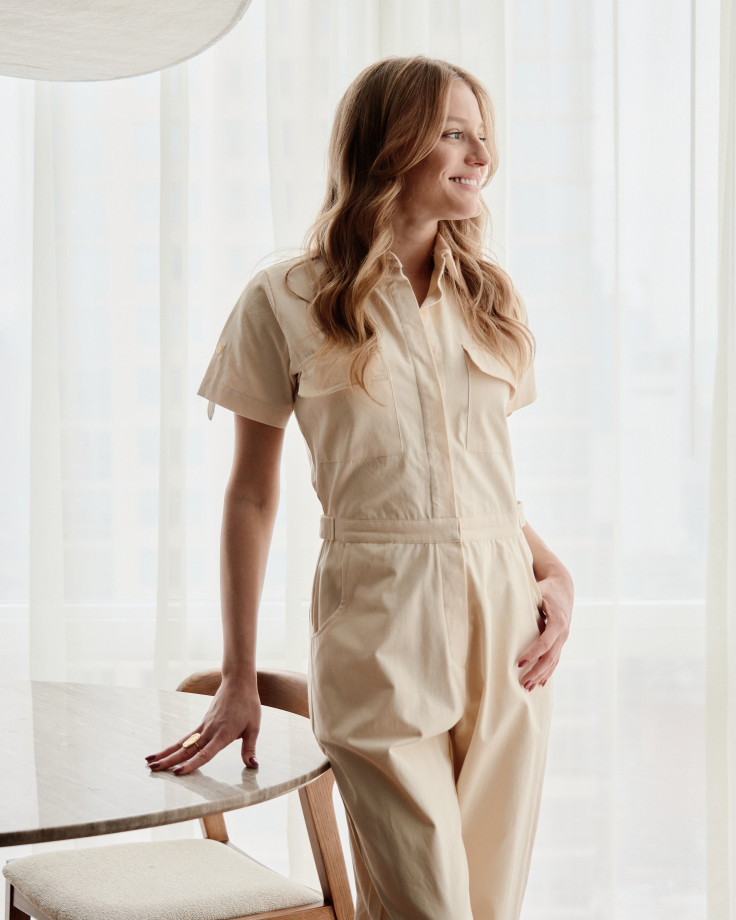 As she got older, she learned to read and understand architectural drawings, then connect them with design theory and take what was on the paper to what was happening in a room. She fell in love with designing and playing with different lighting options, she was even more fascinated how lighting and furniture could come into a playful dialogue. She decided her eye for design should not be wasted and started working on interior design, developing a passion early on in her life.
At 22 years old, Meri decided that if she was going to turn her passion into her career, she needed to go to the place where creatives and entrepreneurs are given as much opportunity as they can manage: New York City. She arrived in the Big Apple and struggled to navigate life in a new country, but she was relentless and more determined than ever to succeed. She attended New York's School of Interior Design and graduated from the program in 2022.
As she was being interviewed for big-name interior design companies such as Pierre Yves Rochon just out of college, Meri met a future client by happenstance. She knew she had talent as a designer, but this client offered her the big break she needed to surpass taking an entry-level job at a design firm and go out on her own. To many 27-year-olds, the idea of starting a business without any industry experience would be too overwhelming, but Meri knew she was doing exactly what she was meant for. Not long thereafter she founded her own firm "Infinite Interiors New York"
Thrilled by the new opportunity and the chance her first client had taken on her, Meri got right to work. Soon, she was working on 3 projects simultaneously and needed to hire an assistant to help with the workload. In the interior design space, this type of business growth is challenging, but Meri stood out with a unique design style and thoughtful approach to every project. Instead of backing away from the challenge, she stepped into it and began breathing life into the visions of the people that trusted her to transform their homes.
Her approach emphasizes sustainable and responsible designs, with the Scandinavian combination of simplicity and coziness making spaces of all sizes feel new and refreshed. Though she loves creating in large spaces, just as artists like plenty of room on a canvas, one of her favorite projects has been working with a 458 sq. ft. apartment. Small spaces are common in NYC, and for interior designers, they add an extra layer of complexity. Filling them with enough furnishings while avoiding creating a space that looks like a furniture store isn't easy, but Meri's focus on soft edges, neutral base pieces, and tasteful pops of color, through the use of art, turned that space into an escape for its residents. "I love collaborating with different industry experts, on this particular project I collaborated with art advisor, Jessica Tatievski, to give the neutral palette some more character and give the space an overall story.
Having a natural eye for design is one thing, being a businesswoman is another skillset that I am exploring within myself. I have faced many hurdles and know that a life of an entrepreneur is never easy, but one thing that I know is that my talent and my passion to work with clients will get me the trust and respect needed to be successful in New York City. To Meri, there wasn't any other option than going big.